News
Brandt Snedeker retains lead with late-round run at the Wyndham Championship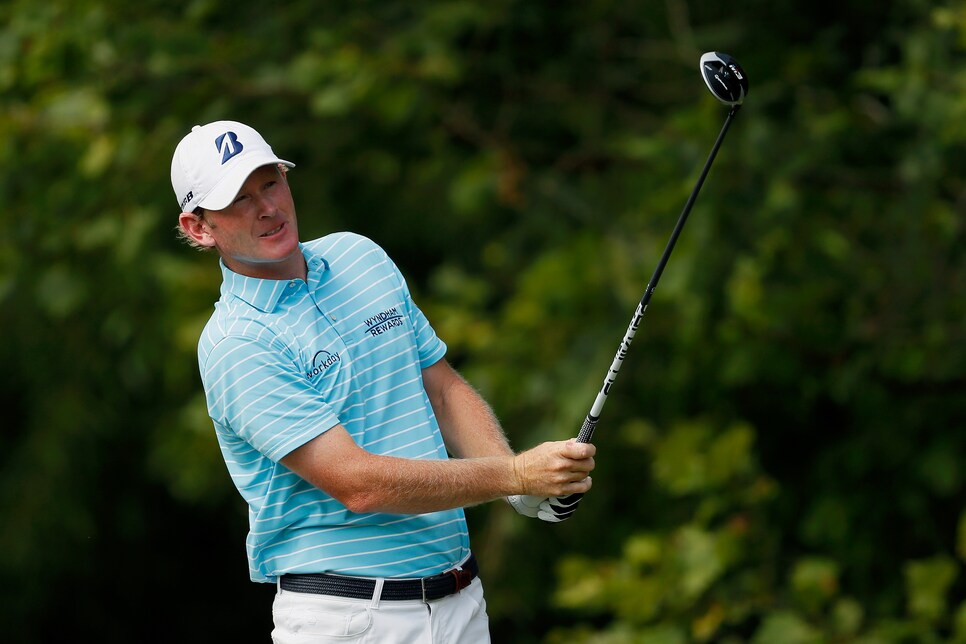 Brandt Snedeker made history on Thursday at Sedgefield Country Club in Greensboro, N.C., carding an 11-under 59 to become the ninth player to shoot a sub-60 round in PGA Tour history. It's a special day he'll never forget, but, as a few members of the exclusive sub-60 club will tell you, it doesn't always win you the tournament, something of which Snedeker was aware following the historic round.
He learned this the hard way early on Friday at the Wyndham Championship, going out in one-over 36 with three bogeys and two birdies. After being in complete control a day earlier, Snedeker had suddenly lost the lead.
But much like he bounced back from a first-hole bogey on Thursday, Snedeker was able to right the ship on Friday, firing a clean back-nine 31 that included a 30-foot eagle putt at the 15th hole and a 33-foot birdie putt at the 16th hole. The late-round run allowed him to retain the lead by two shots over D.A. Points at 14-under 126, Snedeker's career-low 36-hole total on the PGA Tour.
"It was huge," Snedeker said of his closing stretch. "I played a really sloppy front nine, didn't play particularly well, drove it poorly. Then on the back nine, which typically is the harder nine here, I finally hit the ball in the fairway off the tee and hit some quality iron shots and had a few holes where I missed some makable putts. To see one finally go in (on 15) was good, got some momentum going those last few holes. Obviously it's tough to back up what I did yesterday. I knew it was going to be tough today. Didn't anticipate it was going to be this tough, but live and learn. Still got the lead. Two more days, hopefully I can kind of rebound and hit it a little better tomorrow, make some putts and try to extend this thing a bit more."
While his three-under 67 was eight worse than what he shot Thursday, it's a strong way to back up a career round, something that's not easy to do on tour.
"I don't know, I wish I could figure it out," said Snedeker. "I just didn't quite feel comfortable on that front nine, felt like I got a little fast, my swing got out of sync. I knew it wouldn't be as good as yesterday, that's obvious, but I was hoping for a better start. It's one of those things, I wish I knew what it was, wish I could bottle it and sell it to a bunch of guys out here, because it's one of those age-old questions."
Snedeker heads to the weekend in search of his ninth PGA Tour victory, the last coming at the 2016 Farmers Insurance Open, where he carded a final-round 69 in brutally windy conditions. He's also looking for his second win in the Wyndham, the first coming in 2007 at Forest Oaks Country Club, his first victory on tour.
While Snedeker's comeback from injury and Thursday 59 are great stories, the story of the week may be Points, who has missed 15 of his last 16 cuts on the PGA Tour. Before tying for 40th last month at the Barbasol Championship, the 41-year-old had not played on a weekend since the Sony Open, where he tied for 73rd. Prior to the Barbasol, he had broken 70 just three times in his last 34 rounds. This week he's carded a pair of 64s to get to 12-under 128, and he credits a new set of irons and a new mindset to the sudden hot streak.
"I've been hitting it very nicely, I put in a new set of irons a couple weeks ago, and they've just been the easiest thing in the world to hit," said Points, a three-time PGA Tour winner. "Everything's been really comfortable, I haven't been looking at my swing on video. Basically, I know this is possibly my last event of the year, so I haven't been grinding really hard, and it seems to be paying off."
If Points keeps playing like this, it may not be his last round of the year. He ranks 214th in the FedEx Cup standings, meaning he'd have to win to vault into the top 125 and earn a spot in the Northern Trust. So he might as well keep freewheeling it.
"Fortunately with my win last year in Puerto Rico, I know I still have my job for next year," Points said. "I mean I'm 213th, or whatever I was coming in to this week, so I'm not really scaring anybody when it comes to that. I have nothing to lose, like literally nothing to lose. I can just go and play and if I win, wow, what a super blessing. But if I don't it'll just be a nice way to finish off a tough year and start working on things towards next year."
Even more impressive is that Points is dealing with nerve issues, revealing after the round that he's been dealing with a peculiar injury that could force him to make some decisions this off-season.
"I have some herniated discs, C5-6 and C6-7, and my thumb, index finger and middle finger go numb 10 or 15 times a day. I've been talking with lots of doctors trying to make a game plan, talking with my wife and family, and with this exemption that I have I just want to make a good decision to move forward in the future."
Just three back at 11-under 129 is C.T. Pan, who showed a bit of promise in 2017 with three top 10s, including a solo second at Torrey Pines. The 26-year-old's 2018 campaign hasn't gone as smoothly, as he's failed to register a top 10 in 26 starts.
Six players are tied for fourth at nine-under 131, including Sergio Garcia, who has carded rounds of 66 and 65 to make just his third cut in his last 11 starts. At 131st in the FedEx Cup standings, the Spaniard is in need of a strong finish in order to make the playoffs, something he's done every year since their inception.