The Loop
Brandt Snedeker determined to make amends for Sony Open runner-up a year ago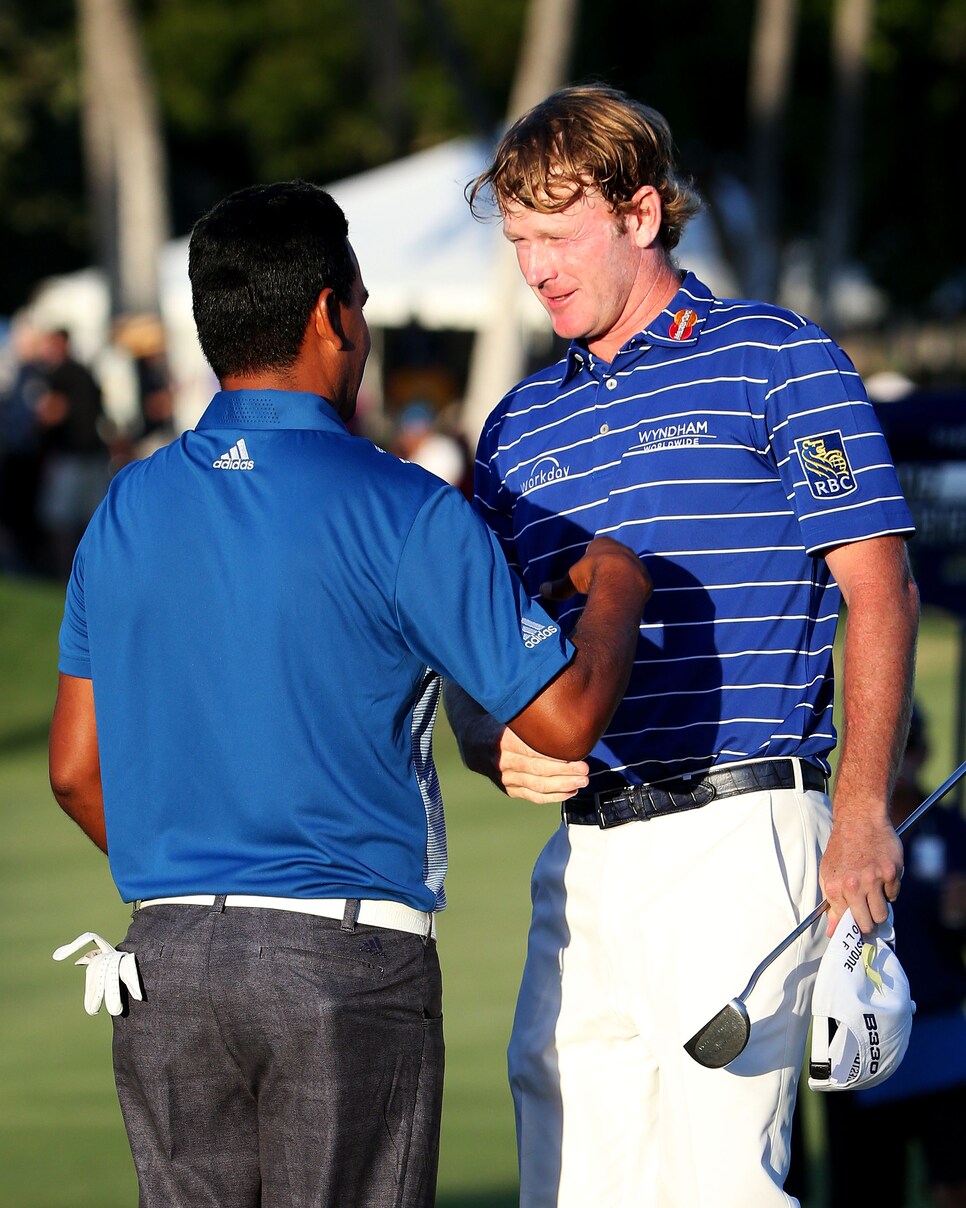 HONOLULU – It's an overused cliche' that has become a sturdy canard: "No one remembers who finishes second."
Brandt Snedeker remembers who finished second in last year's Sony Open in Hawaii. He lost to Fabian Gomez on the second hole of a sudden-death playoff at Waialae CC after Gomez executed a two-putt birdie on the par-5 18th hole.
"Still stings a little bit," Snedeker, winner of eight PGA Tour titles, admitted Wednesday as he prepares for the first full-field event of the new year. "But I feel like I have the opportunity to come back and try to right a little bit of a wrong that happened here last year."
Snedeker is one of 17 players among the top 50 in the world in attendance this week at one of the more revered venues on the PGA Tour. The list is headed by No. 5 Jordan Spieth and No. 6 Hideki Matsuyama, the latter who was runner-up to Justin Thomas last week at the SBS Tournament of Champions. Thomas, now 12th in the world, also is in the field at Waialae, seeking to become the first player to turn the Hawaii double since Ernie Els in 2003.
England's Paul Casey and Justin Rose make their 2017 debuts. David Toms is in the field before making his PGA Tour Champions debut next week on the Big Island of Hawaii.
Thomas has won two of his last four starts. Matsuyama has won four of his last six, with his two losses at the hands of Thomas.
Both men are riding a wave of confidence.
"To play well you have to have confidence, and I've had that the last couple of months," said Matsuyama, who holds a narrow lead over Thomas in the FedEx Cup standings. "Hopefully, that can continue. That will be the key going forward."
"Last week was great. I obviously can build a lot off of it between playing well and kind of how I handled adversity," said Thomas of his victory at Kapalua Resort, his third career title. "I'm just more and more comfortable. Each win has been different. I just feel like I'm learning different ways to win. It's different each time and it's hard each time."
Thomas, 23, said he'd have no trouble refocusing for this week's event, where he joins Spieth and Daniel Berger for the first two rounds. Because of a photo shoot with Polo Golf Monday morning, Thomas didn't celebrate his three-stroke victory over Matsuyama on Sunday at Kapalua.
"Honestly, I was exhausted," Thomas said. "I have another tournament this week and a chance to try to win. It takes a lot out of you – winning. And not just winning, [but] being in contention. It's draining."
How did he celebrate his two wins in Malaysia? "Had a drink with my friends," he said with a shrug. "Then had to go to China the next day."
That's a telling piece of information. There is little time to celebrate in golf. And while a player gains confidence from a victory, the feeling of euphoria from it tends to be fleeting.
That's what Snedeker remembers about his victory last year in the Farmer's Insurance Open, his next start after falling short at Waialae CC. Snedeker fired a remarkable three-under-par 69 in gusting winds – with the field scoring average was nearly 78 – for an improbable comeback.
"I think failure drives us more than the excitement of winning," Snedeker, 36, said. "Last year losing the playoff here, it stuck with me. I had a week off, and then the whole next week it stuck with me. You never mind losing when you do everything you possibly can. But when you don't do something you should have done, like last year I didn't birdie 18 either time in the playoff, that stings a lot and stays with you for awhile."
Strangely, it stays with a player longer than the satisfaction of winning does.
"Winning at San Diego … It's funny, the tour forgets in a week," he said. "Next week it's on to next week and get back at it. So winning doesn't last nearly as long … way shorter [than losing]. It was just a dinner that night, and then you're on to playing the next week, so you don't really care. The tour moves very fast in that way. You don't have time to really celebrate and really enjoy your wins, and you always carry your losses with you a lot longer."
Given the number of losses compared to wins in even the most successful careers, that's a lot to carry around.