The Loop
Brandt Snedeker beats weather, which turns against him in Farmers Insurance Open
LA JOLLA, Calif. — The Farmers Insurance Open succumbed to winter weather better suited for a Scottish summer, its finish pushed into Monday. It was a break for everyone on the leaderboard but the leader in the clubhouse.
Brandt Snedeker, who teed off an hour, 40 minutes before the third-round leaders, remarkably (miraculously?) cobbled together a round of three-under par 69 on a day so miserable that the scoring average of the 23 players who finished was 78.12 and the fans eventually were ordered to evacuate the course.
"Weather looks perfect to me outside," Snedeker Tweeted hopefully.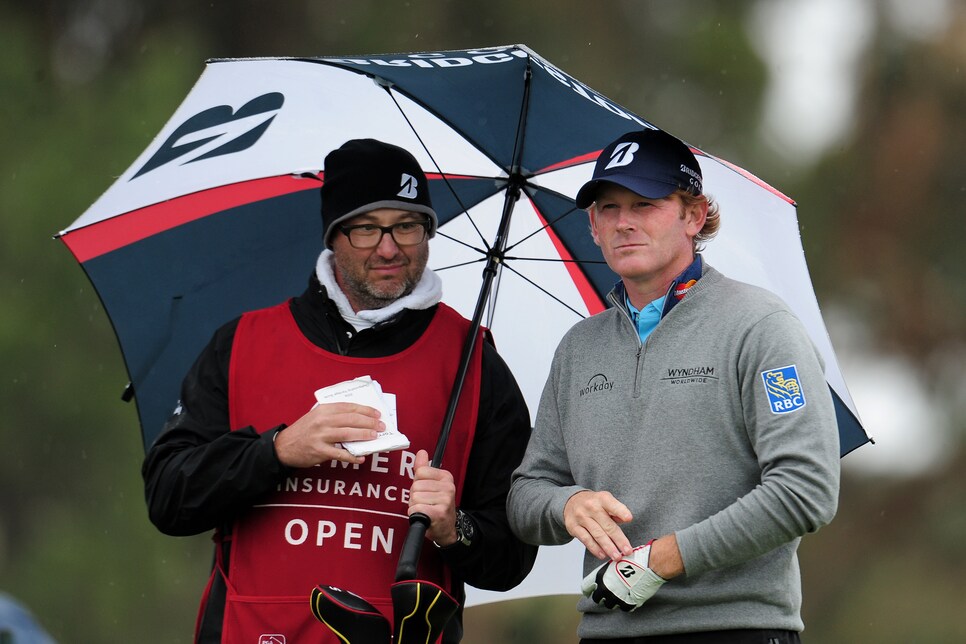 Snedeker, who said it was "like playing a British Open on a U.S. Open setup," completed play at six-under par 282, one behind leader Jimmy Walker, who still has eight holes to play. Play was halted for the third time on Sunday at 1:57 p.m. (PST), and 90 minutes later it was suspended until Monday morning.
A Sunday finish probably represented Snedeker's best chance at winning, given the strength of the wind and the intermittently heavy rain. "I want them out there playing, since I had to play through this all day," he said after his round. "So, I want them to be out there going through the misery that I had to go through. And not that I'm wishing bad on them, it's just tough out there. It's the reality of the situation. It's not going to help my cause if they come back tomorrow and it's nice and not windy."
The forecast indicates it won't be nice, just nicer, 52 degrees and sunny, with 25-mile-per-hour winds that would continue to wreak havoc with scoring.
On Sunday, the winds gusted to 40 miles per hour, creating dangerous conditions. A large branch broke off a tree in front of the Lodge at Torrey Pines, injuring a police officer. Tents were evacuated and, before the a decision to postpone play until Monday, the crowd was ordered off the course for its own safety.
It was, Snedeker said, the kind of weather he needed to have a chance to win this event for the second time.
"I thought that this was the best conditions I could possibly have to have a chance to win the golf tournament," he said. "You need a day like today where the weather was awful and you shoot something good and can get back in it.
"It was just one of those special days that I don't think I could go out there and recreate it and do it again, but I'm glad I did it," he said.