News
Branden Grace gets ripped by Danny Willett and Paul McGinley for taking "ridiculous" drop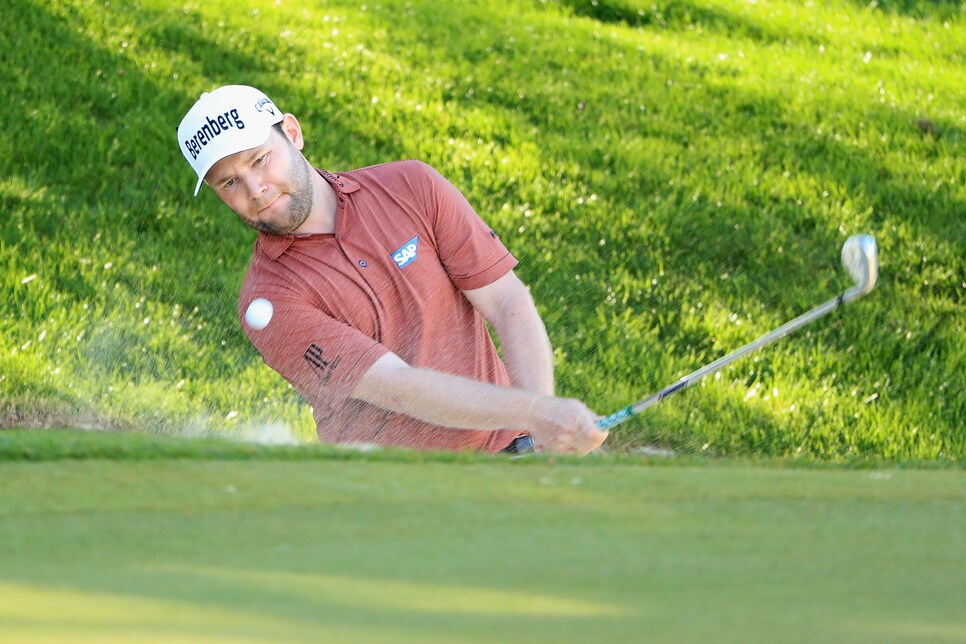 There were no shortage of stories produced by Wentworth's bunkers on Day 1 of the BMW PGA Championship. Shortly after Ernie Els holed a drop-influenced shot from one on the 12th hole and called a penalty on himself, Branden Grace took relief in a sand trap on No. 13. While Els received praise for his noble decision, Grace is taking heat from some big names.
Last year's Masters champ Danny Willett and former Ryder Cup captain Paul McGinley are two people to take issue with the free drop Grace took after his approach shot plugged into the upslope. When Grace dug into the sand, he claimed his feet were touching the rubber layer at the base of the bunker. A tour referee allowed him to take a free drop. Grace, who was tied for the lead at the time, hit a shot to 10 feet, but missed the par putt.
"It was ridiculous," McGinley said on Sky's telecast of the European Tour's flagship event. "If you twist your feet enough you're bound to eventually reach the bunker lining. That means anytime a player wants relief from a poor lie he can simply twist his feet until he reaches the bunker lining. That can't be right."
Willett voiced his concerns on Twitter by asking the tour to clarify why Grace had been given such a generous ruling:
"When I took the stance, there was only one or two inches of sand and my foot kept sliding on the material, the rubber, underneath the sand," said Grace, who trailed by two shots after an opening 68. "A rule is a rule, and I took advantage of the rule there, and it helped knowing the rule in some respects. Fortunately for me, I got away with a good drop but I still made bogey.
"I can understand if some people criticize you for standing in the middle of the bunker and going too deep, but if you're standing on the upslope it's not always easy getting a stance."
It might not be easy to sway the court of public opinion back in his favor for a bit, either.