The Loop
Brandel Chamblee: Dustin Johnson 'as talented as Phil Mickelson was…up to snuff in every facet'
It is fashionable and interesting to put Dustin Johnson on the couch and analyze why he has yet to win a major championship, but in doing so on Golf Channel's "Live from the PGA Championship" on Thursday evening, Brandel Chamblee demonstrated again why he's the best analyst in golf.
Here is his take in the aftermath of Johnson's opening round of 66 in the PGA Championship at Whistling Straits:
"Phil Mickelson was two years older than Dustin Johnson is before he broke through and won a major championship. And when we start talking about the talent that Dustin Johnson has…I don't think you put Dustin Johnson in a Tiger Woods' category in terms of talent, but certainly I think it's reasonable to say he's equally as talented as Phil Mickelson was, maybe not so around the greens. But it is that type of talent.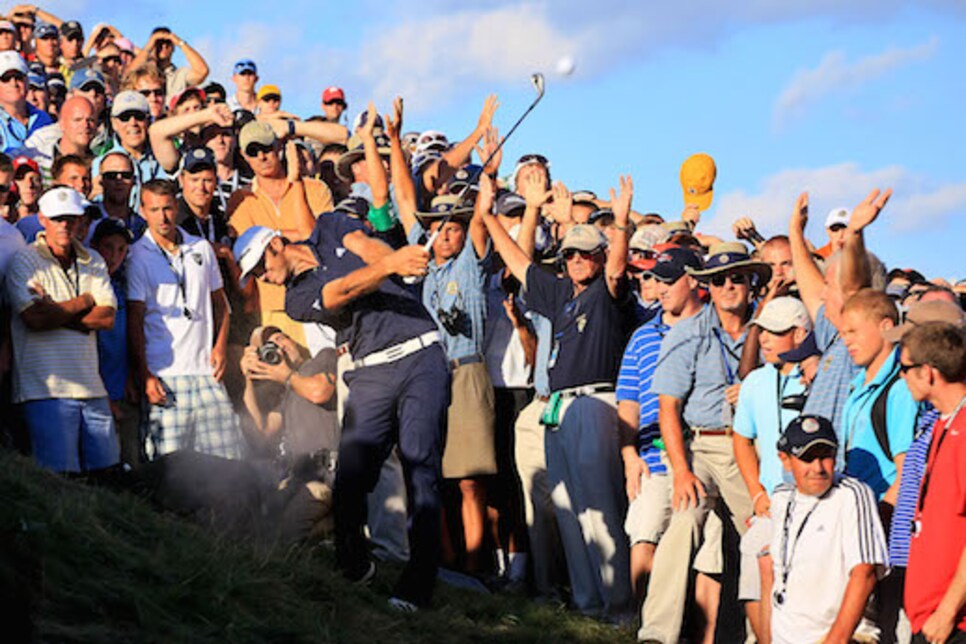 Dustin Johnson, king of the hill? (Getty Images)
"And the reason we talk about him so often is because he consistently does this. He's won eight years in a row on the PGA Tour. That is the longest such streak. He's led after the first round of a major championship three times in a row. I almost think to some extent the painful losses in major championships bother us or the media or the fans more than it seems to bother him, because he's pretty darn sanguine about it.
"When questioned in the media center and it's said you've performed poorly on the weekend at the Masters and the U.S. Open, he said, No, I did not. I played fine on the weekends.' Sometimes it's not your time. None of us can say he didn't do everything that was asked of him on the 18th hole of the U.S. Open. Who's hit a better drive than that under pressure? Who's hit a better second shot into the last green? It could very easily have finished a foot away.
"And none of us can say for certainty he didn't do everything that was asked of him on that putt. Yes, it is painful and we can extrapolate to all these extremes saying he's not up to snuff, but he's proven he is up to snuff in every facet of the game, and sometimes it just takes a little time."
And we'll leave it to another astute analyst Frank Nobilo to sum it up.
"It always speaks volumes that he is currently the eighth-ranked player in the world," he said. "It's hard to imagine that there are seven players who can play at that level or better."