The Loop
Bradley's college coach reflects on PGA Championship win
Frank Darby could tell his former collegiate star was primed for history even before his final round started.
The first seconds of Keegan Bradley's pre-round interview with CBS gave it away - his level of composure made him a favorite Sunday to win a major championship.
"He had it, you could just tell he had that look," said Darby, Keegan's college golf coach at St. John's University in Queens, N.Y. "I've seen that look."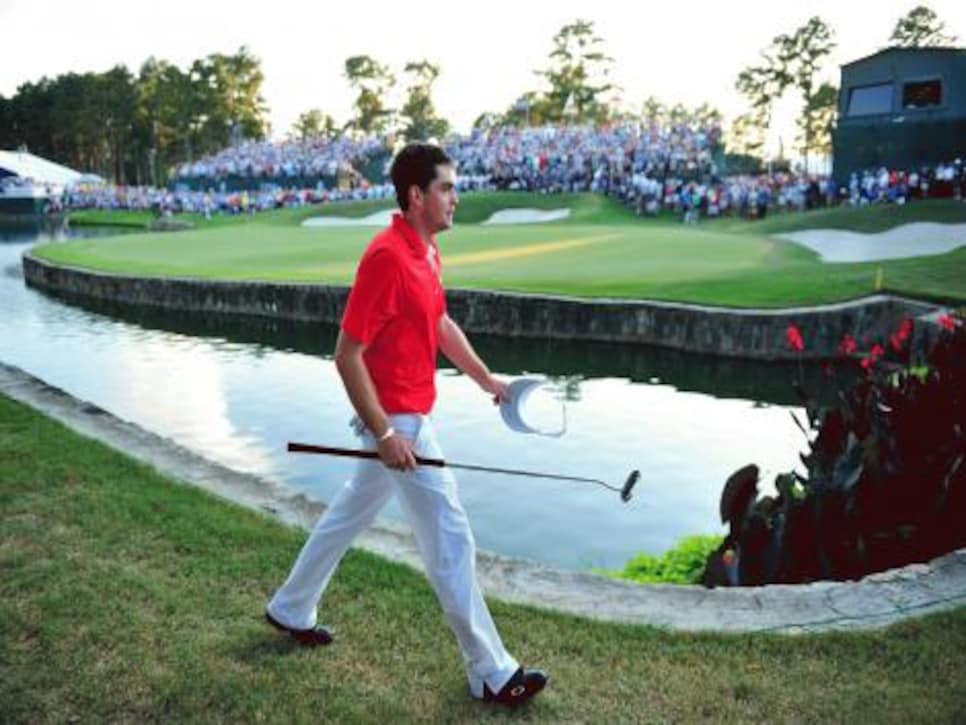 It was the same look Bradley had flashed in collegiate rounds, with significantly less pressure than a major championship. But the experience gained through college and playing on the Hooters Tour and the Nationwide prepared the 25-year-old PGA Tour rookie for the crowning moment of his career.
That's why Darby wasn't surprised to see Bradley rebound from a triple bogey 6 on the par-3 15th hole. Even after dropping three shots to fall four shots off the lead, Bradley birdied the 16th and 17th holes to put himself back in position. Jason Dufner shot 3-over over the final four holes, allowing Bradley another shot at the championship in a three-hole playoff.
Darby knew, too, that the 25-year-old Bradley had a strong advantage over Dufner heading into extra holes.
"You knew he had him after 18 because you could just tell the way he was hitting it," said Darby. "But that was a great second shot he hit after Dufner snuck his in at the playoff hole. Dufner sure played great."
The college coach was at a loss for words as he talked about the Vermont native's PGA Championship win. He recalled the blue Ford Fusion that Bradley would drive around on the Hooters Tour from tournament to tournament, and how much that fueled his passion for being successful.
The biggest difference in Bradley from college to now? Well, of course, it's the long putter.
"The long putter has helped him more than anything," he said. "He's got tons of confidence with it, and he's been putting with that for a while. He was always a streaky kind of putter, but now he's been more consistent and he's just making things. He's driving it an absolute mile, and now it's a bit straighter, too. Believe it or not, he drove it a bit farther in college, too."
Darby told a story about Bradley drawing quite a crowd on the first tee at Wheatley Hills Golf Club in East Williston, N.Y., as he drove the green on the 350-yard opening hole.
To go along with his tremendous length off the tee, Darby said Bradley's composure is now his biggest strength, and was a huge reason that Bradley was able to join Ben Curtis as the only golfers since Francis Ouimet in 1913 to win a major championship in his first major start.
Even after chunking a chip spot across the green into the water with three holes to play, Bradley remained composed.
"When he played for me, he's got that little bit of Irish temperament and he'd get pissed off. But it'd be more mad at himself than mad at anybody else," Darby said. "But you just try to get in there and calm him down, but he was already calm there even though he was pissed. It was great to see."
(Photo by Stuart Franklin/Getty Images)