The Loop
Bradley looking to build off of PGA Championship win
EDISON, N.J. -- Ever since winning the PGA Championship, preparing for the next golf tournament had been on the back burner for Keegan Bradley.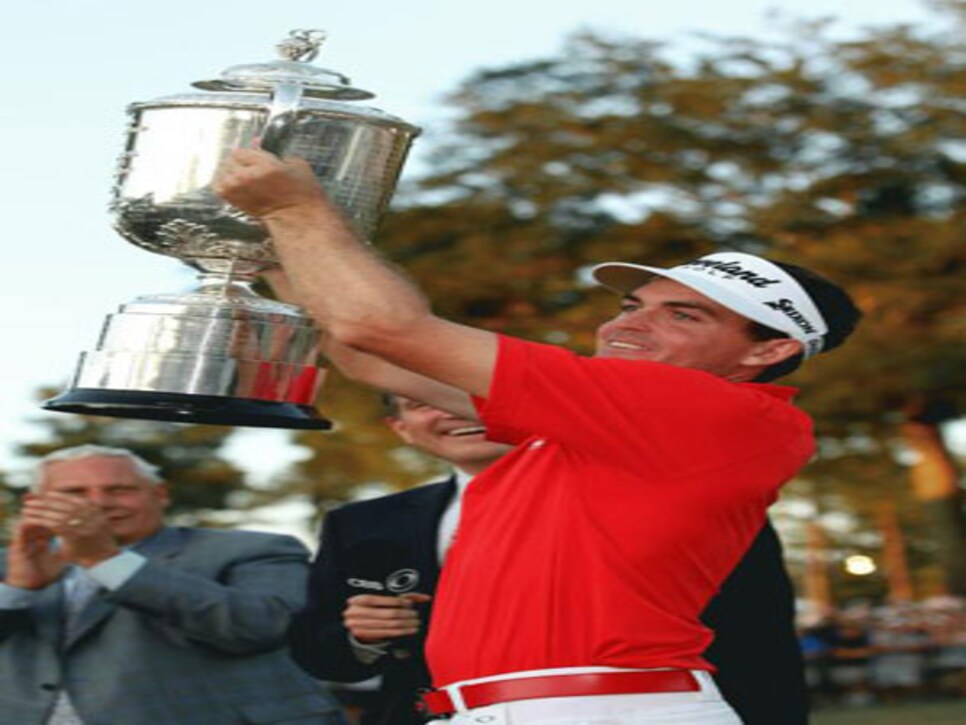 It was a nice four days off.
"When I woke up on Thursday I was like, 'I've got to get going again and get started thinking about this week,'" Bradley said in a press conference at The Barclays on Tuesday. "The FedEx Cup Playoffs are an important part of our season."
The 25-year-old Bradley played a practice round at Plainfield C.C. in preparation for the first leg of this year's FedEx Cup Playoffs. It's also a homecoming of sorts for Bradley, who played his college golf at St. John's University in Queens.
By all appearances, it looks like the PGA Tour rookie isn't letting all the hype get to him. Bradley went back to Queens this past week, spending a night at the underwhelming Red Storm golf house.
"I kicked one of the guys out of their beds. I did pull seniority there," Bradley quipped. "It is cool to go back and hang out with those guys, we are basically the same age, a lot of them, and it's super cool, because like I said, it wasn't that long ago when I was sitting in a house in Queens with $85 in my bank account and struggling around for doing exactly what they are doing, and it's cool to look at them and know I'm one of them and they are one of me."
Bradley said he enjoys being a mentor figure to the Red Storm golfers, someone they can look up to on tour.
And he's enjoyed the time off, celebrating with the Wanamaker Trophy and sharing it with others. A congratulatory text message from Tom Brady, one of his biggest idols, was "a highlight of my career." A congratulatory phone call from Greg Norman--another reminder of how his life has changed since beating Jason Dufner in a playoff at the Atlanta Athletic Club.
"I swear to God, something like that happens every day that I can't really believe," he said. "It's pretty remarkable."
Bradley, the nephew of former LPGA Hall of Famer Pat Bradley, has certainly gathered quite a bit of popularity in the last two weeks. Still, he's tried to share the limelight with others--taking the Wanamaker into his hometown of Jupiter, Fla. to let people see and touch it. After watching a Boston Bruins member take the Stanley Cup into the city of Boston for a day, he knew that's what he wanted to do.
As for being ready for all the extra attention that comes with winning a major championship, Bradley's not too worried about that.
"People know who I am, know my name now. It's a little bit more to deal with, but I've been waiting for this my whole life," he said. "Now that it's finally here, I feel ready for it and I'm not afraid of it by any means."
Bradley's looper, Steve "Pepsi' Hale, didn't notice a difference in his golfer's demeanor Tuesday in his practice round.
"It's always fun after a win, you know, you're always up," Hale said of Bradley, who also won the HP Byron Nelson in May in a playoff over Ryan Palmer. "It's always a lot of back slaps and congratulations. But he did a good job of staying focused out there."
What's Bradley focused on now? Locking up the PGA Tour Rookie of the Year honors.
He talked about his disappointment when he didn't win the top rookie title in his first year on the Hooters Tour.
Even as the only rookie with two wins on tour, he thinks he has more work to do in the next four weeks.
"That would be the highlight of my career and to do that my first year would be really, really fun," he said. "I hope I've done enough but there's been a lot of great players."
(Photo: Stuart Franklin/Getty Images)