The Loop
Bradley Beal and Draymond Green got into a good old-fashioned hugging match
Draymond Green has built the reputation of being one of the last old school players you'll find in the NBA. He takes zero crap from anybody, even if that involves some questionable kicks to to an opponent's nether regions, face or anywhere else his flailing feet desire.
His tough guy reputation was put to the test on Friday night when Green's Golden State Warriors played host to the Washington Wizards. Late in the second quarter, Wizards guard Bradley Beal drove to the basket for a layup that was rejected by Green, sending the ball into the hands of Beal's teammate Kelly Oubre Jr., who immediately threw up a three-pointer. Beal, clearly upset with being swatted, jostled with Green for the rebound, and things got pretty aggressive, and by aggressive, I mean they hugged the absolute shit out of each other: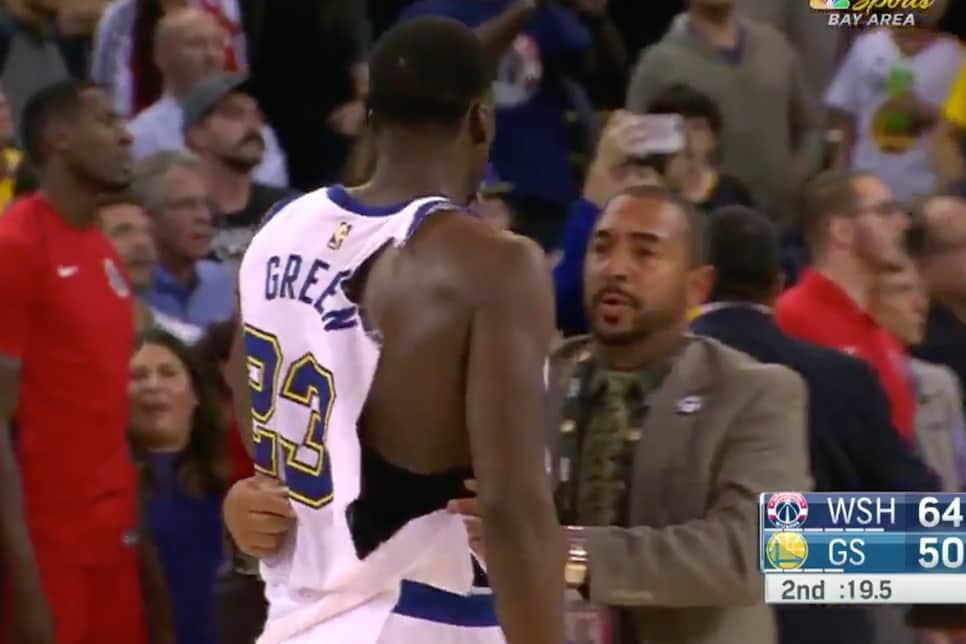 Both Beal and Green were ejected, and upon further review, it looks like Green, who is normally the aggressor, was well within his rights to take action:
"I don't know what I'm supposed to do if someone hits you twice," Green told ESPN. "Man, you're taught as a kid to not allow that. What was I supposed to do?"
The scene got better when the two players left the court, as Beal was flipped off by this random fan standing in the tunnel:
Bold move, to say the least. Despite losing Green and trailing by 14, the altercation seemed to fuel the Warriors, who came back to win 120-117.