Putting, ultimately, is an art. Science is woven within it, of course. But more than any other aspect of the game, putting relies on touch and feel. Judging the effect of the slopes. Sending the ball rolling up, down, and along those slopes with just the right amount of touch required. It's an artform, and an often perplexing one.
On the greens, a golfer's feel stitches the science together. It breeds confidence. It is the key ingredient which, ultimately, helps you make putts.
But how do you improve your feel?
Answer that question and you have, in many ways, answered the essential question in and putting. For help with that, we're looking back at an article from one of the best putters of all time, Brad Faxon.
Faxon wrote the article in 1999 alongside his mental coach Dr. Bob Rotella (you can read the full article in our Golf Digest archive right here). In it, Faxon explained his feel-first putting method—and a few games he plays to help him do it.
"One of the keys to my success is my ability to throw away doubt and fear. I become looser and more confident as the round goes on," he says. "Look at your target and let go. The following games will help you putt free of pressure and make your shortest stroke the easiest."

Game #1: 'Look and shoot'
Find two holes about 10 to 15 feet apart, one for your and one for your buddy. One ball each, no practice strokes. It's a race: Your goal is to make five putts before your playing partner.
"I like this game because it gets you to react to the target," Faxon writes.
Play a nine hole course around your local putting green, putting with four different clubs: Your driver, your 5-iron, a wedge and your putter. Swap them out at random, and routinely.
"Many players are too wrapped up in the mechanics," Faxon writes. "This game illustrates that not everything has to be perfect."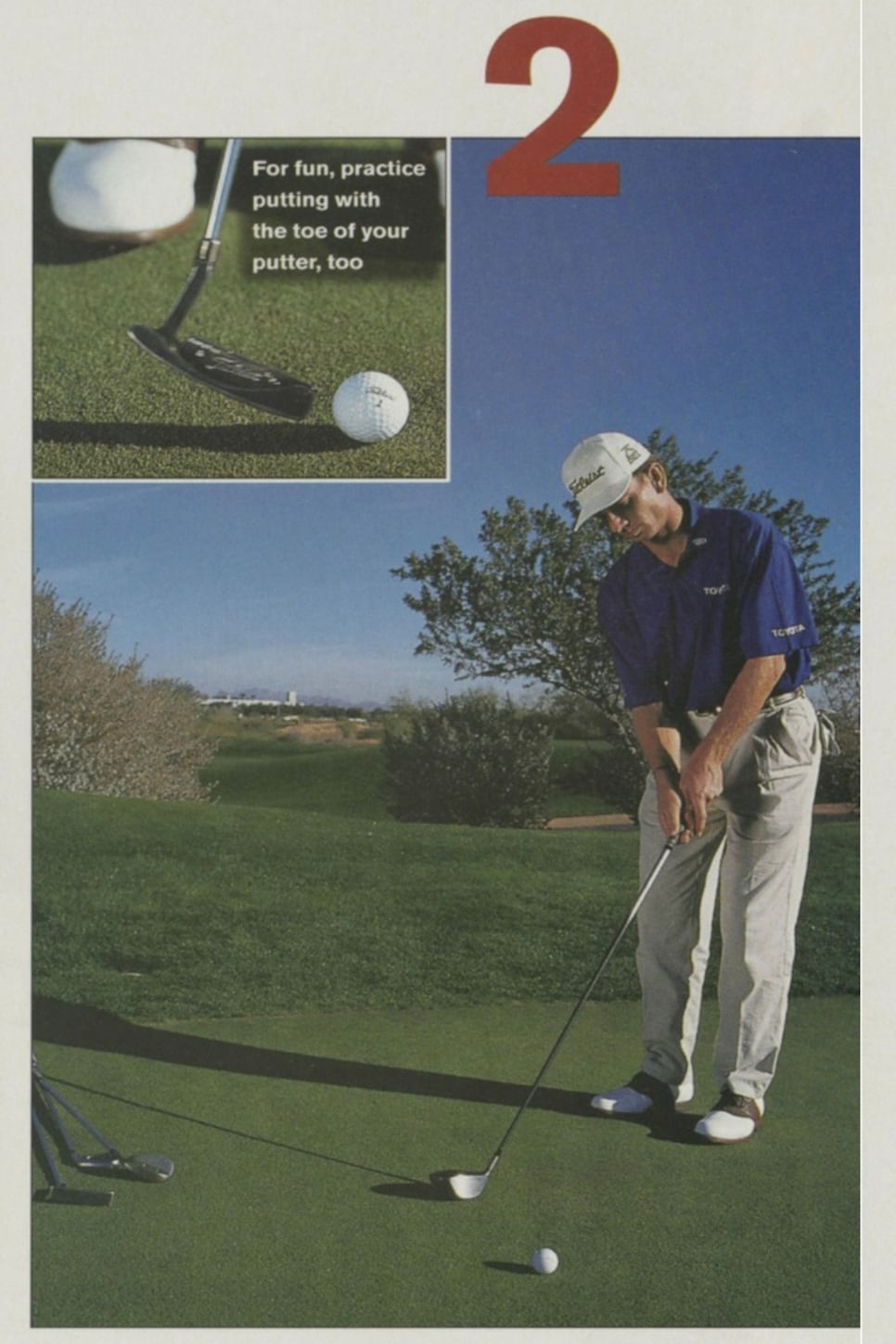 Drop nine golf balls about eight feet away from a hole. Hit one putt as your normally would, then hit the next putt with even less effort. Try with even less effort on the next one, and the one after that until you're out of golf balls.
"This game will help you get more relaxed, more trusting and freer after every putt," Faxon writes.
Drop three golf balls somewhere between three and six feet. Hit the same putt three different times, at three different speeds: Hard, soft, and medium.
"You have to trust your instincts," Faxon writes. "It proves you can pick any line you want as long as you have a speed in mind."
Once again you can check out the full article, and the rest of our archive, right here.