The Loop
Brace yourself: Donald Trump could end up hosting three different majors in a four-year stretch
"Mr. Trump, I have the R&A on Line 1, the USGA on Line 2, and the PGA of America on Line 3? Who do you want first?"
That could be the quandary Donald Trump's handlers face if a report by The Telegraph pans out. In the not too distant future, Donald Trump-owned courses could be hosting all three of golf's rotating major championships.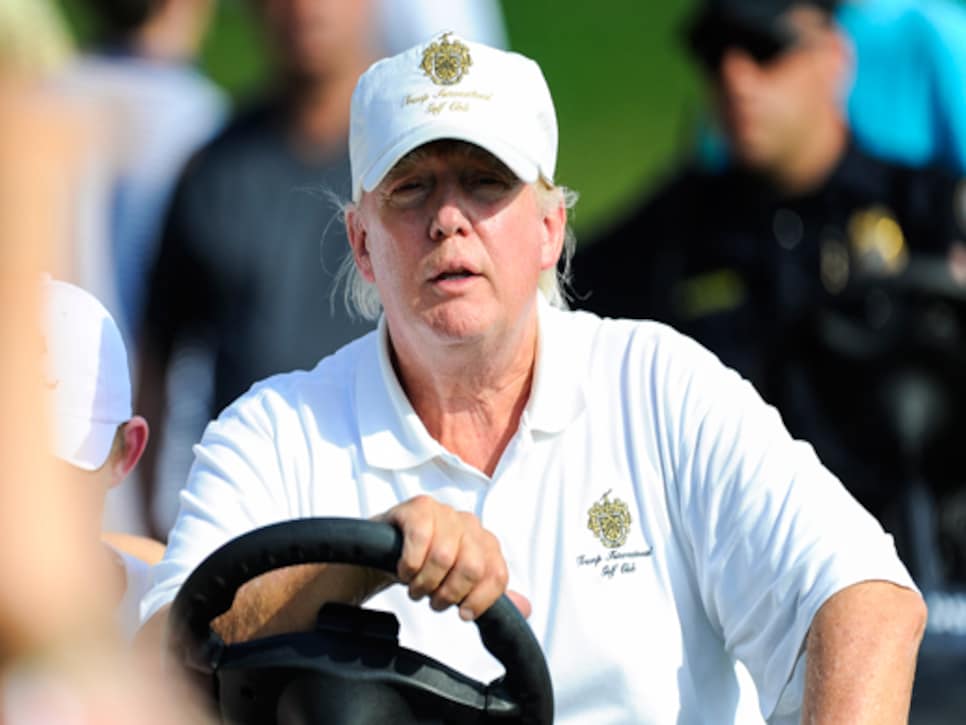 According to Telegraph golf correspondent James Corrigan, Trump is zeroing in on a purchase of Turnberry Resort. If the golf tycoon buys the famed Ailsa Course, home to some of the finest Opens ever contested, the 67-year-old Trump would be almost guaranteed of hosting an Open Championship sometime after 2019 or so. With western Scotland's Troon the last committed date in 2016, Turnberry will probably have to wait until 19 or more likely, 2021, twelve years after the course last hosted the R&A. (The Old Course is shoo-in for 2020.)
Meanwhile, the United States Golf Association is taking the 2017 U.S. Women's Open to Trump Bedminster, 36-holes of private golf only six miles from USGA headquarters in Far Hills, New Jersey. This is also an audition for the U.S. Open, an event the USGA would enjoy bringing to its neighborhood and to a course where some of their higher-ups have lockers. The first available U.S. Open date comes in 2022 (Torrey Pines hosts the prior year). Penciling in Trump Bedminster as a legitimate option for 2023.
Then there's the PGA of America. In 2020 they have a major scheduling conflict with the Summer Olympic Games, a nightmare scenario we'll see play out in 2016 when the calendar is stuffed full of major events and the lesser-known baggage arriving with golf in the Olympics (sponsor blackout periods for players, to begin with). Ideally the PGA of America will use this as an opportunity to take the event abroad in early spring after the NFL season and to a golf-loving country like Australia. But should that scenario seem too daunting, a PGA Championship in early March opens up the possibility of Florida. Only one course has the design, location, cache and space to handle a spring PGA: Trump National Doral.
The Donald could be hosting all three rotating majors in a window between 2020 and 2024: a PGA Championship in 2020, an Open Championship in 2021 and a U.S. Open in 2023. Finally, a Trump reality show worth watching.