The Loop
"Boom, baby!" U.S. displays fire as play starts
NEWPORT, Wales -- If it was it all in question whether play had finally commenced at Celtic Manor on Sunday, Jeff Overton provided a signal.
The Ryder Cup rookie, who other than perhaps Stewart Cink has been the U.S.'s most dynamic player so far, holed out from the fairway for eagle on the eighth hole, drawing he and Bubba Watson to back within one in their four-ball match against Miguel Angel Jimenez and Peter Hanson.
The Overton reaction, bordering on over-the top, was at least genuine.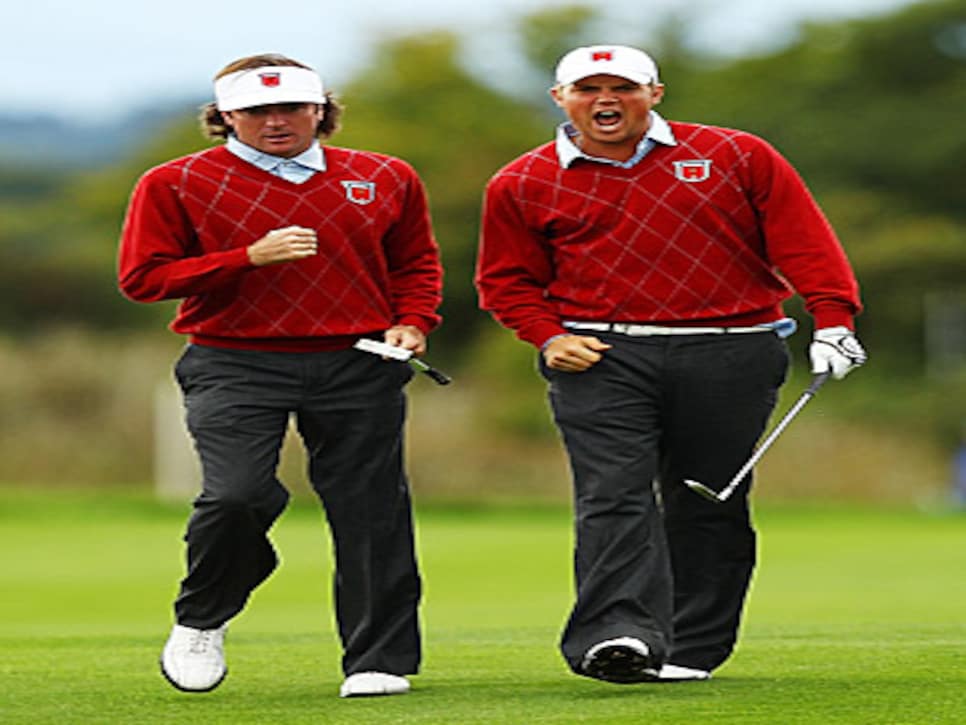 "Boom, baby!" he yelled. "Yeah! C'mon!"
(Interesting side note by way of Ryan Ballengee: "Boom, baby!" is actually the catch phrase of Indiana Pacers announcer Bob "Slick" Leonard. As an Indiana native, Overton surely knows it well.)
Both Overton and Watson, in fist-pumping and yelling their way down the fairway, were looking to stir themselves and their teammates from a sluggish start to the third session.
The U.S. is still down in all six matches, most notably Tiger Woods and Steve Stricker, who are six down with six to play. Barring a miracle, Woods will suffer the most one-sided loss of his Ryder Cup career.
With the Americans ahead 6-4 after two sessions, they likely need at least one point out of this session to have a chance heading into Monday's singles. Should they lose all six matches, they would face the same 10-6 deficit they faced in 1999 at Brookline. Of course, the U.S. came back to win that Ryder Cup. But that is a resurgence unlikely to be duplicated on foreign soil.
__Update:__Woods and Stricker fall 6 and 5, breaking their six-match unbeaten streak as partners. Woods' previous worst loss in the Ryder Cup was a 5 and 3 loss to Colin Montgomerie and Bernhard Langer in foursomes in the 1997 Ryder Cup.