The Loop
One writer's insider perspective shines through in a look at golf history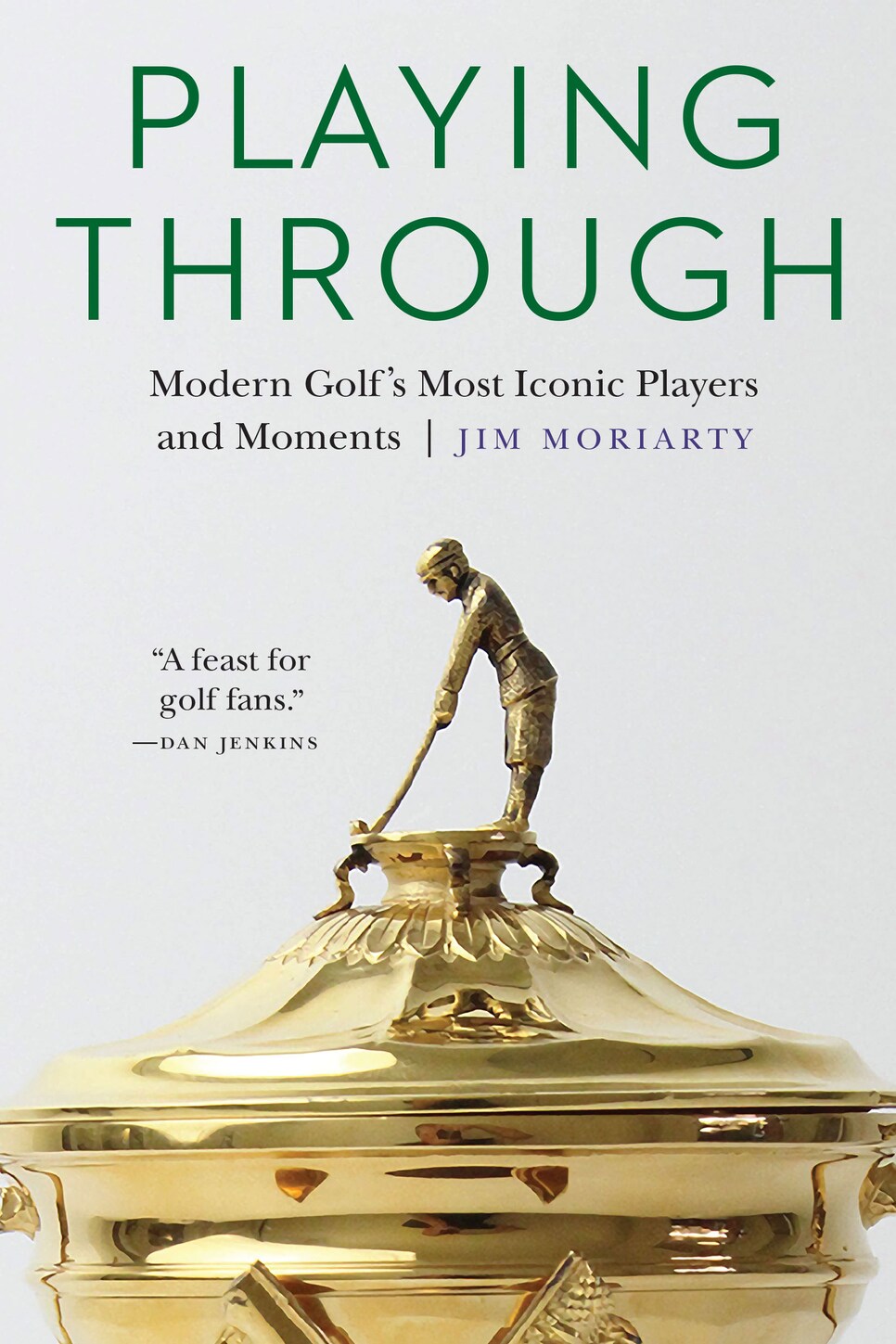 GolfDigest.com will regularly highlight a book that it finds of interest to readers. This week is:
Playing Through: Modern Golf's Most Iconic Players and Moments, By Jim Moriarty, University of Nebraska Press, $34.95, hardback, 274 pages, pub. date Oct. 1
For a photo-journalist who shot some of golf's greatest players—from a vintage Jack Nicklaus to an emerging Tiger Woods—to not have a photograph in his new book seems peculiar. But that's the way it should be, because as I visualize the work of Jim Moriarty, the real focus has always been the words.
Let's get to full disclosure first: Moriarty was a contributing writer/photographer for Golf Digest and Golf World in roughly parallel stints spanning 35 years, which allowed him to see, hear and experience the ebb and flow of the game and its history up close. A typically enthralling Moriarty piece consisted of an entertaining, cleverly constructed lede followed by a body of flowing narrative that emptied into a concise summary.   Already an author of previous golf literature in the travel/architecture and fiction realms, Moriarty gained inspiration for this book in a place many golf writers have found it: the works of Herbert Warren Wind. In seeing how two of HWW's books, The Story of American Golf and Following Through, formed a history of American golf through the early 1980s, Moriarty liked the idea of continuing the saga, especially because in the golf canon of the last 35 years there lacked a similarly told, viable story of where American golf has gone.
RELATED: More golf book reviews from Golf Digest   While not assuming to be crowned HWW's heir apparent, Moriarty settled on producing a series of 12 essays on key moments that affected American golf since the 1980s. He threads them together with connecting thoughts on their impact on the state of the game as it stands today. So rather than a straight chronology that you might find in a history book, we have expanded writings on golf events that have historical impact. The project took a couple of years to come to completion, but the end result is a mesmerizing ride through some of modern golf's most iconic moments and lives of its legendary figures.   The 12 essays cover, using my words: The everlasting example of the 1982 U.S. Open; Seve Ballesteros and his impact on the Ryder Cup; the career paths of Nick Faldo and Greg Norman slamming together at the 1996 Masters; Payne Stewart's career and tragic death; the golfer who is Phil the Thrill; the quick rise and long fall of John Daly; women's golf seen through Juli Inkster; the legend of Tiger Woods; reversal of American fortunes in the Ryder Cup; the PGA Tour gets globalized; the aging-out of Jack and Tom; and Rory and the new kids on the block.
The shortest read is on Daly and longest is of Woods, as it should be. With these two subjects, as with all the essays, I trust Moriarty's facts and observations. When he discusses his impressions of Woods when meeting him for the first time in 1994, it brought to mind the same feelings I had of Woods upon seeing him as a junior at the 1989 National Insurance Youth Classic in Texarkana, Texas. Self-deprecating in person, Moriarty is able to "show off" in this book that all those years of being close to the action and the players were not wasted, and he uses his observations in good order. His versatility as a writer is seen here as he has switched from article mode to book writing, able to stretch a story out with detail and depth and show how his topic fits into the overall historical picture. And by expanding from time to time with historical tidbits, in that regard, he is mimicking the great Wind, who tended to give you the history of an entire tournament—sometimes the game of golf!—before he wrote about the one he had gone to report on. But we are never in danger of having the gist of the story get lost.
By Moriarty's reckoning, his days of taking pictures are done. He gets the shakes with the thought of taking an iPhone photo nowadays. But no worries here. Playing Through stimulates the mind's eye well enough to see a picture of where golf has gone.