Equipment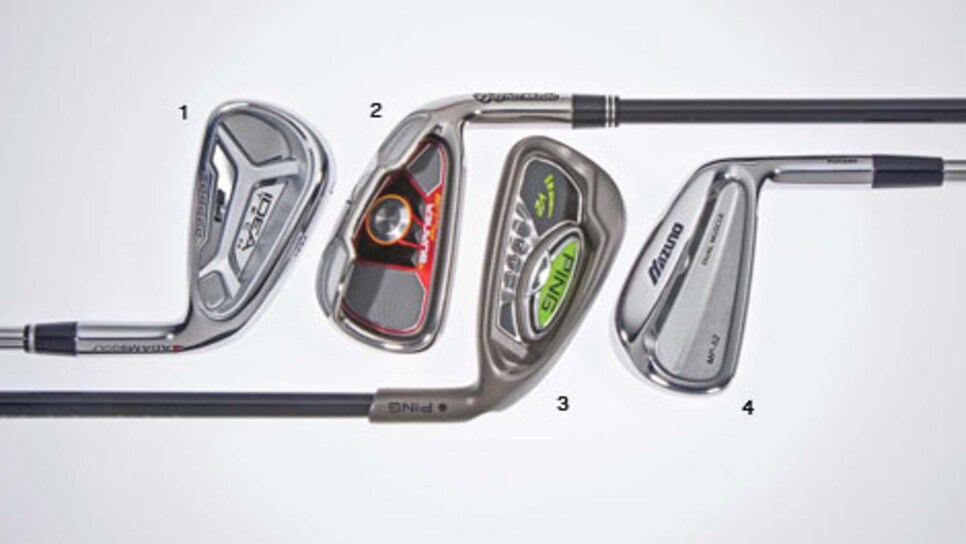 Q. Are super game-improvement irons really necessary?
GOUGE: Super game-improvement (SGI) irons are some of the most technologically intriguing sets out there, but do I think 25-handicapper Colonel Hackenchopper will suddenly become General Scratch with SGI irons in the bag? Of course not. Pretty much everyone can hit a standard game-improvement (GI) 8-iron, but only if they get the right weight and flex shaft. And I don't think high-handicappers should carry a GI iron longer than a 6-iron. Carry hybrids instead. But if you take deep divots with every swing, come over the top and rarely practice, SGI irons will help you be slightly less awful. But you'd be better off bowling.
BOMB: Gouge, have you been sniffing grip solvent again? Remember the test in last year's Hot List that showed a player with a driver swing speed of 95 miles per hour hit it five yards farther with a higher ball flight and tighter dispersion using SGI irons over standard game-improvement irons? Bad golfers are like addicts: The first step to getting better is admitting you need help. So why do you insist on being an enabler? Nevertheless, I agree high-handicappers need hybrids—a minimum of two, and perhaps a whole set.
GOUGE: Rich advice from someone who needs a super game-improvement putter. How about a compromise? If you can't hit a GI 6-iron in the air and land the ball within 20 yards of the target four out of 10 times, invest in some SGI irons. Or quit.
1 / The ADAMS Idea Tech a4 ($800) has forged, midsize cavity-back irons and Boxer, maraging steel-face hybrids in the 3- and 4-iron slots.
2 / The wide sole of the TAYLORMADE Burner Plus ($700) is beveled at the back end to reduce turf interaction. The thin-face iron's inverted-cone technology and heel-toe weight pads are designed to improve the performance of off-center hits.
3 / A thin titanium face on PING s Rapture V2 iron ($1,000) saves enough weight so almost a quarter of the club's total mass can be repositioned in a tungsten sole weight to optimize the center of gravity for a higher launch.
4 / Mizuno's compact, forged MP-52 head ($900) achieves the lowest and deepest CG in the MP line by using a milled-out, dual-scalloped undercut behind the muscle-back cavity.
Finally, they're here (sigh of relief), but long before jazzy new shafts come to market they're tested and tweaked according to the feedback of tour players who put them in play as prototypes. 1 / ALDILA has fine-tuned an internal carbon-fiber rib that runs the length of the shaft to increase hoop strength in the VooDoo ($350, aldila .com). . . . 2 / MITSUBISHI RAYON for nearly two years has been developing the Fubuki, which features a new combination of high-strength and pitch-based fibers designed to enhance feel and stability in and above the tip section ($300, mitsubishirayongolf.com). . . . 3 / UST will debut the Proforce AXIVCore in November. It has the company's four-directional-weave material in the shaft's inner wall ($165, ustgolfshaft.com). . . . 4 / GRAPHITE DESIGN unveils the Tour AD Throttle, designed to optimize launch and spin for high swing speeds ($175, gdintl.com).
Bomb (aka E. Michael Johnson, the Equipment Editor for Golf World, our sister magazine) and Gouge (aka Mike Stachura, Equipment Editor for Golf Digest) answer your equipment questions online here.