Equipment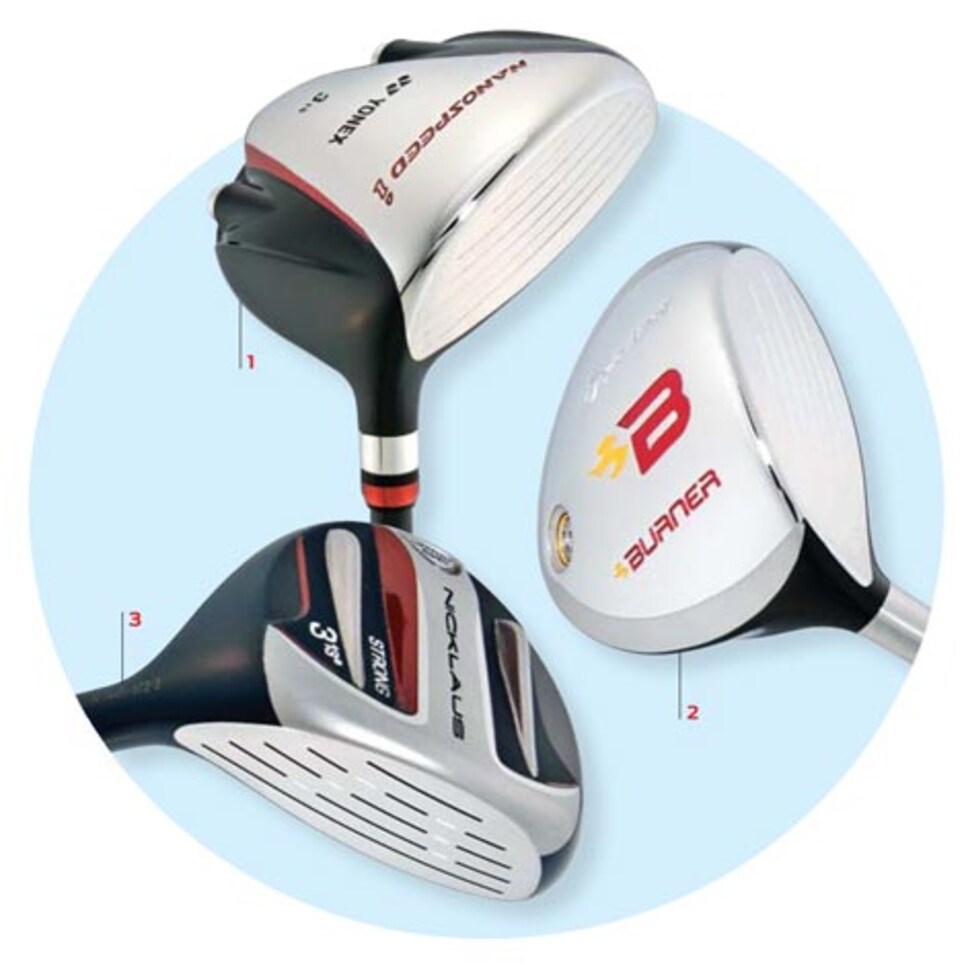 1 / The YONEX Nanospeed i 3-wood is 205cc, ideal for a backup driver.
2 / The NICKLAUS Claw series includes a driver-like 13-degree version of its 3-wood.
3 / The TAYLORMADE Tour Burner comes in two versions: high launch (190cc 3-wood) and tour launch (160cc 3-wood).
Q. Sometimes Phil Mickelson ditches his 3-wood, and sometimes a 3-wood is his driver. Should I copy him?
BOMB: Listen, chopper, I've seen Phil Mickelson play, and unless you have world-class skills and a parking space every week on tour, you're no Phil Mickelson. However, that doesn't mean you shouldn't consider doing what he does sometimes (like, say, spending a few more minutes working on your short game, Sir Chipsalot). Seriously, Mickelson didn't carry a 3-wood at Colonial this year because it didn't work for him on that golf course. Same deal with the driver at Torrey Pines. But you should dump the 3-wood because it doesn't work for you on any course. If you can't swing more than 100 miles per hour, you shouldn't carry a 3-wood because it's almost impossible to hit off the fairway, and it's less forgiving than a properly fitted driver off the tee. Instead of the traditional 3- and 5-wood, carry a 4- and 7-wood or a 4-wood/ hybrid combination. They're easier to hit. (If your swing is slow and smooth, choose the 7-wood. If you're steep and aggressive on the downswing, use the hybrid.) If a 4-wood isn't enough club to reach the green with your second shot, lay up. Better yet, move up a tee box, and save us the trouble of watching you butcher another hole.
GOUGE: I'm almost going to agree with Bomb. But not. Here's the thing: Most of today's 3-woods have larger heads and hotter faces than in the past, but most chops still can't hit them from the fairway. But how many birdies are you making with a 3-wood approach shot? Less. Than. Zero. You're not making that many pars, either. So forget about hitting a 3-wood from the fairway. Instead, carry a 3-wood that you hit only off the tee that has a longer shaft (44 inches), a larger face (forgiveness) and a bigger head (200 cubic centimeters). Then reshaft your driver and make it 46 inches, and bring it out only on the really big holes. If you're playing the right tees, you'll wear out your new 3-wood -- and your playing partners. So what should the rest of your bag look like? I'd go with a strong-lofted 5-wood, two hybrids, five irons starting with the 5-iron and three wedges. But the key to the set is a bigger, badder 3-wood. It's your backup driver, and it's the kind of two-driver approach that would make even Mickelson jealous.
Bad shots -- and even good ones -- can send a sting that fatigues your hands. These four grips fight shock in new ways that might just have you wanting to play 36.
The Winn 5PCHY-BRD combines V17 polymer for comfort and horizontally and vertically laid cord to prevent slippage ($7, winngrips.com).
Lamkin says the three-layer construction of the StingFree Crossline Tour, one of which is Kevlar, absorbs up to 90 percent more shock than a conventional grip ($7, lamkingrips.com).
The air tubes in the butt of the Energy EG Tour Cord grip use a technology found in tool grips (hammers) to reduce vibration ($11, energygrip.com).
Made from five elastomers, the Iomic X-Evolution is infused with negatively charged ions that, like copper bracelets, are meant to emit a therapeutic amount of energy ($16, iomicusa.com).