Equipment
Angel Cabrera's Belly Putter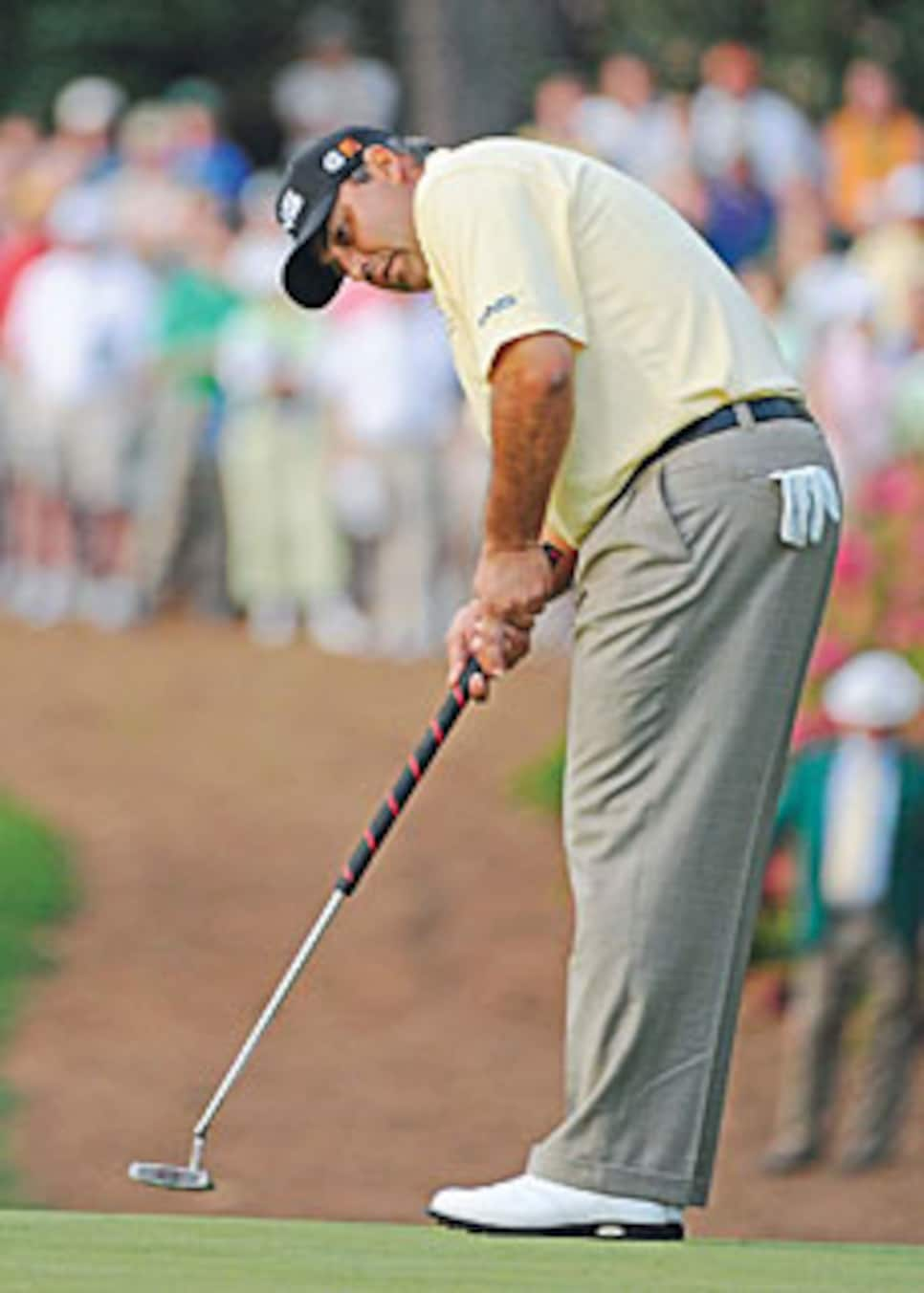 Masters winner Cabrera didn't really use a belly putter. Or did he?
BOMB: It wasn't a belly putter by the strictest definition because Cabrera didn't brace the butt end against his gut like most belly users do. However, it was a belly-style putter in terms of the length (39 inches). At the suggestion of his instructor, Charlie Epps, Cabrera used the putter (Ping i-series ½ Craz-E, to be exact) to help him stand straighter and promote a more consistent stroke. Sergio Garcia used a similar method at the Quail Hollow Championship in May, saying the longer shaft and extra weight allowed him to "load the head" more consistently. But Cabrera, the first player to win a major championship with a longer-than-standard-length putter, is sure to generate debate about whether such clubs give players an unfair advantage, and I bet I know which side you're on.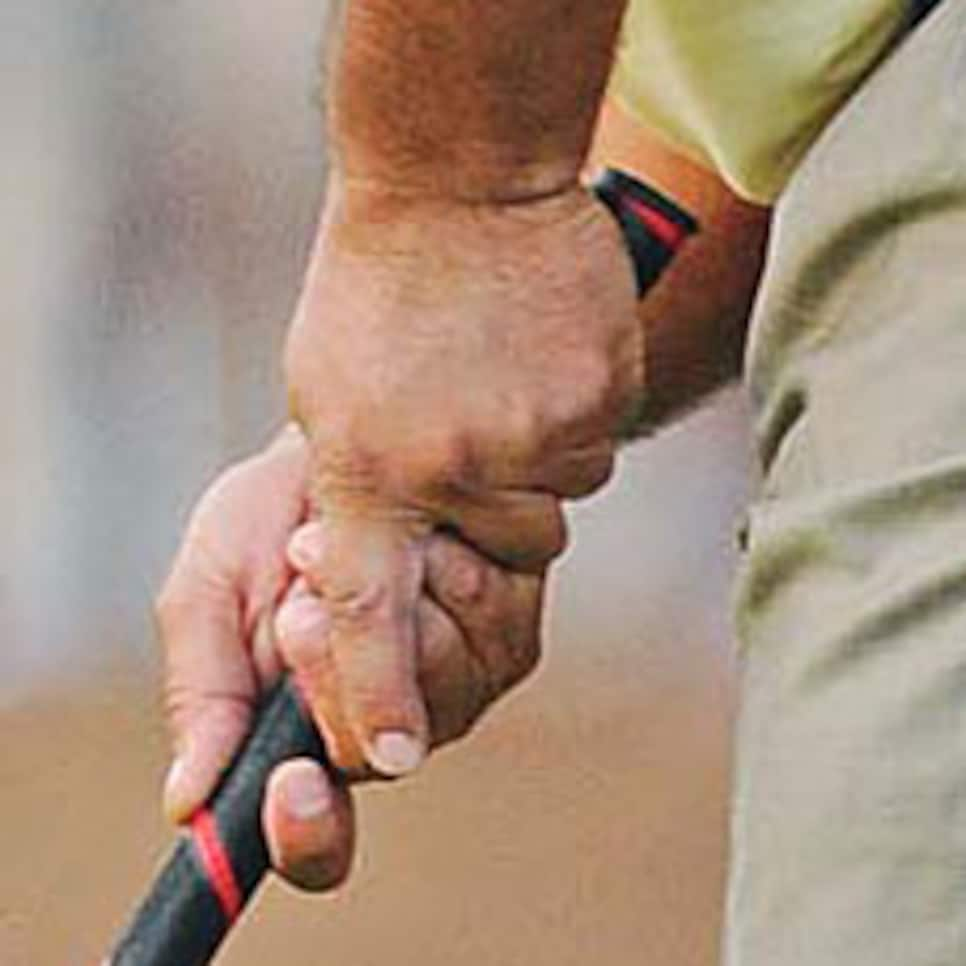 GOUGE: I hate gray areas, but I can't indict Cabrera as a cheater. The length of his putter, while curious and a clear sign of spiritual weakness and emotional dyspepsia on the greens, hardly qualifies as a travesty of the rules. What makes the belly and long putters such tools of disgust to me is the way they bastardize how the game is supposed to be played. Wedging the butt end of the shaft into any body part to overcome the shakes should be against the rules, and anyone with the intellectual capacity of a pile of divot mix recognizes that. (Those who don't are lying to themselves out of convenience.) What's worth remembering is that you can alter a putter to make it work better with your stroke (counterbalancing the grip end has been a clubfitter's secret for decades and something any average golfer can try). In addition, heavier head weights are available from more companies today, and length is an obvious but too often overlooked adjustment. In the end, I guess Cabrera's putter was a unique and viable solution to improve his putting. But if the grip of that putter had been sticking in el estomago de Cabrera, I'd be calling for a day of national mourning.
NEW TRICKS IN PUTTER TECH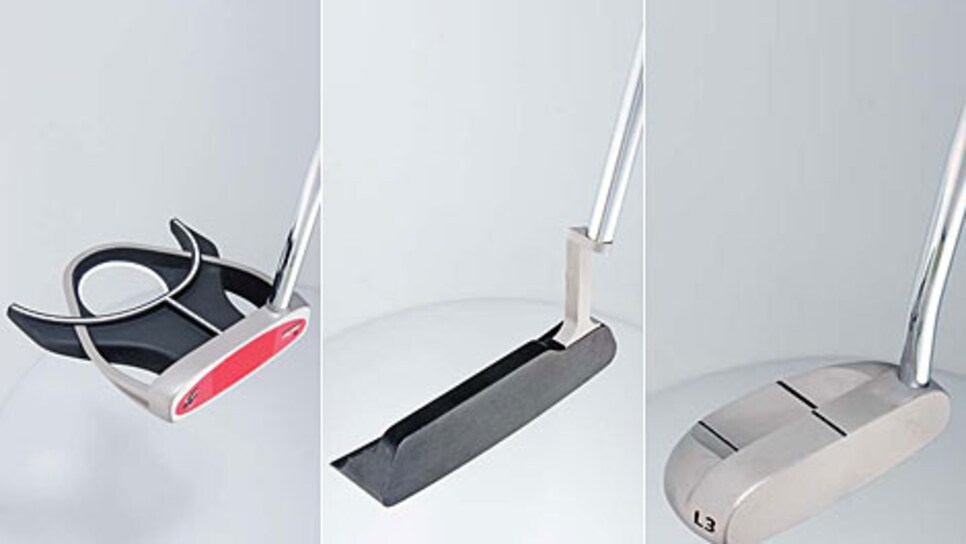 There are two schools of thought in putter design: Advance the technology and change the traditional look, and advance the technology and maintain the traditional look. Here are some new examples (from left):
TAYLORMADE addresses alignment with its new Balero model ($140, taylormadegolf.com) but combines the shape (designed for improved stability on off-center hits) with a grooved polymer face insert (designed to enhance initial forward roll). . . . All GOODE PUTTERS models feature separate pieces: a milled, traditionally shaped head and a hosel that has a specific offset and lie angle as determined by a Web-based fitting program ($250, goodeputter.com). . . . BOCCIERI GOLF, originator of the Heavy Putter, is known for its innovative weighting and traditional shapes. The Mid-Weight series (L3 shown) features the same shaft center of gravity as the Heavy Putter but in a lighter weight. The L3 is designed to engage the larger muscles in the shoulders, not the hands ($170, heavyputter.com).