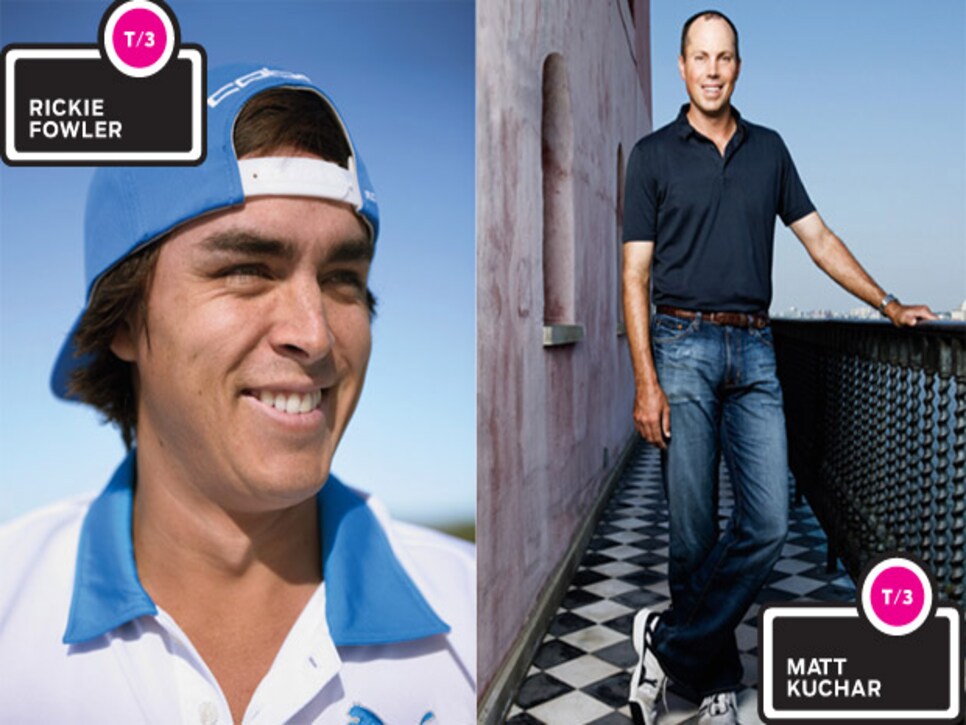 Photos (left to right): Donald Miralle, Noah Kalina
It's the question you ask us most. More than, "If you could play one course for the rest of your life... ?" More than, "If money were no object, what driver would you... ?" Even more than, "One trip: Ireland or Scotland?" A simple question, lobbed every day from the grass roots to anyone with an all-access pass. Not fair, really. I mean, who are we, God?
But irresistible: Is he a good guy?
We note variations when you are already leaning yay or nay:
"He strikes me as someone who could be a total pain in the ass. Am I wrong?" Or, "Please don't tell me ____ is a jerk. He's a good guy, isn't he? My kid loves him."
Your kid's probably right. But just to be sure, here is the official list, the Good Guys of the PGA Tour. (No Good Gals at this point; that will be a separate list.)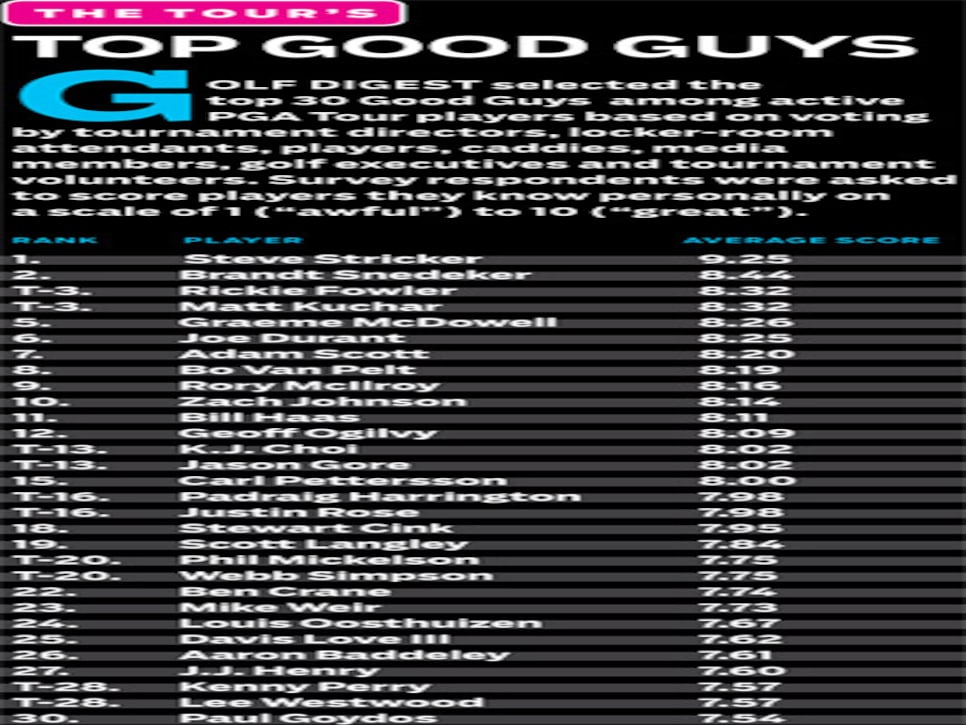 Many of the people we polled, especially administrators, reminded us that golfers tend to be polite, cooperative, decent—particularly when compared with other professional athletes. At the same time, some do manifest the pettiness, self-absorption and numbing arrogance that characterize the worst of some other sports. As one tournament official said about a popular major winner: "He can give you a rash in a heartbeat."
These Good Guys don't operate that way. They tip—generously. They thank volunteers for being there. They read pro-am partners' putts. They sign autographs when they don't feel like it, for more than hour at a time on some days.
Rick Roberts, head of locker-room operations at Bay Hill, recalls helping Graeme McDowell load his car after the 2012 Arnold Palmer Invitational. McDowell had been paired with Tiger Woods on Sunday and shot 74 to lose by five shots. Just as McDowell was about to pull out, a woman and her daughter stopped and asked him for an autograph. McDowell rolled down the window and signed. Then the mom asked if he wouldn't mind posing for a picture with her daughter. "No problem," McDowell said. He put the car in park, got out and posed for a picture. "He was so disappointed in his play that day, but he didn't turn his back on a young fan," Roberts says. "He could have just scribbled something and taken off, but he took the time to give that little girl and her mom a nice memory."
The tour's Good Guys remember where they came from. "That's difficult," says one caddie we interviewed. "It's difficult in all sports. People throw money and fame at you. It's hard to remember the way it used to be."
Establishing criteria for this list, we sought the advice of caddies, tour officials, volunteers, equipment reps and sponsors. Together they told us that the really good guys on tour are:
The model, of course, is Arnold Palmer. Only once do we recall meeting a golfer who didn't like Arnold Palmer. There was a story, not worth retelling, but this person's comment proved that no one goes undefeated in the Good Guy stakes. Nevertheless, given that Palmer leads the league by 50 games, he'll be our model. And though there is a theory among some writers and fans that it comes so naturally to Arnold he should get points subtracted, we don't buy it.
A friend tells the story of seeing Palmer at Augusta a few years back, outdoors in a brief stand-up meeting with one of his staff. A fan approaches and says, "Arnie, can I have your autograph?" Arnie says politely that he's in the middle of a business conversation and will gladly sign in a couple of minutes. For a second, he turns back to the conversation. And then, our friend says, he sees Palmer stop talking, look into the distance for a second, turn away from his aide and step over to the fan. "Absolutely; what can I do for you?"
That little midswing correction demonstrated to our friend that being generous—and Arnie—is not automatic, and that no one works harder at it than Arnie does. "You could almost read his thought process on his face," says our friend. "It was like, Wait a minute. What am I doing here?"
"Arnold set a very high bar," says sport psychologist Bob Rotella, who has listened to some clients anguish over living on the corner of fan-friendly and competitive. "I've had guys say, 'I'd love to be like that. But it's not really my personality, Doc.' Come Wednesday, some of these guys are in a funnel. They're all business."
The Good Guys find a way. Take Bo Van Pelt, ranked No. 8 in our survey. "I don't think I'd still be caddieing if it weren't for Bo," says Mark Chaney, Van Pelt's caddie for the past six-plus years. "He is by far the most thoughtful and respectful player I've come across. No matter how his day has gone, he signs everything for fans, especially kids, during practice rounds, and after tournament rounds. He treats caddies as equals—'Once a caddie, always a caddie,' he tells me—and he's the same with volunteers: always thanks them for giving their time."
The most touching stories we heard were ones that began not with a request from a fan or a sponsor, but when it was the player's idea, and no one else knew. A year after the Wells Fargo Championship in Charlotte asked J.J. Henry to participate in its "read-to" program for kids, Henry called Kendall Alley of Wells Fargo before the tournament and asked, "Hey, are you going to use me on that again this year? I hope so." Alley says Henry's done it for four years now. "He's also amazing in kids' clinics." At Henry's local tournament in Fort Worth, the Colonial, his Henry House Foundation hosts a Skybox for Kids on the 10th hole: arts, crafts, video games and free lunch for everyone. After each round, says former tournament director Peter Ripa, "J.J. would come in and hang with the kids."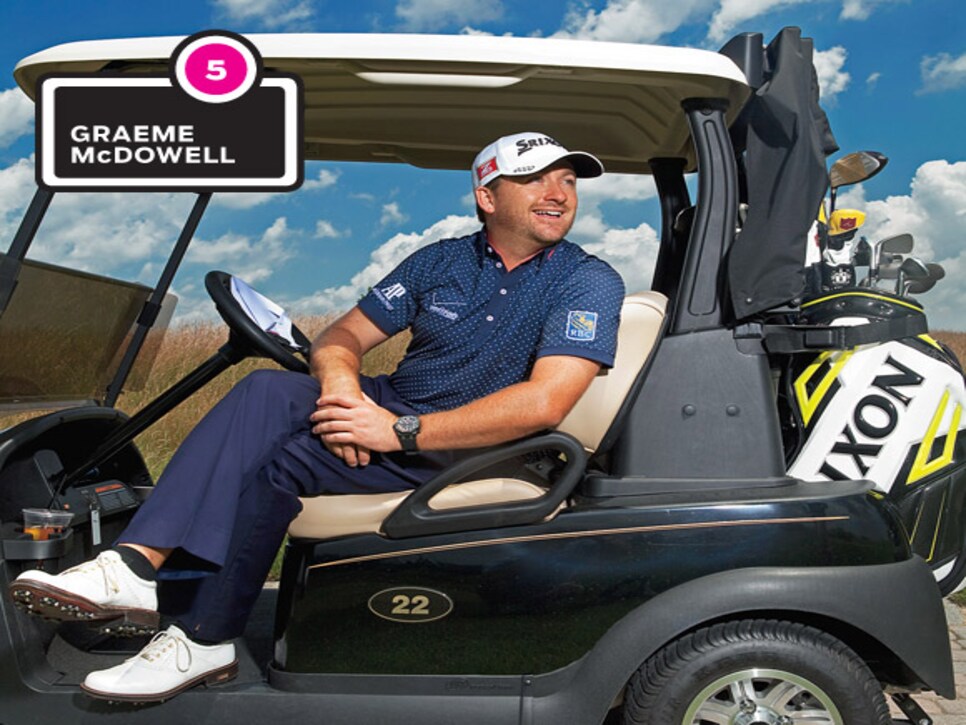 We realize giving players credit for being "media-friendly" sounds a bit self-serving, and in truth it's a minor element on our scale. At the same time, a player's consideration for reporters and broadcasters can tell you a lot about him. Padraig Harrington, who got uniformly high scores in our poll, told Rotella he goes out of his way to help reporters. "Sometimes I get distracted because I see something on the course and think, Hey, that would make a good story," Rotella recalls him saying.
There are exactly no other players, we'd wager, who have ever been so distracted. But then Harrington is the guy who, after a final-hole defeat, saw an ice-cream shop on the drive home, went in to get some for himself and bought cones for all the kids there, too.
Sometimes it's the way a guy says yes—or no. At the 2012 Memorial, Rickie Fowler, suffering from heat exhaustion, had to beg off on his usual lengthy post-round autograph session. "Folks, I'm fading here," he said. "If you give me 15 minutes, I'll come back and sign for everyone." He did.
It could be a seemingly small thing, just player to player. After Darren Clarke broke through and won the 2011 British Open—after the final hole, after the interviews, after the presentation—Davis Love III was there to congratulate him. Love is a favorite of many insiders, and especially the PGA Tour and the PGA of America. Says Julius Mason, head of communications at the PGA of America: "I'm not sure there is anyone else you would rather spend time with, talking about golf or just reminiscing about life."
Good Guys seem to inspire one another. Every year the tour recognizes professionalism and commitment to charity with its Payne Stewart Award. Last year, as the award was presented to our No. 1 Good Guy, Steve Stricker, Zach Johnson showed up, too, to show his support, telling one of our co-workers, "Someday I hope to win this award."
With Johnson, Stricker and the rest of our list, commitment to charity is an important part of why they garner such respect. Most every top tour player can afford to be charitable. But their involvement goes far beyond a tax write-off. From the K.J. Choi Foundation's aid to young Koreans struggling financially to Matt Kuchar's Twin Lakes camp serving kids with serious illnesses, the Good Guys make it personal.
Former Champions Tour star Jim Dent once said he borrowed his mantra from country singer Charlie Pride: " 'Always pass the buck down. Don't keep it all in your pocket.' "
"For us golfers," said Dent, "our main focus is giving."
Amen. Here's to the Good Guys.