The Loop
Blake Mycoskie, Toms Shoes founder, on playing in the AT&T Pro-Am, downing beers before a tee time, and his ambitious anti-gun violence campaign
On Nov. 19, Blake Mycoskie, the founder of Toms Shoes who has made charitable giving a central tenet of his business, announced his most ambitious endeavor yet. Appearing on "The Tonight Show Starring Jimmy Fallon," Mycoskie unveiled a campaign to raise money and awareness toward ending gun violence (for more information, go to Toms.com). For a company committed to social causes, it was a step into politically murky waters, but Mycoskie, who puts his 7 handicap on display annually in the AT&T Pebble Beach Pro-Am, was undeterred, and the response even among conservative golf friends has been almost universally positive. With his campaign still gathering momentum, we spoke with Mycoskie about his bold initiative, the myriad relationships he's developed through golf, and why he feels compelled to down a few beers before playing before a gallery.
So let's talk about how you started in golf.
I played growing up with my dad and my brother. Both are very good players, but I wasn't as serious as them mostly because I was a college tennis player who spent a lot of time training to become a professional. So I played a little, but I didn't get really back into it until nine years ago when Randall Stephenson from AT&T asked me if I played.
They had done a commercial about Toms and how we used their technology. In the process I got to know Randall, and he asked me if I wanted to play in the AT&T Pebble Beach Pro-Am.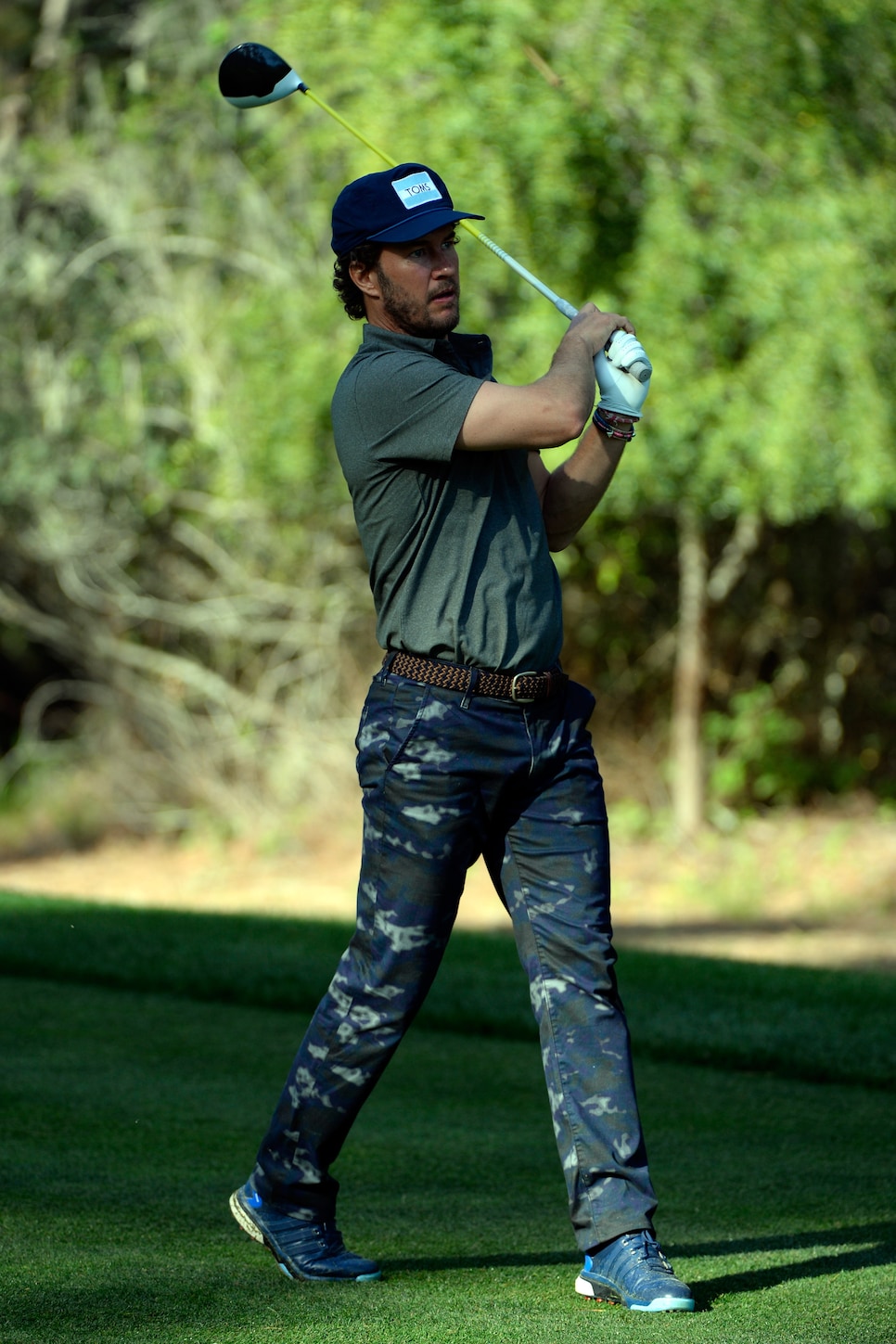 I hadn't played in an actual golf tournament my life to that point and when I told my dad I was asked to play Pebble Beach he reacted as if I just won the Nobel Peace Prize.
The first thing he said is, 'You need to get a handicap,' and at that point I didn't even know what a handicap was. We went to Palm Springs and played golf every day for three weeks before the tournament. Somehow I ended up finishing second to Bill Murray.
What's that like putting your game on display in front of galleries?
It's so nerve-wracking. Truth be told, I drink one or two beers before I tee off, even it's 7 in the morning because I'm usually so nervous. So it's nerve-wracking, but it's fun. I've gotten a chance to play with some amazing pros who've become dear friends (Mycoskie has partnered with Vaughn Taylor, Rory Sabbatini and CT Pan) of mine.
How do you manage golf with everything else you have going on?
I'm the most seasonal golfer you'll meet. I play a lot in the summer because I take a lot of time off from work and in Jackson Hole, where I play out of Shooting Star Country Club (Mycoskie also has a membership at Bel-Air CC in LA). I also really try to clear my schedule before the AT&T so I don't embarrass myself in the tournament. We love doing that, but my wife always says if she had known signing up for this tournament would mean a month of golf and not just a week, she would feel differently.
Let's talk about the latest campaign, which is pushing for universal background checks for gun purchases (for more information, go to Toms.com) I know Toms was founded on the premise of giving back (for every pair of shoes the company sells, it donates a pair of shoes to people who need it), but this is probably more political in nature because it talks about guns. I'm curious whether that's made it challenging for you in golf circles, which can tend to lean right?
That's the thing to understand. Golf definitely leans right and Toms as a company is fairly progressive in that we give a lot. But also a lot of the giving comes from my Christian background, and from Sunday School lessons about helping people who are less fortunate. So actually a lot of our customer base is people in the South with more conservative political views. For that reason a lot of people in my company were really scared because we would potentially alienate a lot of people who see this as political.
It's also why we have to do this. It's no longer political when 90 percent of America wants something like universal background checks. We know at a state level they're able to reduce gun violence because it helps keep guns from felons and people with a track record of mental health issues. This campaign is for educating and explaining that this is not about not having guns. It's about making sure we're being more diligent about who can buy guns.