The Loop
Blake Adams is a fortunate, if unfamiliar, name upon the Players leaderboard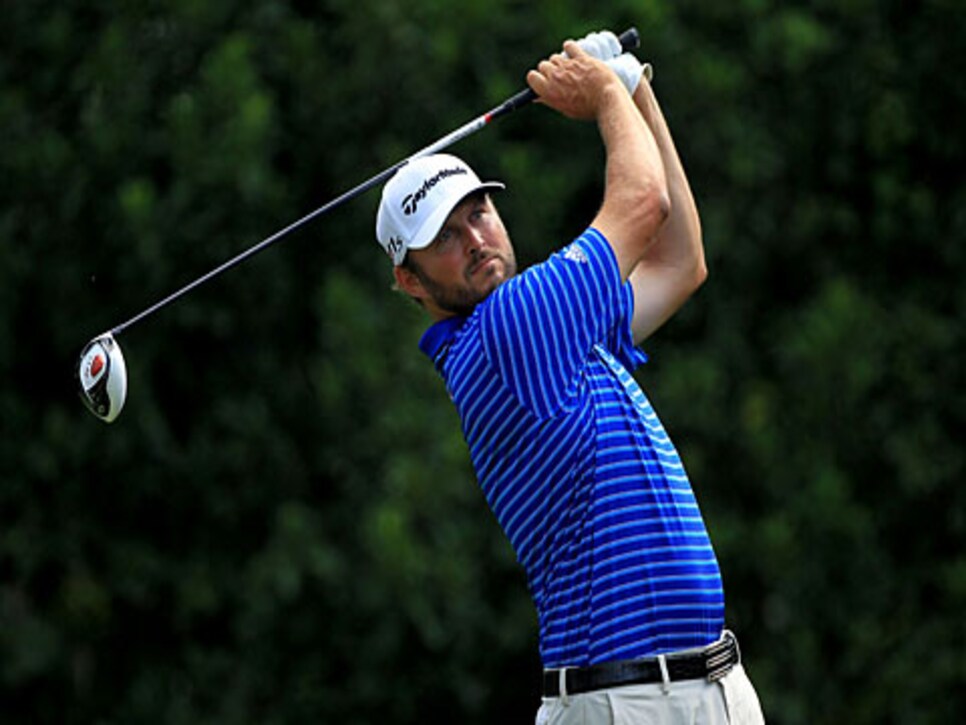 (Photo by Sam Greenwood/Getty Images Sport)
PONTE VEDRA BEACH, Fla. -- The PGA Tour media guide lists Swainsboro, Ga., as the residence of Blake Adams. But technically, the native of nearby Eatonton makes his home in a place that makes those two rural places seem like metropolises.
"We live in a little town called Nunez, which is 130 people and no red lights," he said.
If Adams keeps playing this way, he could have that many people just from the media asking him questions come Sunday evening. A Thursday 66 at TPC Sawgrass made the 36-year old an unlikely first-round contender at the Players.
"Obviously, any time you finish a nine with five-straight birdies, it's a good day," said Adams, who missed the cut in his only other Players appearance last year. "I was fortunate to get out early. Had perfect greens; I was the first group out."
Fortunate is a word Adams seems to use a lot. The journeyman pro doesn't hold back on how lucky he feels to play golf for a living and the experiences his job brings.
"The whole mindset is just crazy, that you can play a game for a living, and get paid doing it, and go to these wonderful places," he said. "You know, basically have family vacations every week all over the country. That's just insane. But that's what we do, just very, very blessed."
Of course, Adams loves being at home too, where he's built a driving range and practice green on his 350 acres. He says his location helps him get away from the game. In his spare time he loves fishing and hunting.
"All of these guys out here live amongst these gated, fancy golf courses," he said. "And we live among deer and turkeys and dirt roads."
"I'm kind of hard to find, where I live, so it's just me and my family and we just hang out and you know, enjoy life."
After attending the University of Georgia for three years, Adams transferred and graduated from Georgia Southern, the same school attended by 1990 Players champion Jodie Mudd. But Adams, whose best finish on tour this year was a T-9 at the Puerto Rico Open and who has just seven top 10s in his PGA Tour career, would be an even more surprising winner.
A Players champion who lives in a place with no traffic lights? Well, we've already seen a Masters champ, Bubba Watson, who hails from Bagdad, a Florida town more than 10 times the size of Nunez.
"We are just simple folks and we just, you know, like the quietness and it's just -- it's us," Adams said of his family. "We don't need the glitz and glamour and all this."
Of course, he'd make an exception for a certain crystal trophy.