Women's History Month
Tiffany Fitzgerald couldn't find her community within golf, so she built it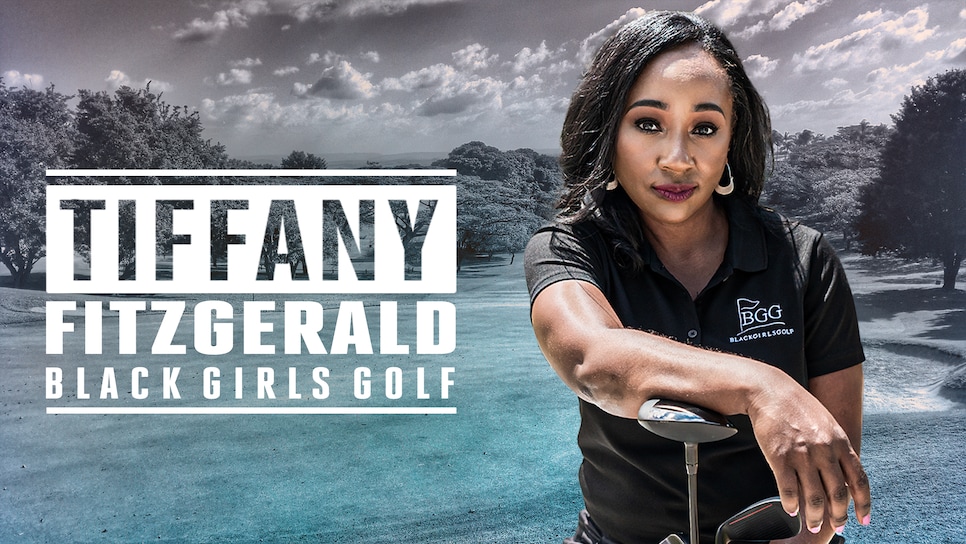 Editor's Note: In celebration of Women's History Month, we're shining a light throughout March on women who have created, own and run businesses in golf—from apparel, to golf schools, to golf courses.
When Tiffany Fitzgerald first took up golf in the early 2000s, she saw the sport as a means to an end. Working in marketing for a heavy-equipment manufacturing company in Iowa, she found herself in an industry dominated by white males. Her peers often got together for golf, yet she never received an invite.
"I wondered what was happening on the course," said Fitzgerald. "I was getting to work early, staying late, working hard, but that wasn't yielding the results I wanted. The men who played belonged to this secret fraternity."
Determined to build professional relationships with her contemporaries, but having never held a golf club before, Fitzgerald purchased a set of clubs and headed to her local municipal course without much of a plan. "I knew that someone at the golf course would know what to do," she said.
The Iowa muny enrolled her in a group lesson with all couples, and Fitzgerald was on her own. She was so uncomfortable—being the only Black golfer in the group and feeling like a clear afterthought—that she taught herself how to play.
Fitzgerald wanted others to have a better experience. She started the Black Girls Golf organization to teach Black women how to play, and to create a space where they could get together and feel comfortable playing various courses. She used social media to post her first invitation. Twenty-six women showed up to her first golf clinic in Atlanta. The organization now has more than 5,000 members across all 50 states.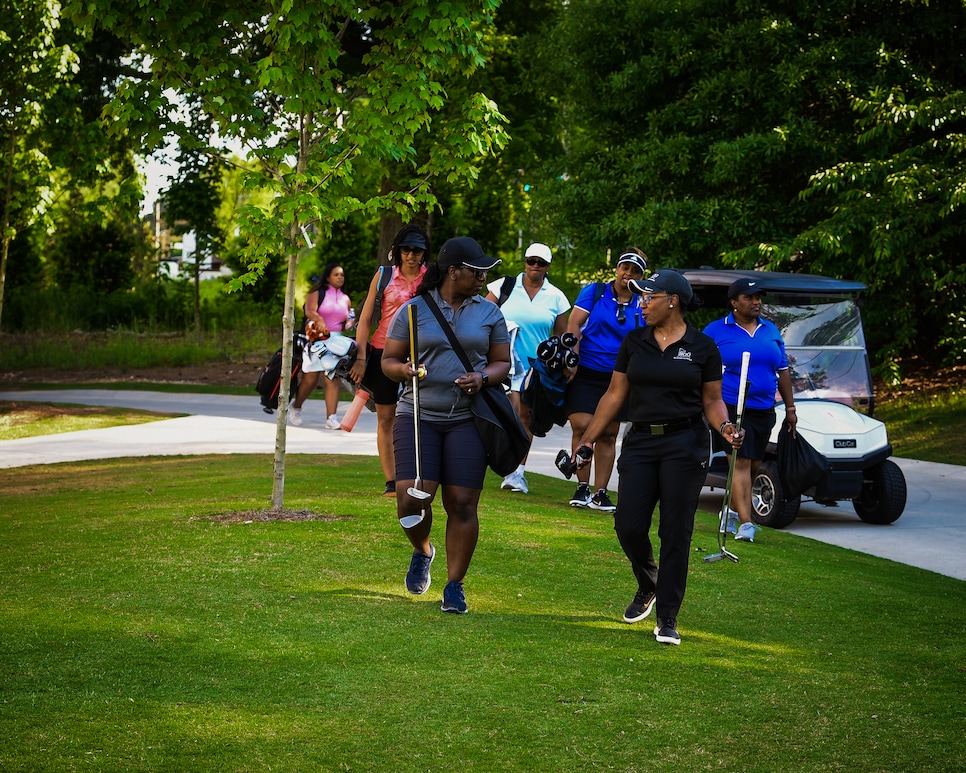 Members are able to acquire a class pass for reduced green fees and discounted group lessons. Fitzgerald facilitates meet-ups so members can get together and play—or have a Masters watch party, like the group will do in Atlanta next week. There are virtual meetings like Golf 101 master classes, where topics including the specifics of golf club technology and the importance of clubfitting, and rules and golf etiquette are explained.
This past November, she hosted the Black Girls Golf Inaugural Executive Retreat at the Four Seasons Resort and Club in Dallas. More than 100 women were in attendance.
"I was approached by a 78-year-old member," Fitzgerald says, "and she told me this was her first time ever playing with that many Black women! She was elated."
"The personal growth I get to witness—members thanking me for simply creating this space where they can be themselves. The collective impact has been that the industry now sees that there is a place for Black women in golf."
One of those women is Laniki Jones Smith, an Atlanta area-based director of call operations for a telecommunications company. A colleague introduced her to golf during the pandemic, and after researching online, she found a four-week clinic at Bobby Jones Golf Course hosted by Black Girls Golf. The result? A hobby turned into her new obsession.
"Each clinic felt like the best two hours of my life," Smith said.
She now plays every weekend—even in winter months, weather permitting. "It's my 'me' time," she says.
Smith has signed up for her first tournament in Birmingham, Ala., where one of her golf mentors, Natalie Holland, is hosting an event to raise awareness for prostate cancer after the battles of her father, Donald.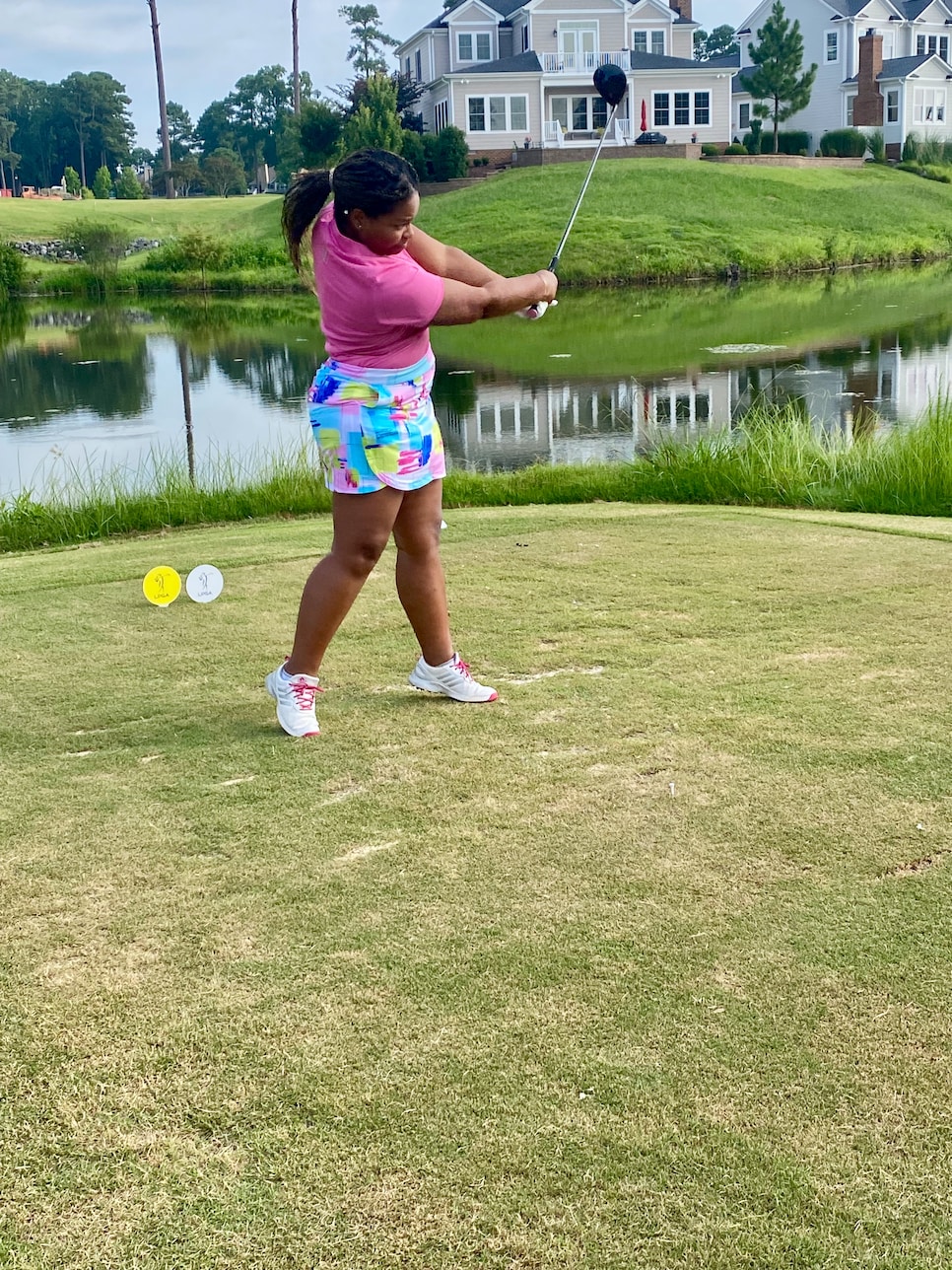 Holland was one of the pros hosting the clinic at Bobby Jones. She and Smith made an instant connection and was integral to getting Smith hooked on golf.
Holland has been crucial to the success of Black Girls Golf. In 2014, while working as an executive in the film and entertainment industry, she sent a Facebook message to Fitzgerald, asking if she needed a volunteer to help grow Black Girls Golf.
Holland, a Tiger Woods Foundation scholarship recipient and a collegiate golfer at the University of Montevallo (Ala.), wanted to give back to the game that had given her so much. After taking up golf at 10 years old, she attended The First Tee events and eventually played in many junior and women's tournaments. Her parents helped her overcome a barrier to playing in Women's Alabama Golf Association events, which required participants to be a member at a club in the state.
"My mom essentially did all the footwork," Holland says. "She worked for U.S. Steel in Alabama at the time, and she would ask her coworkers if they were members of these clubs. If they were, I would play on their memberships. This is how I was able to compete in many of these tournaments."
Holland recalls a tournament at Birmingham Country Club, which had an all-white membership at the time. On the first tee, the country club staff—all people of color—had come out to cheer her on. So when Holland moved to Atlanta, she realized an opportunity to get more involved in the organization.
"I was excited to see so many Black women playing golf, having fun on the courses, and really loving the sport," said Holland. "There's something magical about seeing people that look like you share your love for the game."
Holland provides instruction part-time and is applying to become a certified LPGA instructor. She's part of a growing circle of members and ambassadors who host events across the country. One of the bigger events was at last year's BMW Championship, where Fitzgerald put on the Black Girls Golf Clinic and the Black Girls Golf Family Day event.
Fitzgerald admits the growth of the organization has been hard, because of the resistance of some of golf's organizations. But events like those at the BMW last year and the Northern Trust in previous years, where sponsors are helping Black Girls Golf organize events in conjunction with the week's PGA Tour or LPGA Tour event, are helping.
"I want women to be inspired to get out there. Black Girls Golf is a sisterhood and celebration of Black women," Fitzgerald says. "So many times, I've wanted to walk away and give up. But then I see women make solid contact with a ball for the first time. The members keep me inspired. I didn't enjoy the game at first because something was missing. What was missing was a sense of belonging."
If she needed further inspiration, former U.S. Secretary of State Condoleezza Rice provided it. While Fitzgerald was watching golfers warm up before the AT&T Pebble Beach Pro-Am a few years ago, she introduced herself to Rice, and the dignitary was familiar with Fitzgerald's work.
"Dr. Rice immediately asked, 'You're with Black Girls Golf?' " Fitzgerald recalls. "I had never been so in awe of someone's presence."
There's a growing sentiment that action needs to take place to promote diversity and inclusion in the sport. And Black Girls Golf is positioned to be one of those organizations to help the game get to where it should be.
"Creating access for Black women is key," says Fitzgerald. "We're all here to grow the game, so let's work together in creating a pipeline for Black women to get involved in the game and become golf professionals."
For those interested in learning more about Black Girls Golf, Fitzgerald hosts clinics at the Bobby Jones Course in Atlanta, Georgia. Players of all abilities are encouraged to take the 3-week beginner's program, where two certified professionals teach golf basics during the first half of the course, and then players are taken onto the Cupp Links practice course to review on-course etiquette and play short rounds. By the end of the 3-week period, players are able to go out onto the course and play a full 18 holes.
You can visit https://blackgirlsgolf.net/ and subscribe to their email list for additional details, including their calendar of local and national events.