The Loop
Bjorn's redemption comes eight years later
SANDWICH, England -- Links golf, a miserly business at the best of times but particularly parsimonious when a stiff breeze is blowing along even the most picturesque of coastlines, doesn't often feel obliged to repay even part of a long-standing debt. Bad bounces, unfortunate breaks, awkward stances and dodgy lies are all interest-free loans as far as golf's most tight-fisted format is concerned.
But there are exceptions. Royal St. George's dipped into her purse on the opening day of this 140th Open Championship and slipped Thomas Bjorn a down payment on an eight-year old loan. The last man into the 156-strong field when Vijay Singh withdrew on Monday evening, the 40-year old Dane, who could/should/would have won here in 2003, leads with a five-under par 65 that was, all at once, ironic, appropriate and for Bjorn himself, deeply personal and emotional.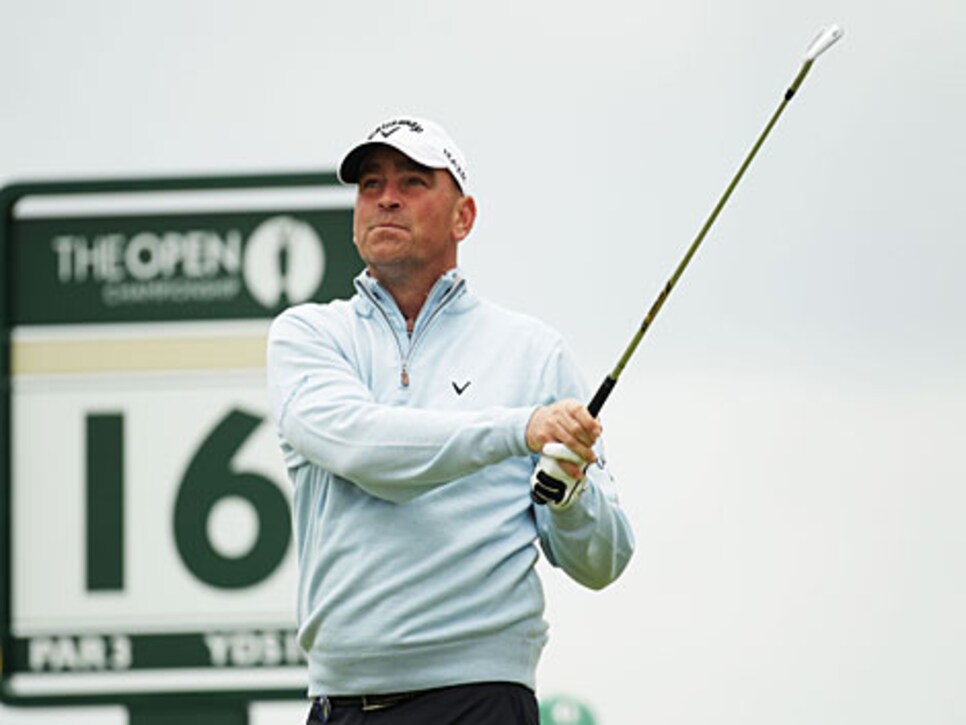 Two months on from his father Ole's untimely passing, the two-time Ryder Cupper -- and surely a future non-playing captain -- made as many as seven birdies over the supposedly fearsome 7,211-yard layout and shot his lowest-ever round in golf's oldest and most important championship. And it could have been better. Bjorn three-putted the ninth green -- missing from no more than 18 inches for par -- then took three to get down from a spot not too far removed from the fringe of the 18th green.
Still, he was happy enough with his morning's work.
"It was a good day," reflected Bjorn. "I promised myself I would go out and focus on every single shot and I did that. A few putts dropped too and it turned out to be a day of just feeling really solid with everything I did."
Strong feelings, of course, have always played a big part in the career of the ten-time European Tour winner. On the opening day of that 2003 Open, Bjorn was penalized two shots when, after failing to extricate his ball from a bunker, he thumped the sand in anger. The final round, of course, was notable for his leading by three shots with four holes to play, then dropping four shots to lose by one, a run that included a double-bogey at the short 16th, where he took three ever-more agonizing swings to escape from a bunker.
Two years later, Bjorn was again runner-up in a major championship, this time to Phil Mickelson in the PGA Championship at Baltusrol, where the Dane's putt to tie on the 18th green did everything but drop.
"When I look back on Baltusrol, I think of a very good opportunity even though I did not win," he sighs. "I should have built on that. St. George's was one I lost, but Baltusrol was just somewhere I got beat. I never lie; I lost the Open at St. George's. But at Baltusrol I didn't lose."
All of which was obviously stressful enough, but Bjorn wasn't finished. Far from it. One year after handing Ben Curtis the claret jug, he made a premature exit from the European Open, blaming "demons in my head." And, in the immediate wake of being passed over for selection to the 2006 European Ryder Cup team, Bjorn lambasted non-playing skipper Ian Woosnam, calling the wee Welshman's decision to pick Lee Westwood,"pathetic." All in all then, Bjorn is not your stereotypically stoic Scandinavian.
Still, time moves on and so has Bjorn, who now serves as chairman of the highly influential European Tour Tournament Committee; a poacher turned gamekeeper indeed. And one who, despite the loss of his father -- "He would have been very proud of what I did today," was all he could tearfully say on the subject of his bereavement -- and a poor run of recent form, hit some magnificent shots in what were trying conditions.
"I've always enjoyed links golf," he said. "It suits the way I play the game with a low ball-flight. I like the way it is around these greens, too. There's a bit of imagination involved. And when my short game is good -- as it was today -- it is right up there with the best in the world. You've got to be able to imagine how you're going to hit every single shot and that suits me down to the ground."
Perhaps most welcome -- and ironic -- was the way Bjorn played the aforementioned 16th hole. Stuck between hitting a "big 9-iron or a little 8-iron," he went with the former.
"When it started to climb on the wind I thought I was in trouble," he admitted. "I thought it was going to struggle to carry that bunker. But it just did and rolled down nicely to about three feet. That sort of thing gives you trust and belief that sometimes things can turn out your way in links golf. We all know what it's like; a bounce here or there and then it goes either right or wrong. And today it went my way."
He didn't add, "and about time, too." But he could have.
(Photo: Ross Kinnaird/Getty Images)