The Loop
Billy Horschel's family celebrates his journey to first PGA Tour win
Summit View GC in rural Grant-Valkaria, Fla., (pop. 3,850) is totally overgrown today, but the memories are still vivid for Billy Horschel Sr. This 2,611-yard, par-58 is where his son grew up playing golf, back when Senior was a foreman for a local construction company, and before that part of a crew that put up dry wall and framing.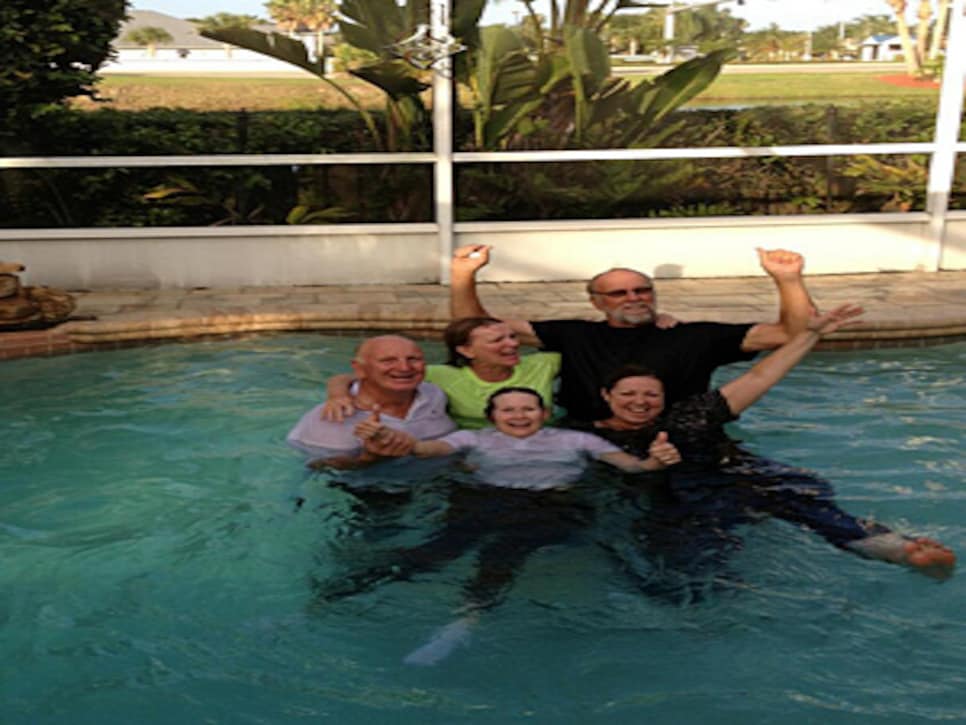 At his brother-in-law's home yesterday, Horschel watched his son win his first PGA Tour event with wife, Kathy, and four other family members. What did they do to celebrate Billy Horschel's victory in the Zurich Classic of New Orleans? "We all jumped into the swimming pool because we knew Billy couldn't with all those gators [in the ponds at the TPC Louisiana]. We jumped in clothes and all, shoes and everything. Then we broke out the champagne."
Golf's breakout star of 2013 couldn't have come from a more blue-collar background. With a win, a T-2, a T-3 and a T-9 in his last four starts, Horschel, 26, has moved to third behind Tiger Woods and Brandt Snedeker in the FedEx Cup standings and has qualified for the Players and next year's Masters. He is also the PGA Tour's most consistent player, having made 23 straight cuts. That's quite a leap considering he started the 2012 season without fully exempt status on the PGA Tour.
"I'm proud of where I came from," Horschel said from his car on the way to a night of celebrating in the Big Easy. "There are people back home who helped me out from the time I was a little kid to get me where I am now. Some people are still there, some have passed away, but they all know who they are."
Billy Horschel Sr., now 61, is at the top of the list. The story goes that before Horschel was allowed to play Summit View, his father made him hit a golf ball over their house. When Billy played baseball, his father was the coach. When I asked where Billy Jr. got his competitive toughness, there was never any hesitation from his dad.
"Probably from me," he said after his son shot 64 and birdied the 72nd hole to win by one. "I was always tough on him, but the Horschel family was always competitive. Between myself and Buddy Alexander, we molded him into what he is today."
Alexander, the University of Florida coach, told me he passed on a recruit who was a better player, "because something in Billy stood out with me." Part of that was the toughness, part of it the golf IQ. As a freshman he was an All-American. As a sophomore in 2007, he played on the same Walker Cup team as Rickie Fowler, Dustin Johnson, Kyle Stanley and Webb Simpson. When he beat Rory McIlroy in singles at Royal County Down, Horschel didn't consider it an upset. "If you ask Billy, he'd say he was the equal of Rickie Fowler in college," Alexander said.
Over the past month, Horschel doesn't have many equals in pro golf. Riding in the car with him last night, Florida Gator big brother Chris DiMarco grabbed Horschel's cellphone and concurred.
"This is like my kid, and I'm not going to lie to you--he's so good, it's ridiculous," DiMarco said. "There's not a better golf swing on tour. There's not a better player on the planet right now."
Back home in Grant-Valkaria, they were still drying off.