News
Billy Horschel, Scott Piercy card Sunday bogey-free 67 in alternate shot to win at TPC Louisiana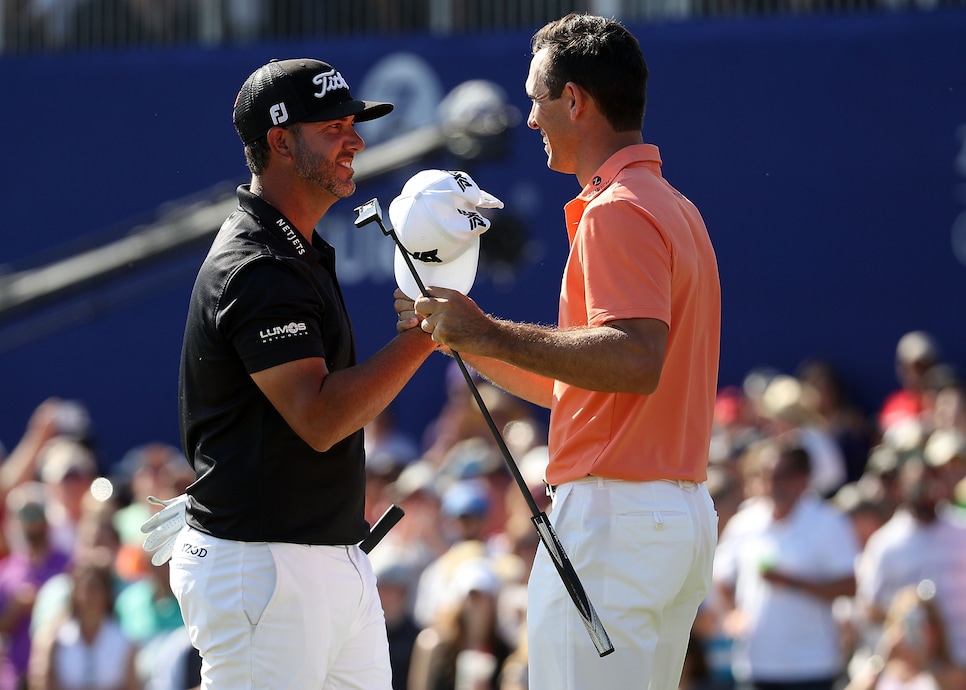 If you only watched Billy Horschel's emotional reactions on Sunday, you would have never known that he and teammate Scott Piercy were putting together the most impressive round of the week. But that's what the duo did in the final-round's alternate-shot format, carding a five-under 67 at TPC Louisiana to overcome a three-shot deficit and win the Zurich Classic.
The fiery Horschel and the more laid-back Piercy proved a winning combo, playing 36 holes of best ball in 18 under and 36 holes of alternate shot in four under. For Horschel, it was his second start in the event's new team format, having missed the cut a year ago with fellow University of Florida alum Matt Every. Piercy was making his first appearance alongside his good friend. It helped him earn his fourth PGA Tour victory, and his first since the 2015 Barbasol Championship.
"We're excited, I'm excited, I'm still kind of like, 'is it over?'" Piercy said. "My partner was awesome this week. He had some huge shots, some great chip shots, up-and-downs. I'm glad I didn't have to hit them. Unfortunately, I put him in that spot, but he sacked up big all week and hit some really big shots, hats off to him."
Piercy produced plenty as well, living up to his No. 1 ranking in the PGA Tour strokes-gained/approach-the-green statistic and often setting Horschel up with short birdie looks. At the first hole on Sunday, Piercy knocked an approach shot to five feet, leading to a Horschel birdie conversion, and they quickly added another birdie at the par-5 second, swinging the momentum in their favor early on.
"I know Scott's a really good wedge player," Horschel said. "We both work with the same stats guy, and he harped on me. He said, 'Hey, get Scott. Within 125 yards of the hole you're going to have no worse than 10 feet.' So every time I put him close, within 125 yards, he always hit it within 10 feet, which was nice."
At the 72nd hole, facing a 23-footer for birdie to end any hopes for those chasing them, Horschel nearly buried it, leaving Piercy with a testy three-footer for the par that he just snuck in on the left edge.
"It went in the hole, it went in the hole," Horschel said, jokingly. "He's been putting great. You know he's been struggling the last couple months with the putter. He actually putted well the last few days. Tried to make it real simple, hit the putt here and just trust your stroke and that's all he did."
When Piercy's putt fell, it gave Horschel his fifth career tour win, and his second at the Zurich Classic. The first came in 2013 when it was still an individual event and was Horschel's first career tour victory.
"It means a lot. You know Scott's had injuries the last year that he's had to overcome. My game hasn't been great in the last year even though I did win at the Byron, so, we've both put in a lot of hard work on our game," Horschel said. "So it's nice to see the validation. It's something Scott was talking about earlier, validate all the hard work, that you're doing the right things, and sometimes the results just don't show and it's frustrating, especially for me. I'm a perfectionist. I feel like I if I put in a ton of work on it I expect the results to show and when they don't I get a little frustrated.
"It's nice to see the results finally show up."
After Piercy's strong 2016 season that included a a T-2 in the U.S. Open at Oakmont, the Las Vegas native struggled in 2017, missing six of his last nine cuts before his season was cut short in June due to injuries. He got back into the mix this fall and has been quietly playing well, making 10 of his 13 cuts and finishing inside the top 25 seven times.
"I was hurt the last half of the year, some struggles and stuff, so to get back is nice and to do it with a good friend is even better. Looking forward to the rest of the year," Piercy said.
Finishing one-stroke back were Jason Dufner and Pat Perez, who shot a four-under 68 and had a 13-footer for birdie to tie at the 72nd but came up just short. The second-place finish is Dufner's best showing of the season, and it comes after a pair of missed cuts at the Masters and the RBC Heritage. For Perez, it's another good result that adds to an already strong year that has included a victory and three top-10s.
"We played pretty well. We got off to a slow start the first two days. We did our best. Disappointed to leave the last putt short. You want to get that one at least to the hole to give a chance, but the other guys played a little better today," Dufner said.
"Duf played great all day. I didn't really help him all this week too much. You know, it's always nice to be in the mix to try to get a win," Perez said. "Billy and Scott just played phenomenal. Didn't make any mistakes. Made the saves they had to. We missed a couple putts. It's a fun week. I love playing with Duf. You know, it was nice being there."