The Loop
You probably didn't notice: A "little putting tip" pays off BIG for Billy Horschel
Three events is a relatively small sample size when it comes to examining a golfer's stats so we're not ready yet to declare Billy Horschel the game's next great putter. But the newly crowned FedEx Cup champ isn't chalking up his recent performance on the greens to some fluky hot streak, either.
After winning the Tour Championship, Horschel pointed to a small adjustment he made within the past few weeks with the help of his instructor, Todd Anderson.
"He gave me a little putting tip at Deutsche Bank," Horschel said. "We just sort of made the grip a little bit longer, got both hands on the grip, and  my speed became better because I was always hitting my lines [before], my speed was [just] bad. I made two big putts I remember the first round at Deutsche Bank on 17 and 18 from about 15, 20 feet . . . I was like, 'OK, we may have found something here,' and then it was off to the races from there."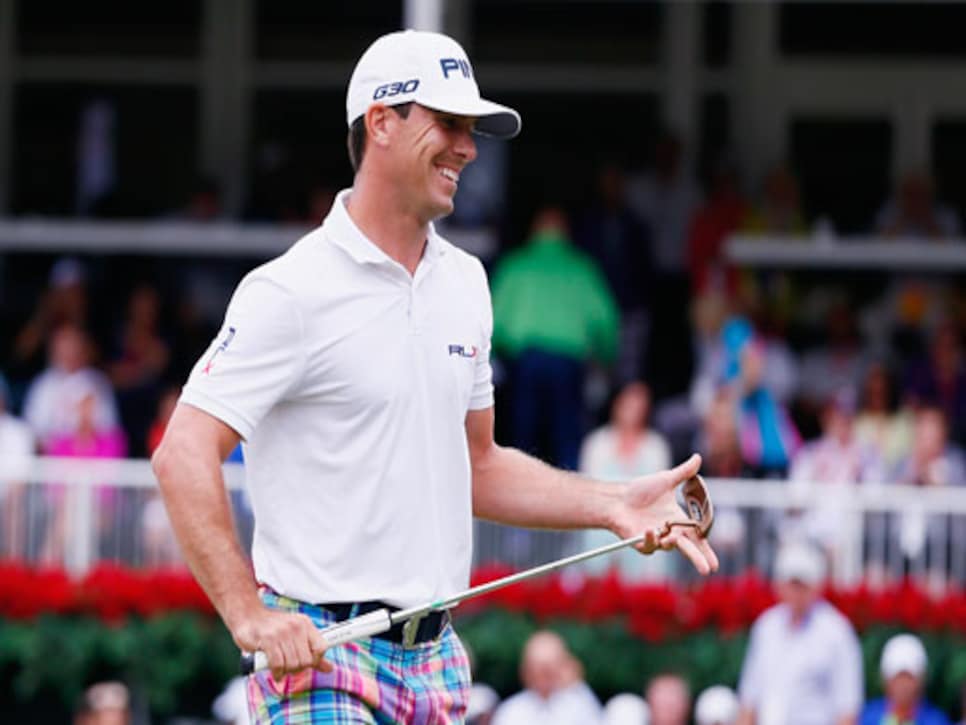 Horschel was also off to the bank. He finished T-2 in Boston and then won in Denver and Atlanta to collect a staggering $13.477 million in September.
All parts of the 27-year-old Horschel's game were working in the FedEx Cup Playoffs from his driving distance (up to 302.1 from 289.5 in the regular season) to his ball-striking (his greens- in-regulation percentage of 75.79 led all playoff participants). But that little putting tip is what caused him to make his biggest stride.
Through the regular season, Horschel was ranked No. 110 in strokes gained/putting, losing 0.17 shots to the field on average per round. But in the playoffs, he gained 1.181, placing him second behind Jason Day among players who qualified for the Tour Championship.
Horschel's biggest moment Sunday came when he holed a 31-footer for par on the 16th hole that all but wrapped up the biggest win of his career and the biggest bonus he'll ever claim. He concluded the season finale with 175 straight holes without a three-putt and on a PGA Tour season-best streak of 12 straight rounds in the 60s.
Will Horschel keep his torrid putting going next season? Probably not to this extent, but we also don't expect him to go back to being a poor putter, either. Horschel ranked No. 113 in strokes gained/putting in 2011 and 2012, but climbed to 28th last year. After his recent hot stretch, he's back to No. 53.
The last three weeks may be a small sample size, but they've made Horschel a huge name in golf. And for a player who seems to thrive on confidence, that might wind up being worth just as much as that $10 million prize.