WGC-Dell Match Play
Billy Horschel puts his struggles aside, finds more success at WGC-Match Play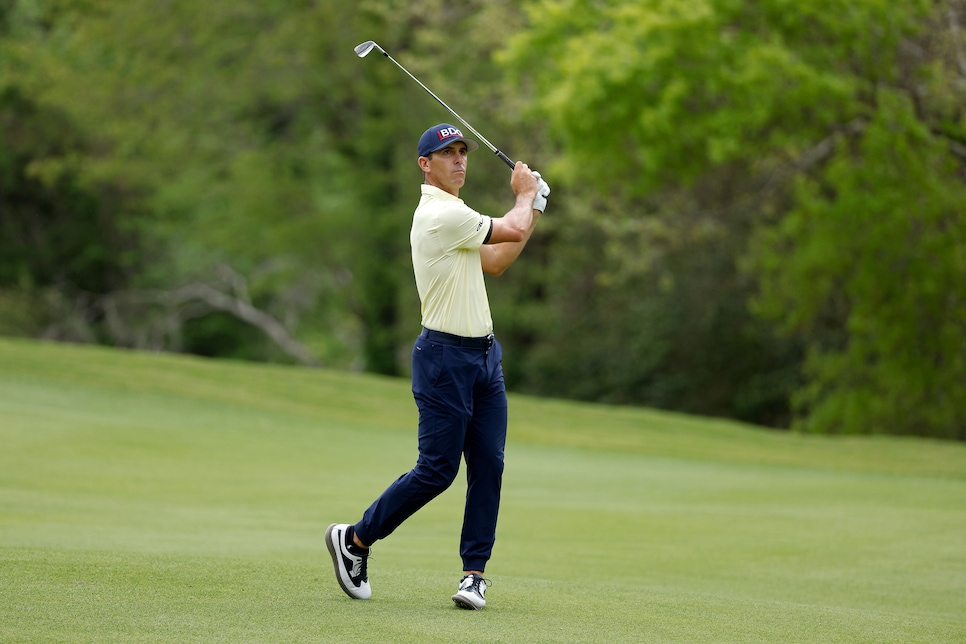 AUSTIN — There's an old cliché in basketball that if a shooter is struggling to find his shot, all he needs is a trip to the free throw line. Once he sees a couple freebies fall, his form will click into place and he'll return to his old self.
That was the hope Billy Horschel held coming into the WGC-Dell Match Play; 2023 has been a slog, with four missed cuts in seven tries, including two at Bay Hill and Sawgrass leading into this week in Austin. Still, he's always been a match-play dynamo, the format lending itself to his particular breed of skill and energy, and his success culminated with a win at the 2021 Match Play, when he beat the likes of Max Homa, Collin Morikawa and Scottie Scheffler in a scintillating run to the title. His form that year had been slightly better, but he still had rocky showings in the two lead-up events before everything changed. Now, after a 3-and-2 win against Rickie Fowler that vaulted him to the top of his group with a Friday showdown against Jon Rahm looming, he's looking for a repeat of the magic.
"That's the way I've actually looked at it," he said on Thursday, when presented with the basketball analogy. "It's been a frustrating start to this year. There's no doubt about it. Myself and my entire team has been putting in a lot of hard work and we're not getting the results out of everything we wanted. … I sort of told the entire team, I said, this week is sort of a cutoff point. Everything that happened the last couple months is behind us. This is the start of a new season."
Despite his poor results, Horschel saw cause for optimism at his last two events, and felt he just needed a one-week break to reset his mind and make a few last tweaks. In Austin, he's playing with a new putter (a Ping Tyne 4, after his old putter got bent) and a new ball (Titleist), and he's starting to see his work with his coach Todd Anderson pay dividends.
"We talked over the phone after Riviera, after missing that cut," Horschel said, "and I sort of told him what I wanted to feel, what I love to feel. He obviously knows my feels being together for 15 years, and we just went ahead and built it around it. A lot of it is just trying to get back to some swings of '13 or '14. … I'm always willing to try and get better."
There's no better launching pad for Horschel than Austin, and the confluence of improvement and this particular stop on the calendar is exactly what the doctor ordered.
"I just need to play match play," he said about his approach to the week. "Play mano-a-mano, got to hit the shot right then and there, not worrying about strokes, not worrying about score."
In many ways, he was also the superior player in his first match against Keith Mitchell, but some missed putts inside seven feet transformed a 3-up lead on the back nine into a frustrating tie. That led him to switch his backup putter for the new Ping model, and the switch worked against Fowler. His resurgence on the green was highlighted by a 50-foot bomb on 11 to steal a hole from his opponent, and strong lags on the next few holes set him up for the coup de grace, a 15-foot birdie on 16 to seal the match.
As for Fowler, his quest to make the Masters took a serious hit; he needs to make at least the quarterfinals to get inside the top 50, and will now need quite a bit of help just to win the group; he'll have to beat Keith Mitchell and need Horschel to lose or tie just to make a playoff.
Horschel's challenge is no picnic either; though Rahm struggled in a Wednesday loss to Fowler, he bounced back with a 4-and-3 drubbing of Keith Mitchell, and will also have a chance to win the group if he can beat Horschel. It's a stiff test for Horschel, but it's not like he needs extra motivation.
"I think everyone knows I'm pretty much raring to go any time," he joked. "It doesn't really matter who I'm playing. This is the same situation that I had a couple years ago. The year I won match play in '21 I lost to JT [Justin Thomas] and I played Collin [Morikawa] in '21, and obviously we knew what Collin was doing. He was playing some of the best golf of anyone at that time...Rahm has been playing unbelievable. We all know that. So I'm going to have to, like I said, play really well tomorrow and hopefully fortunes are favoring me a little bit."
Horschel won that match in '21 against Morikawa, and the rest is history. He'll hope to replicate that history on Friday, and considering the stature of the opponent standing between him and the weekend, he'll have to earn it the hard way.