Memorial Tournament
Billy Horschel knows from recent events that his 5-shot lead is hardly secure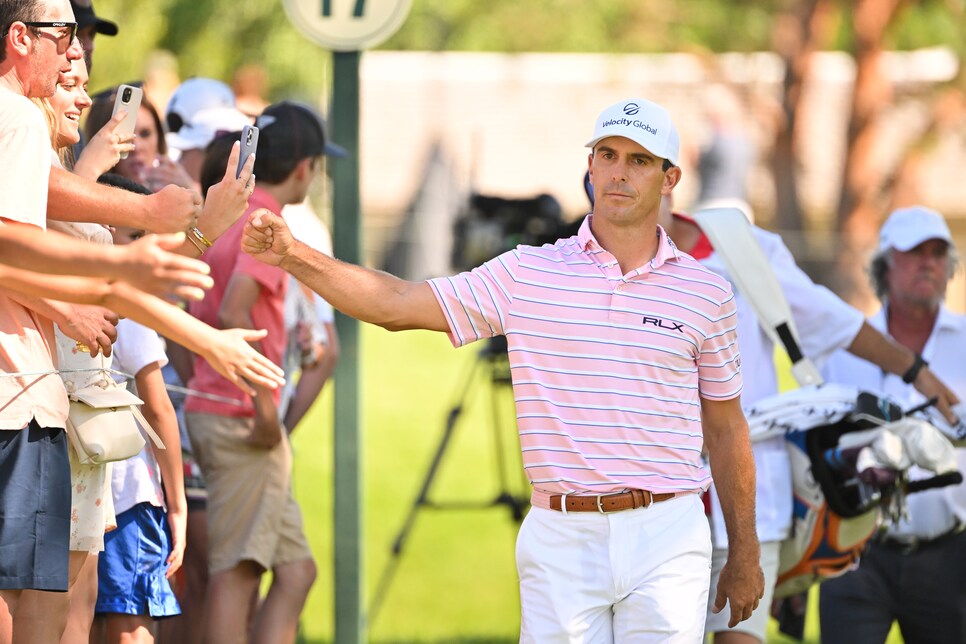 Billy Horschel gives knuckles to fans while walking towards the 18th tee box during the third round of the Memorial Tournament.
Ben Jared
DUBLIN, Ohio — Billy Horschel now has held the 54-hole lead on the PGA Tour five times in his career, but never by a greater margin that the five-shot cushion he enjoys heading into the final round of the Memorial Tournament.
"I've had it in my head plenty of times," the convivial Florida native said.
"Let's just say very well," he responded with a huge smile.
This one could turn out very well, too.
Hey, you'd be flashing a smile if you had just completed a sterling seven-under 65, low round of the day at pesky Muirfield Village Golf Club, and hadn't taken a bogey in your last 44 holes. Such were the circumstances after the third round of the Memorial on a course that many players said was "gettable," but only guy got it. That's Horschel, who sits at 13-under 203, five ahead of Aaron Wise and second-round leader Cameron Smith.
The bulge matches the largest 54-hole lead on tour this season and is the second-largest in tournament history behind Tiger Woods and Jon Rahm, who led by six strokes in 2000 and 2021, respectively. Woods went on to win the second of his record five Memorial titles. Rahm, of course, never got to the starting gate, having to withdraw because he tested positive for Covid-19.
By the way, the biggest final-round comeback happens to be five strokes, accomplished on three occasions, most recently in 2007 by K.J. Choi.
Horschel, a six-time tour winner ranked 17th in the world, should be feel pretty secure—at least if we don't mention that the player who has emerged with the trophy in the last two events came from seven strokes behind.
Whoops, we just mentioned it.
"I just go to the tee understanding I'm leading the tournament," said Horschel, who has converted 54-hole leads to victory twice in four tries. "I know I've got however many shots I have ahead of the lead. Just going out, trying to play a really good round of golf. I'm not going to be protective. I'm not going to be overly aggressive. I'm going to play the way I have the last three days."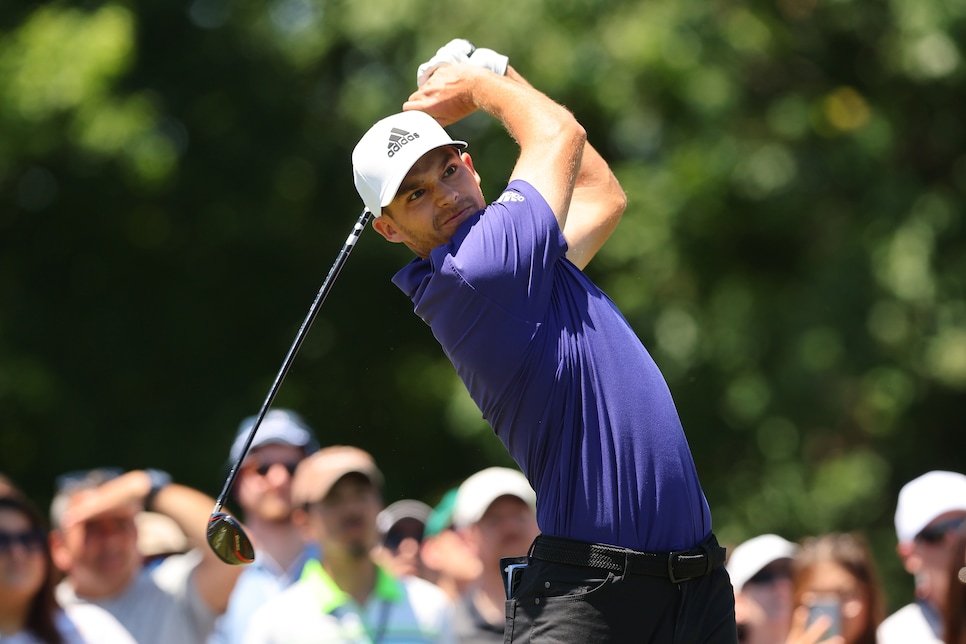 Aaron Wise plays his shot from the first tee during the third round of the Memorial Tournament.
Michael Reaves
Plenty of sunshine made Muirfield Village a bit salty on Saturday, and Sunday's similar forecast means that once again quality shots will be required. Players in pursuit of the steady Horschel are hoping for wind and some inspiration to spur a rally. They are aware of recent history. They don't feel out of it. Ten players sit within seven shots of the top.
"Yeah, two weeks in a row. I wouldn't be surprised if it's any different," Wise said after a third-round 69. "Anything is possible. Anything is possible."
After Smith and Wise were Daniel Berger, Jhonattan Vegas and former Open champion Francesco Molinari at seven-under 209. Defending champion Patrick Cantlay was among five players T-7 with a 210 aggregate score.
"Yeah, you never know what this course is going to throw at you," Smith, winner of the Players Championship, said after an even-par 72. "Anything can really happen around here. I think the course setup was great today. Hopefully get another day like that where there's some opportunities for birdies. Yeah, this place is unreal. You really never know what—it seems like you can have a birdie on every hole and you can make a double or triple quite quickly."
"I feel like if you're chasing you always want it to be as tough as it can be," Wise said. "The greens are really firm. If there's a little bit of wind tomorrow and the greens get even a little bit firmer, it's one of those things where anything can happen."
Cantlay has an outside chance to become just the third player to win at least three times at Muirfield Village, joining Woods and Kenny Perry. He kept a flicker of hope alive with two eagles after starting with a double bogey.
"I feel I did as much as I could," said Cantlay, who kept himself in it not only with the two eagles, but also with bunker saves on the final three holes to shoot 69. "It looks like eight under is second place, and you look at those players first and see what you need to do. We know this golf course can be tough, so I feel like I am right there.
"The first time I won here I was quite a ways back going into Sunday," he added of his 2019 victory in which he came from four behind with a record 64. "This golf course is going to get harder, but it can still yield some good scores if you hit really good shots, so I think there is still an opportunity with a low one. But you better hit really good shots."
That would be recommended.