The Loop
Billy Horschel flips the script, Lexi Thompson skydives to victory, and Kate Upton goes to Tiger Jam
Welcome to another edition of The Grind, where we never thought Greg Norman would bring us nightmares. No, we're not having flashbacks to his time in the Fox TV booth, but rather, it's his fitness habits that are so disturbing. We get that summer is approaching, but the Shark's new ab exercise – while wearing a walking boot and on crutches -- shows just how much of a fitness addict maniac he is.
Seriously, this is haunting.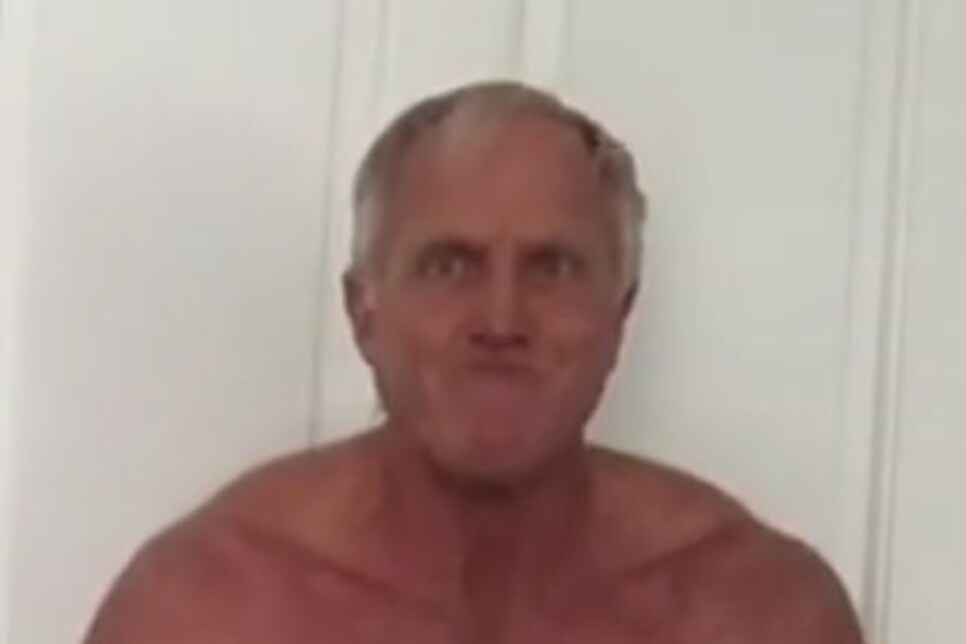 Cue the Cape Fear theme music.
But we'll try to put that behind us and concentrate on all the other things that happened last week.
Billy Horschel: More surprising than Billy Horschel's Tour Championship/FedEx Cup win in 2014 was the fact he hadn't won since. But that all changed at the AT&T Byron Nelson when he won on the first hole of a playoff thanks to Jason Day missing a short putt. This, just a few months after Horschel missed an even shorter putt to lose a playoff. Two words: Golf gods. And not bad for someone who arrived in Dallas having missed four consecutive cuts.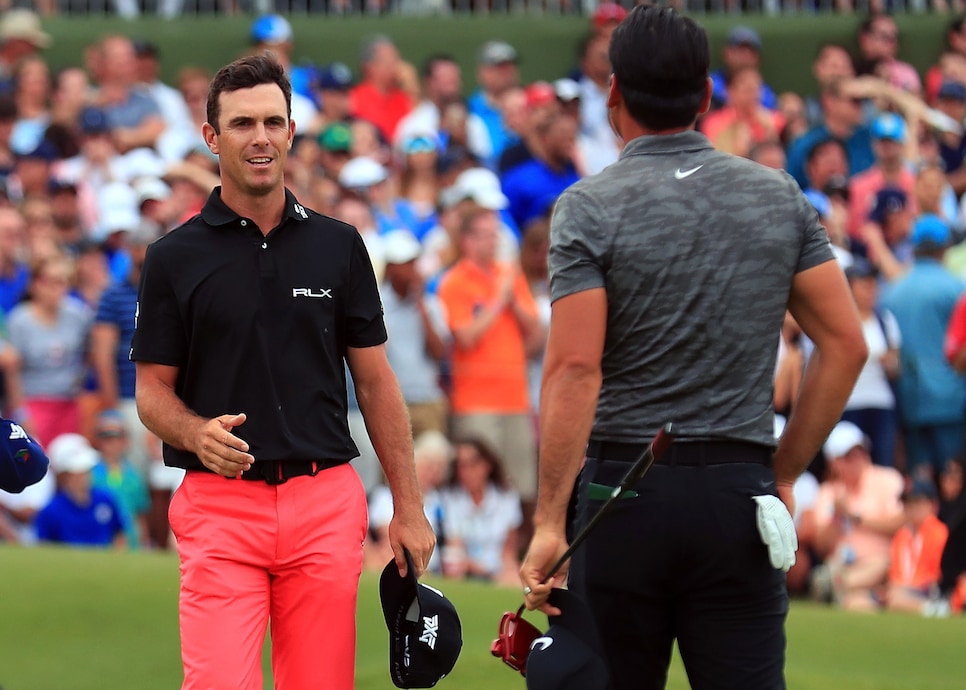 We're also happy for Horschel's wife, Brittany, who announced she's one year sober. In any event, there's a lot to be excited about in the Horschel home these days. And their adorable daughter Skylar agrees.
Lexi Thompson: Six weeks after going through one of the most difficult defeats in golf history, Thompson won wire-to-wire at the Kingsmill Championship. Even more gutsy than her bounceback effort? Lexi arrived to her Wednesday pro-am tee time by skydiving onto the course. I get feelings of vertigo just watching this video:
Bernhard Langer: The German probably didn't grow up with a chart of Jack Nicklaus' senior major championships hanging above his bed, but tying Jack in anything golf-related is a remarkable accomplishment. With his win at the Regions Tradition, Langer matched Nicklaus' record with his eighth PGA Tour Champions majors. Langer turns 60 in August, but there's a good chance the ageless wonder machine will have passed Nicklaus on this list by then.
Stephan Jaeger: Pro golf's "other Mr. 58" won his second Web.com Tour title at the BMW Charity Pro-Am. But even better, he provided the amusing highlight of the week when he stubbed a chip and sarcastically waved to the fans:
We look forward to (hopefully) seeing Jaeger's antics on the PGA Tour next season.
Rory's ribs: The McRib is only supposed to be a seasonal thing, but unfortunately, Rory McIlroy's injury is still ailing him. McIlroy announced he'll skip this week's BMW PGA Championship, the European Tour's flagship event, but he hopes to be ready for the year's final three majors. Rory says he re-aggravated the injury practicing, but we prefer to think it happened while dancing to Stevie Wonder at his wedding.
Jordan Spieth: Another week, another missed cut for the two-time major champ, this time, at his hometown event. The one where he contended when he was 16. More disconcerting is Spieth, one of the tour's best putters, switching to a mallet after so much success. This would be like Picaso switching paint brushes. Or Tiger Woods switching putters. Oh, right, he did. How did that work out for him?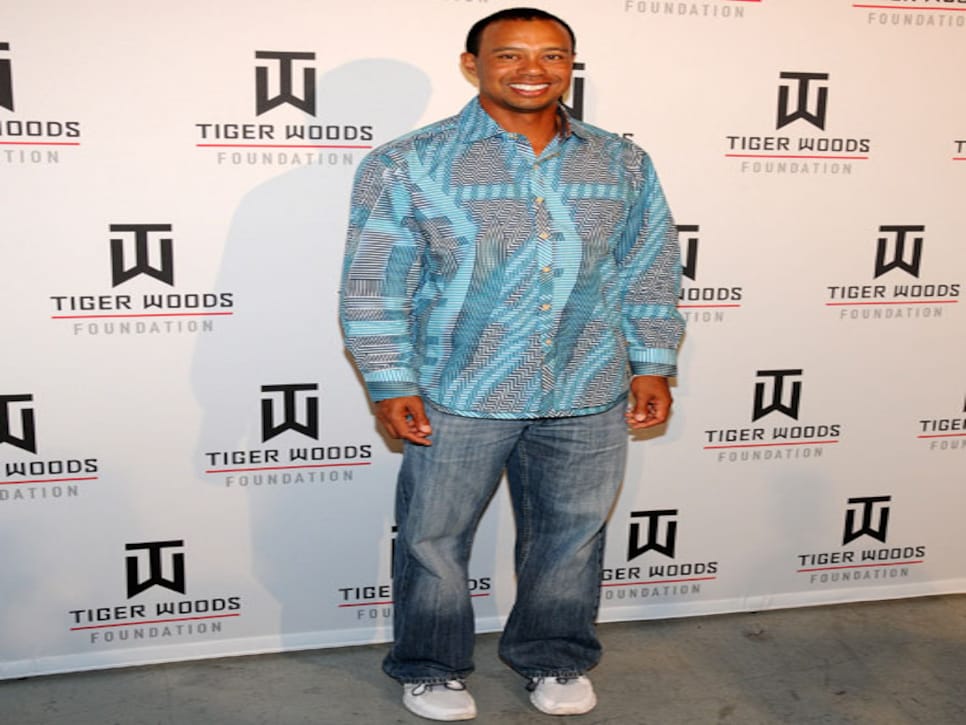 And it appears like the supermodel has a great poker face:
Bathroom penalties: Two women were penalized two shots for taking a golf cart to the bathroom during the NCAA Women's Championship. Seems a bit harsh. And yes, one of the ladies bypassed a porta-potty set up by the 18th hole, but can you really blame her?
The PGA Tour stays in Texas for the Dean & DeLuca Invitational, aka the Colonial. Of all the new tournament names, this seems to be having the most difficult time catching on. And in case you need another reason to tune in, Tony Romo will be making his debut in the CBS booth. That was fast.
Random tournament fact: Ben Hogan won his fifth and final Dean & DeLuca in 1959, 18 years before Dean & DeLuca was established.
RANDOM PROP BETS OF THE WEEK
-- I will ever go skydiving: 1 MILLION-to-1 odds
-- Bernhard Langer will get to 18 (senior) majors: 5-to-1 odds
-- Bernhard Langer will outlive me: LOCK
There were a lot of great viral videos this week, starting with what is arguably the greatest mini-golf shot of all time:
This cute clip of Amanda Blumenherst's son learning how frustrating golf can be:
And this video of Jacksonville University senior David Wicks, who stripped down to his underwear and jumped in a lake to try to find the golf ball he accidentally dropped.
He didn't find it – he found about 30 other balls, of course – but he recovered enough to help lead the appropriately-named Dolphins to their first-ever NCAA Championship berth.
"It honestly sucked to miss the Masters. I hated it." -- Billy Horschel, who won't have to worry about that next year.
THIS WEEK IN RANDOM GOLF RECORDS BEING BROKEN
Check out our boy Matty du Plessis, breaking the record for longest chip shot holed in a bucket. Well done, Matty.
THIS WEEK IN LEXI THOMPSON MAKING US FEEL BAD WITH HER TRAINING
The day after her big win, Lexi was back in the gym. Impressive.
THIS WEEK IN DUSTIN JOHNSON-PAULINA GRETZKY PUBLIC DISPLAYS OF AFFECTION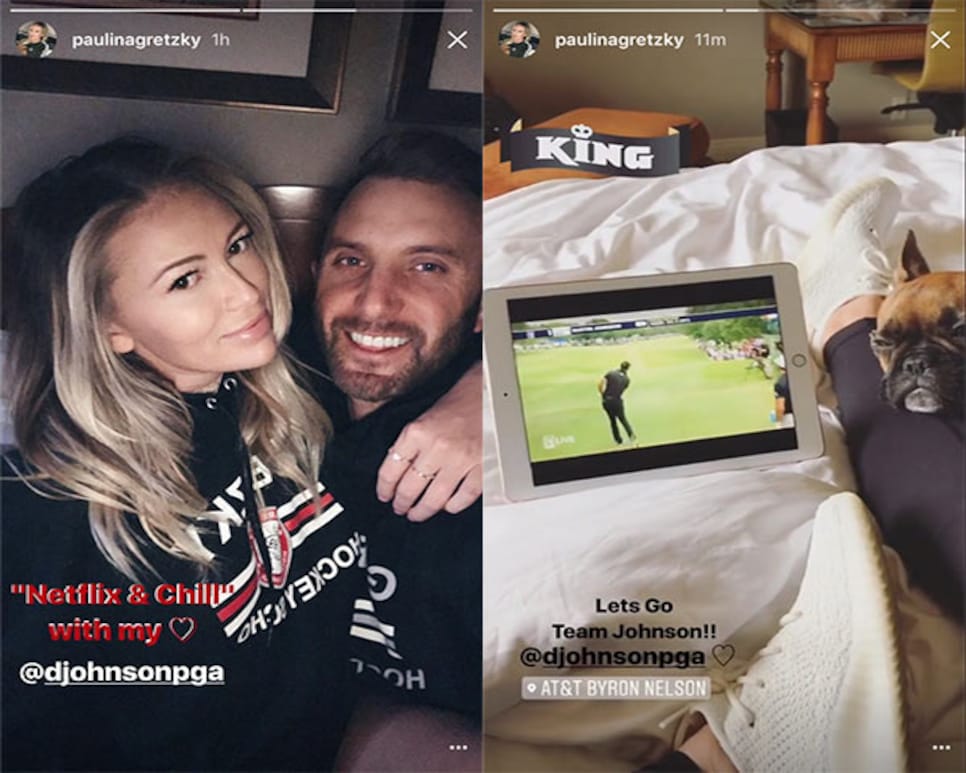 Aww, they "Netflix and chill" just like the rest of us!
THIS WEEK IN OTHER PGA TOUR WAGS PUBLIC DISPLAYS OF AFFECTION
Apparently, Sergio Garcia loves cotton candy, and Chelsea Gates made sure Mike Trout knew her boyfriend, Peter Uihlein, traded Trout in his fantasy baseball league.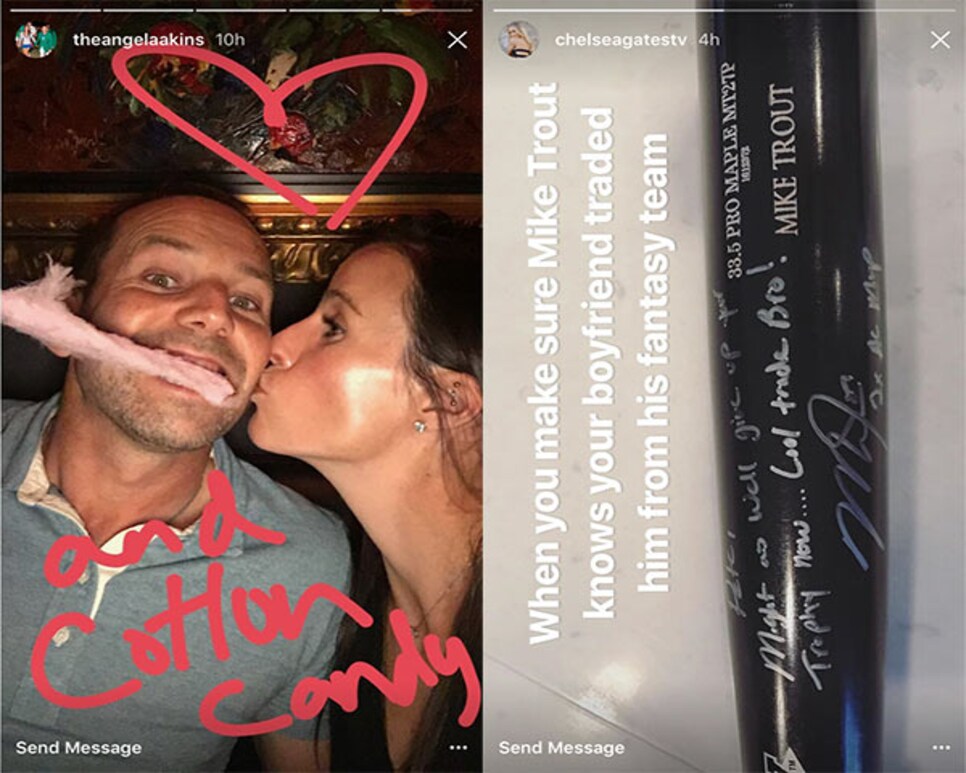 The PGA Tour released its own set of emojis. I like them, but between these, regular emojis, and emoji sets for Bubba Watson (Bubbamoji) and J.R. Smith (Swooshmoji), my iPhone keyboard is a bit cluttered. . . . Ian Poulter got Brian Gay (and his wife) a gift card to the Waldorf Astoria for discovering the technicality that kept his PGA Tour card and led to his runner-up at the Players. We're assuming it's not for $50. . . .And finally, look at these azaleas that appeared in my backyard despite me not doing anything!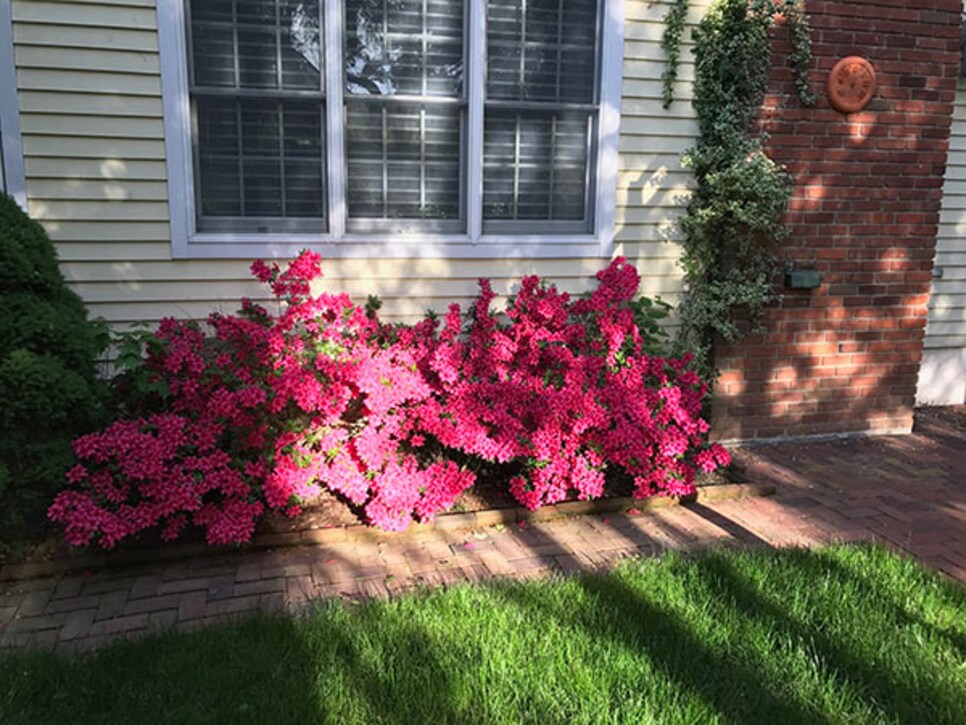 Eat it, Augusta National.
RANDOM QUESTIONS TO PONDER
What would Ben Hogan think of emojis?
Could Greg Norman take Gary Player in a sit-up contest?
Does Greg Norman read The Grind? (Just in case, I