Equipment
Billy Horschel discusses his path to becoming a clothing designer, his personal style and the craziest patterns he'd love to wear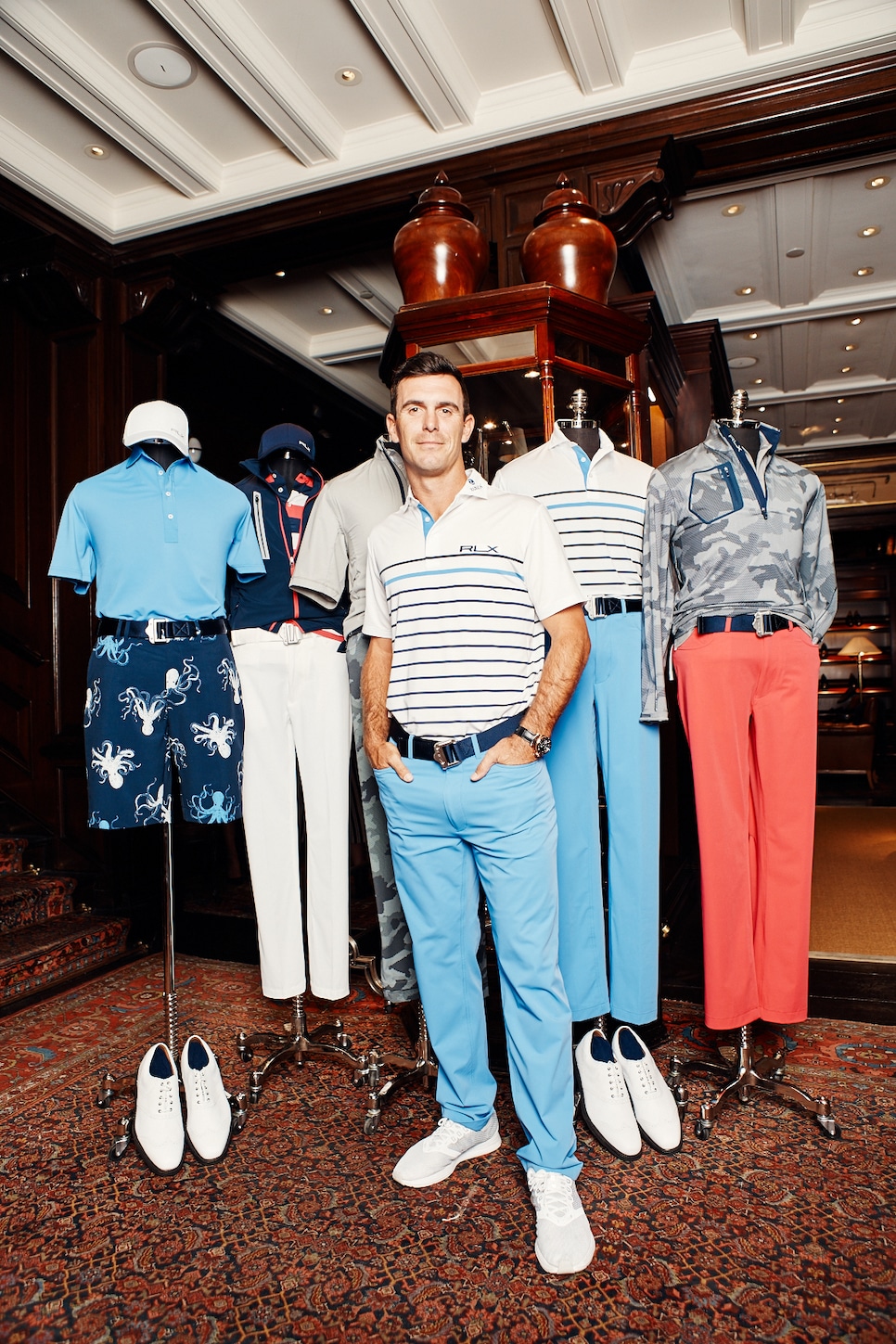 Billy Horschel debuted his first apparel collaboration with Ralph Lauren earlier this year at the PGA Championship. He has been an ambassador for the brand since 2011, and with his bright and bold pieces, has cemented his place as one of the biggest style trend-setters on the PGA Tour. Horschel's line, which is available now, includes pieces for men and women in a mainly blue and pink color scheme. Full of thoughtful details and fun pops of color, Horschel was involved with even the most intricate decisions in creating the collection. We caught up with Horschel to discuss the line and his involvement.
How did the idea for a design collaboration with Ralph Lauren come about?
"It really just came about last summer. The lead designer for men's and women's golf at Ralph Lauren called up [my manager] Sherry [Whay] and said, "Hey listen, we want to possibly do a collection with Billy for 2018," and she was ecstatic. When they called me, I was in Colorado on vacation and I was sort of speechless. I didn't know what to say, which is unusual for me, but it was something that I was really happy to do."
How involved were you with creating this line?
"It was a neat process. It was really involved and detailed with every little thing you could possibly think of when you're trying to design not just one, but five outfits. I picked out everything, which was tough for me, because I wanted to do something that fit for Ralph Lauren. They had to push me to make decisions because sometimes I'm just really easy and go with the flow, and also because they already do such a good job designing stuff. So, I had to really make the decisions, which was awesome."
What was the hardest decision to make?
"I think it was the color. Obviously I knew the base colors I wanted. I wanted to do white and grey because it's just a nice classic, clean look. Then I wanted navy involved because some of the outfits I wanted to use navy....Then it was the accent colors. [There were] so many colors I could choose from, and I tried to sort of go with what they were doing for Fall 2019. I'm really big into little details that make something stand out. I wanted to make sure the colors were somewhat of a pop-y color, so the pinks and baby blue [made sense]. The blue I chose really sticks out."
We saw some exciting patterns in the line, if you could design any pattern next what would it be?
"We did an updated version of the octopus pants, and so that's going to be really talked about. You could say that's what brought me into the fashion scene in 2013 at the U.S. Open. What [other] pattern would I design? I've worn patterns from pink flamingos to panthers, to octopus pants to snakeskin. I think anything, I mean there's not much I wouldn't put on them. I guess the only thing I probably haven't done, which everyone keeps asking about, being a Florida Gator, people are like "When are the gator pants coming out? When are you going to put a gator on there?" So maybe that's something down the road."
How would you describe your on-course style?
"For me, everyone talks about the pants that I've worn, some have been out there and some have been a little tame. As much as I can wear something that is a loud outfit, I like basic, simple outfits that you can really make look good with little contrasts, too. Those little accents, you know, like you can make a white pant and navy shirt look really good when you match it up with a brown belt and white and brown shoes. It looks very clean, very classical.
"Even if you do gray pants and a white shirt, you can make it look really great with a black belt with white and black shoes or you can put a navy belt with white and navy shoes. I'm into the little details that can make an outfit stand out to take something really basic and make it look great. I don't think a lot of people have the ability to do that...being paired with Ralph Lauren, I'm able to do that.
"I do a pretty good job picking out my clothes [for a tournament]. Sometimes, if I'm not sure about the outfit, I ask my wife, Brittany. She does a good job of saying yay or nay. If she doesn't respond right away, I know she doesn't like it, so it is very simple."