The Grind
Billy Horschel's horrible timing, Brandel Chamblee's brutal football fail and Paige Spiranac's big milestone
Welcome to another edition of The Grind, where we wish we had friends like Patrick Cantlay. Despite just about everyone in the world acknowledging that Jon Rahm was the best golfer on the planet this past season, Patty Ice's PGA Tour peers voted him the winner of the Jack Nicklaus Rory McIlroy Award as Player of the Year, following a precedent set with Rory beating Brooks Koepka in 2019. This despite the fact that Cantlay's biggest win wasn't even an actual win and his other biggest win only happened because Rahm was forced to WD after 54 holes. These guys are good, but they just rewrote history!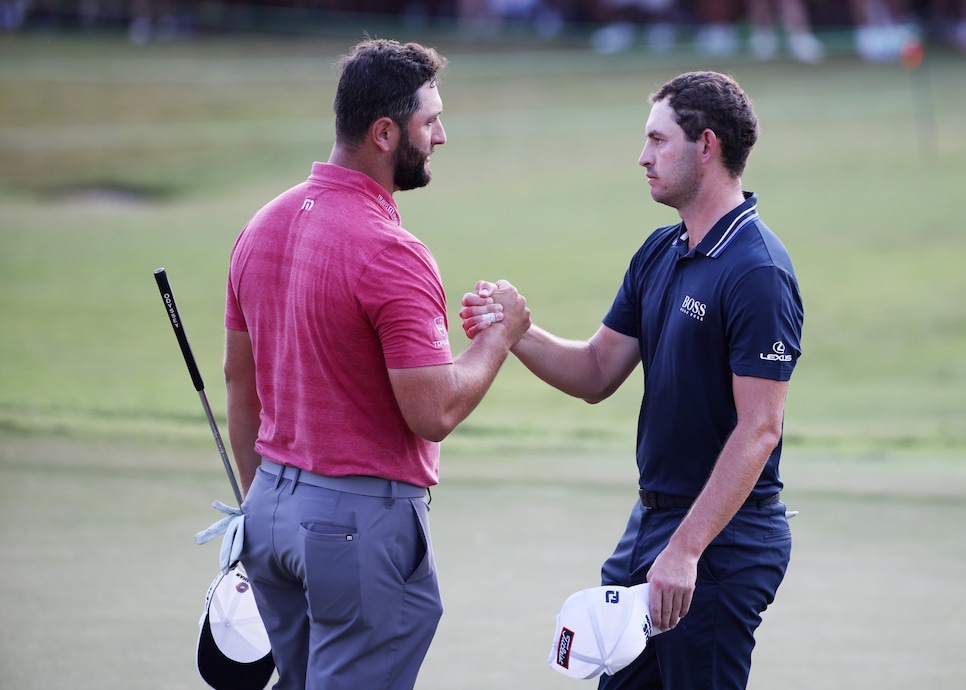 Anyway, I'll try not to get too worked up about it, and hopefully for Cantlay and the rest of Team USA, Rahmbo won't either. Otherwise, he might destroy the Americans at Whistling Straits next week. OK, here's what else has us talking.
Billy Horschel: This is sneakily becoming the best year of Horschel's career. Sure, he won the FedEx Cup in 2014, but you can argue that winning the WGC-Dell Match Play and now the BMW PGA Championship—where he joined Arnold Palmer as the only Americans to win the European Tour's flagship event—is more impressive than winning the final two events of the FedEx Cup Playoffs.
Horschel also missed just three cuts in 25 PGA Tour starts this past season while adding a runner-up at another WGC, and he's up to No. 18 in the Official World Golf Ranking. Unfortunately for him, though, he was only No. 17 in the American Ryder Cup standings at the cut-off date. More on that in a bit …
Andrew Johnston: Or, you know, BEEF! It was great to see this guy back on a big-time leader board again thanks to a Sunday 65 that moved him to T-6 at the BMW PGA. The affable Englishman has been very open with his mental health struggles, but I hope this is a sign he's doing better.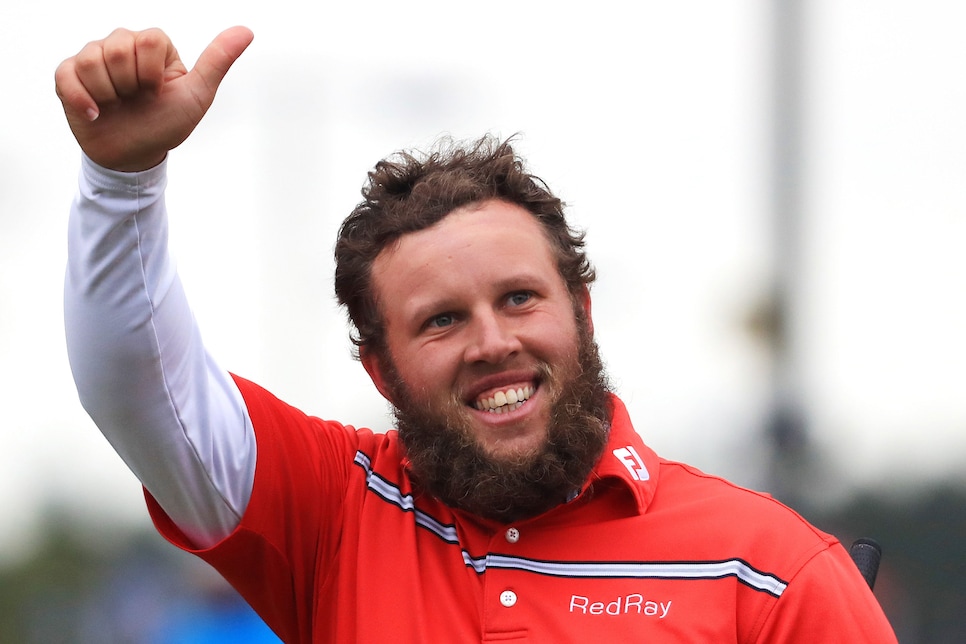 I will never forget being at Troon for the 2016 Open when this guy electrified crowds like few before him. Oh, yeah, Henrik Stenson and Phil Mickelson had a nice duel as well. But seriously, the golf world needs more Beef in its diet.
Steve Stricker's Tiger update: Tiger Woods will not be at Whistling Straits as an assistant captain (or a captain's pick), but the American captain offered this about the 15-time major champ who is recovering from a February car crash: "He won't be able to be a captain's assistant this time around just because of his ongoing rehabilitation to try to get better and try to play golf again, and that is going well. He's progressing, he's doing well, things are moving in the right direction." Just hearing that he's going to try to play golf again is great. I'm going to try to keep from overreacting here, but, nah, screw it: He's definitely playing in and winning the 2022 Masters. LFG!
Billy Horschel's timing: For a second time, Horschel notched a huge win just days after not earning a final spot on the U.S. Ryder Cup team. In 2014, Tom Watson made his captain's picks before Billy won the Tour Championship (and the FedEx Cup) and now he'll have to settle for taking down the European Tour's flagship event instead of taking down Team Europe at Whistling Straits. Oh, and if he had won that FedEx Cup now instead of seven years ago, he probably would have been voted POY also. Again, bad timing!
Washington's play call symbols: Frankly, the Huskies using Tiger in this manner is disgusting:
Glad to see the Huskies got throttled by Michigan to fall to 0-2 on the season.
Brandel Chamblee's Cowboys take: Look, I love Brandel. He's the best golf analyst on TV today. But we just couldn't let this tweet slide:
Apparently, Brandel didn't realize that 1:24 of game time—plus having the officiating crew always on your side—is plenty of time for Tom Brady to dagger your team. And dagger the Cowboys he did.
The PGA Tour is BACK (after a one-week break) for a new season and it's headed to the Fortinet Championship, AKA that one they play in Napa every year and was most recently called the Safeway Open. And it's still at Silverado Resort & Spa, where Johnny Miller has a home and oversaw a redesign of the North course in 2011. So hopefully we'll see some of Johnny this week, too.
Random tournament fact: Apparently, Fortinet is a cybersecurity company. Good to know.
RANDOM PROP BETS OF THE WEEK
—Johnny Miller knows/understands what Fortinet does: 1,000-to-1 odds
—Tiger Woods will win the 2022 Masters: 60-to-1 odds (Actual odds)
—I will bet on Tiger if he actually plays: LOCK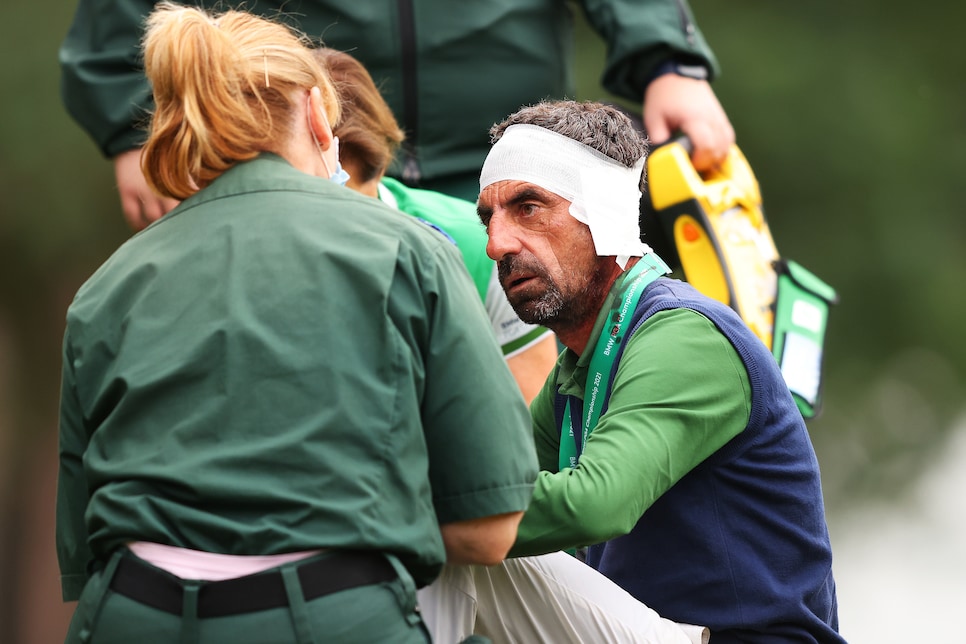 That's Pietro Consenza, swing coach for Francesco Laporta, who was the 54-hole leader at the BMW PGA Championship. But things didn't go as well in the final round for the Italian golfer, including an errant shot that hit his own coach. Fortunately, Consenza was OK enough to stay and watch his player finish T-6, but talk about Sunday bloody Sunday.
VIRAL VIDEO OF THE WEEK (LEGENDS DIVISION)
John Daly (tried to) put a new twist on throwing out the first pitch:
He didn't quite pull it off, but you gotta give the guy credit for mixing it up.
VIRAL VIDEO OF THE WEEK (WILDLIFE DIVISION)
South Africa is not for the faint-hearted.
VIRAL VIDEO OF THE WEEK (MUST BE NICE DIVISION)
This lucky dude pulled a Jim Nantz by getting married on Pebble Beach's beautiful seventh hole—and he even got to hit a few shots on the iconic par 3:
OK, so this should probably be in the "LEGENDS DIVISION" as well.
THIS WEEK IN PUBLIC DISPLAYS OF AFFECTION
Lee Westwood's wife, Helen Storey, held up his iPad for Westy while she slept so he could watch soccer:
Now that's true love. And Patrick Cantlay and Xander Schauffele enjoyed some time in Napa wine country with their significant others:
Pretty crazy those guys were in Napa and still didn't play in the Fortinet Championship. Anyway, hopefully, Cantlay sent Rahm a nice bottle. Or two. And finally, a special shout-out to an old Grind favorite, Paige Spiranac. This column and Paige's Instagram career started at similar times, but let's just say Paige's popularity has grown considerably more in that time:
That's right, she has more Instagram followers than any golfer. Including Tiger Woods. Not that the GOAT is great on Instagram—and yes, Paige is more of a personality than a golfer—but still, that's impressive.
Well played, Paige. Well played.
THIS WEEK IN PHIL BEING PHIL
It doesn't get any more Phil than that.
"There was a little added motivation. I thought I was going to get a phone call. Didn't think it was going to be a phone call that said I made the team. But it was a phone call saying, 'Hey, you had a great year, obviously we talked, but we're going to go in a different direction.' I didn't get that phone call. I was a little upset. I was a little ticked. Gave me a little bit of fire in my butt or my arse, … not that I needed it." —Billy Horschel. If it makes you feel any better, Billy, I was one over on my last 12 holes a couple weeks ago, and Captain Stricker didn't give me a call, either.
Congrats to Will Zalatoris for winning the PGA Tour's Rookie of the Year Award. Finally, something we can all agree on. … Thomas Detry was disqualified for signing an incorrect scorecard at the BMW PGA Championship. Yep, we're still doing this in 2021. … Tito's has been named the official vodka of the 2021 Ryder Cup. It's probably for the best no European fans will be there then. … And, finally, I got to see the Ben Folds concert that was postponed from May—of 2020:
RANDOM QUESTIONS TO PONDER
How many concerts were canceled due to COVID?
How many golfers should Steve Stricker have called?
How much would a Pebble Beach wedding cost?