The Loop
Billy Horschel and the Old Red Eye Rugby group
Billy Horschel is not a product of the PGA Tour assembly line, weaned on country club golf. His is a blue-collar background, his father a construction worker.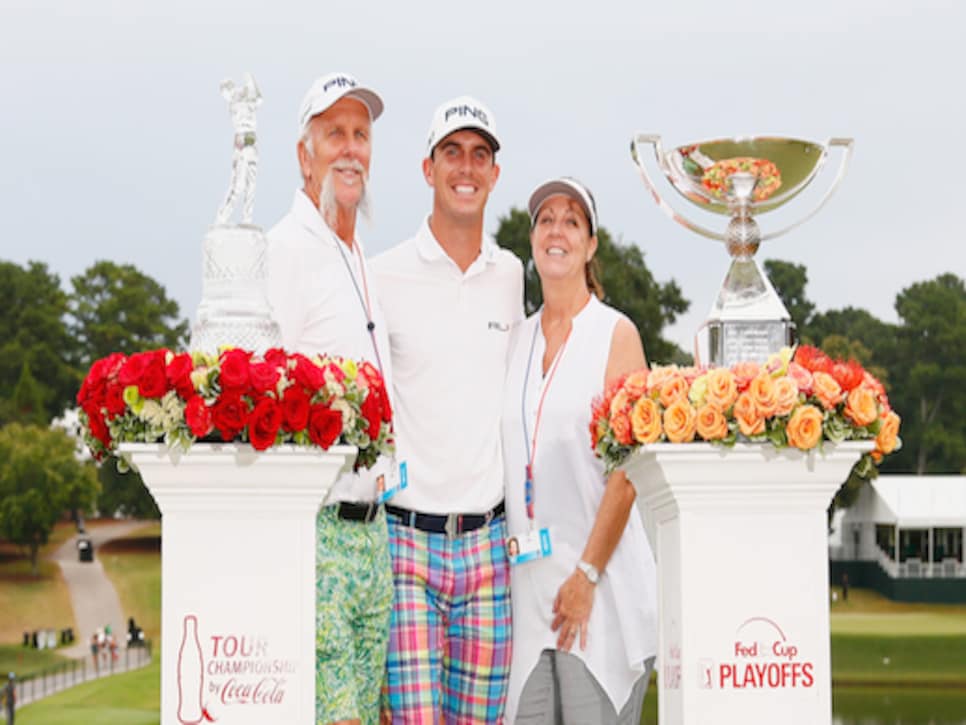 Big Billy, Little Billy and mother Kathy Horschel (Getty Images photo)
Then there's this: In his official PGA Tour bio, he said he would fill out his dream foursome "with the Old Red Eye Rugby group." Not with Jones or Snead or Hogan, but with ruggers.
Horschel's father, also named Billy, was a rugby player who played with the Old Red Eye Rugby Football Club in Palm Bay, Fla. He still does, with the over-50 set.
"We call them Big Billy and Little Billy," Corkey Newman, president of the club, said. I've known his dad since I moved here in 1982, when we were members of the club. He played wing-forward and eight-man for us. He still plays, with the old boys."
On Sunday, Little Billy won the Tour Championship and the FedEx Cup, and Big Billy was there to embrace him by the 18th green. "It's great to see him doing as well as he's done," Newman said.
"Every year, starting in about 1989, we started having fund-raising golf tournaments for the rugby club. When [Little Billy] got old enough, in middle school, he started playing in them. He was hitting from the youth tees and outdriving the men. His foursome won several times. Any time he played in it his foursome pretty much won.
"He continues to come back here and hang out with us, makes an effort to see us. He supports St. Joseph Catholic School, as the club does, and donates time and money to that cause. He's one of the members of our Red Eye family."
Red Eye members traveled to Ireland to watch Horschel play in the Walker Cup in 2007, Newman said, and go see him play when the tour comes to Florida. "It was so great to see it," Newman said of his success on Sunday. "He's so deserving of it."