News
Billy Graham: 'A golf course is an island of peace in a world often full of confusion and turmoil'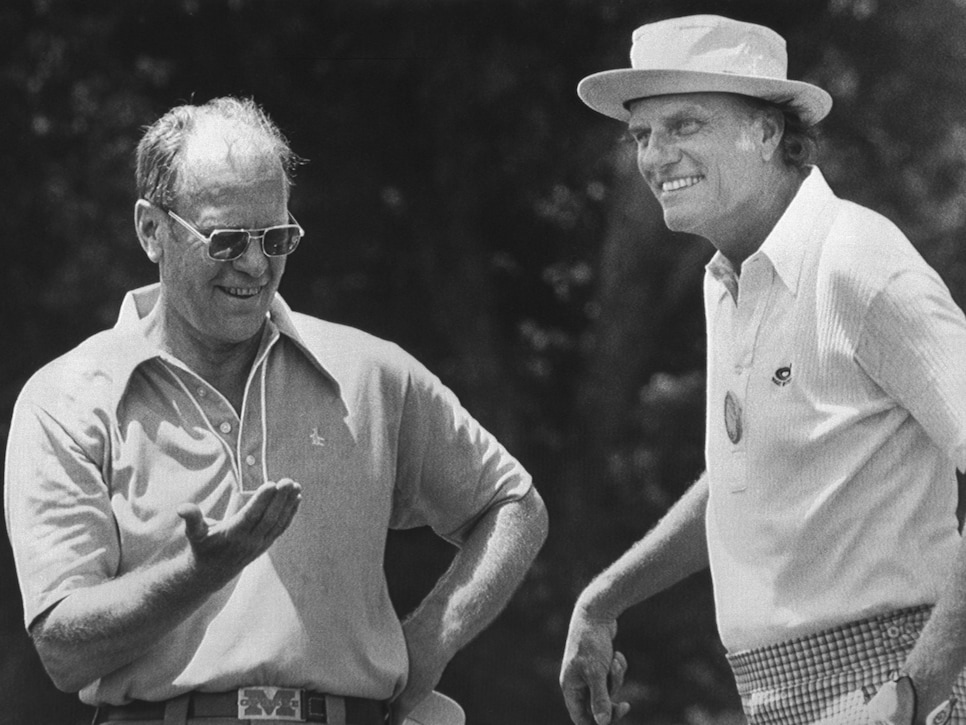 Obviously, God was at the center of the Reverend Billy Graham's universe, but golf was usually never more than a 9-iron away. The religious leader, who died on Wednesday at 99, was more an avid player than a casual one, which is reflected in his autobiography, "Just As I Am."
Golf is mentioned on 39 different pages of the book. On one of them, he recounts how in 1938 he was on a golf course, Temple Terrace Golf and Country Club outside Tampa, Fla., when he committed his life to the ministry.
"[D]id I want to preach for a lifetime?" he wrote. "I asked myself that question for the umpteenth time on one of my nighttime walks around the golf course. The inner, irresistible urge would not subside. Finally, one night, I got down on my knees at the edge of one of the greens. Then I prostrated myself on the dewy turf. 'O God,' I sobbed, 'if you want me to serve you, I will.' "
At the time, Graham was attending the Florida Bible Institute, then located adjacent to the golf course. Graham caddied there, too.
"Legendary preachers whom I had only heard about materialized right on the fairways and greens on our campus, and I could walk beside them as they made their rounds on the course, carrying their golf bags and spotting where their balls landed."
"Graham started out playing golf cross-handed, but once he switched to a conventional grip he became a decent player who often shot in the 70s.
"He has been a spiritual adviser and golf buddy to many leading lights and power brokers, including presidents Eisenhower, Nixon and Ford. He played with John F. Kennedy at Seminole in January 1961, right before JFK's inauguration, and he was playing golf in North Carolina when he heard the news that his friend had been shot. (Five years later, Graham was playing golf in Australia when he heard his friend Martin Luther King Jr. had been killed.)
"'Golf can turn an extrovert into an introvert, and vice versa,' Graham wrote in an article for Golf Digest in 1961. 'It brings out the boy in a man (and the man in a boy). For me, a golf course is an island of peace in a world often full of confusion and turmoil.'"
Former Golf Digest and Golf World writer Pete McDaniel often caddied for Graham at Biltmore Forest Country Club in Asheville, N.C.
"I was a fresh-faced teenager when I first met Dr. Billy Graham," McDaniel wrote on Facebook. "He was playing a round of golf at Biltmore Forest CC, and I was blessed to be caddying for a member of his foursome. In several return trips to BFCC, Dr. Graham honored me with the privilege of carrying his clubs around the hilly track. Unlike some of the members at the club, Dr. Graham was a generous tipper. He was also a kind and humble servant.
"I've written many times of my encounters with those blessed with the 'it factor.' My contention is that the truly special folk exude a certain aura, a force field of energy if you will, unlike us ordinary humans. Dr. Graham was my first encounter with that aura. I could feel it emanating from his countenance. He was also a pretty good player. The only negative was his brown leather golf bag that felt like it was weighted down with every soul he'd attempted to deliver from damnation. RIP Doc. If anyone deserves to lay down their burdens, it's you."
Graham played in the Kemper Open pro-am at least twice, in 1974 and 1977, each time with Gerald Ford, at the Quail Hollow Club in Charlotte, N.C. He also played with Bob Hope in the Byron Nelson Golf Classic Pro-Am at Preston Trail Golf Club in Dallas in 1971.
But he probably is less known for his golf than his enduring quote on golf: "The only time my prayers are never answered are on the golf course."