The Loop
Bill Haas says he and Beef will "try to surprise some people" in Sunday's penultimate pairing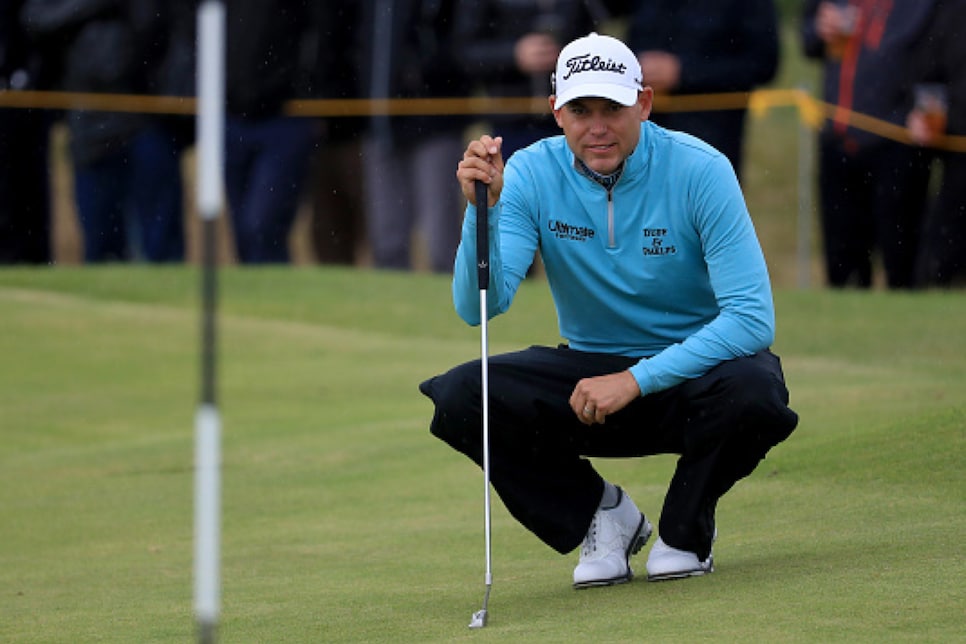 TROON, Scotland -- Bill Haas has six PGA Tour titles. He has won a FedEx Cup. He has been a Presidents Cup hero. So it might come as a surprise to most golf fans to learn the 34-year-old has never finished in the top 10 in a major championship.
It doesn't come as a surprise to Haas, though.
"I mean, certainly, I think about it all the time," said Haas, who is making a 28th major start this week at the 145th Open Championship.
Of course, it's not Haas' ultimate goal, but he has put himself in terrific shape to check this odd empty box on his career to-do list following a third-round 69 that has him in third place heading into Sunday. Another round in the 60s at Royal Troon on Sunday, and some help from Henrik Stenson and Phil Mickelson, and his resume could read entirely differently.
"I don't think a ninth-place finish is going to change my career. It certainly isn't going to make me feel more competitive in majors," Haas said. "The only way to do that is to knock on the door coming down the stretch tomorrow."
And playing with crowd favorite Andrew "Beef" Johnston could mean the penultimate pairing are ready to make plenty of noise in front of leaders Stenson and Mickelson. Not that Haas, who will start his round six shots behind Stenson, believes those guys are too worried about two guys who have never been in this position.
"I certainly don't think Phil and Henrik Stenson are feeling the pressure tonight sleeping knowing that Beef and Bill Haas are behind them," said Haas, whose best career finish at a major was a T-12 at the 2015 Masters. "So we've got to use that to our advantage and just try to surprise some people."
Haas played aggressive early, taking driver on the short par-4 first and pitching to within tap-in birdie range. His highlight of the day came on the Postage Stamp when he holed a bunker shot for another birdie, but it was his putting -- especially late in his round -- that carried him. Haas made a 10-footer for bogey on No. 15, then a 20-footer for birdie on 16 and an eight-footer for par on 17 before a beautiful lag from off the back of 18 wrapped up a closing par.
Of the four majors, Haas has probably played the poorest in the Open Championship. He arrived a few days early this year and played in the eastern part of Scotland, but said he'd done that before to mixed results. In fact, he couldn't pinpoint anything that has him one round away from easily his best performance in one of golf's biggest four events.
"I certainly haven't competed as much as I'd like in majors," Haas said.
"I don't know if you can focus anymore on a golf tournament than I already do. I think with that said I give the same amount of attention as I usually do to a normal week usually as I would here. I don't think if I'd focus any more or any harder I'm going to play better. I'm trying my hardest out there on every swing."
So what's on tap for Haas' first night sleeping near the lead?
"I play really late, so just trying to get in touch with the kids back home, trying to FaceTime with them. I've watched a movie every night. We're just kind of lounging. I'll do that tonight. Try to sleep in," said Haas. "It's hard to sleep in when it's light at 4:30, and with the nerves of playing the final day close to the lead. So I'll be anxious and looking forward to getting it started."