News
A Golfer's (And Golf Writer's) Thanksgiving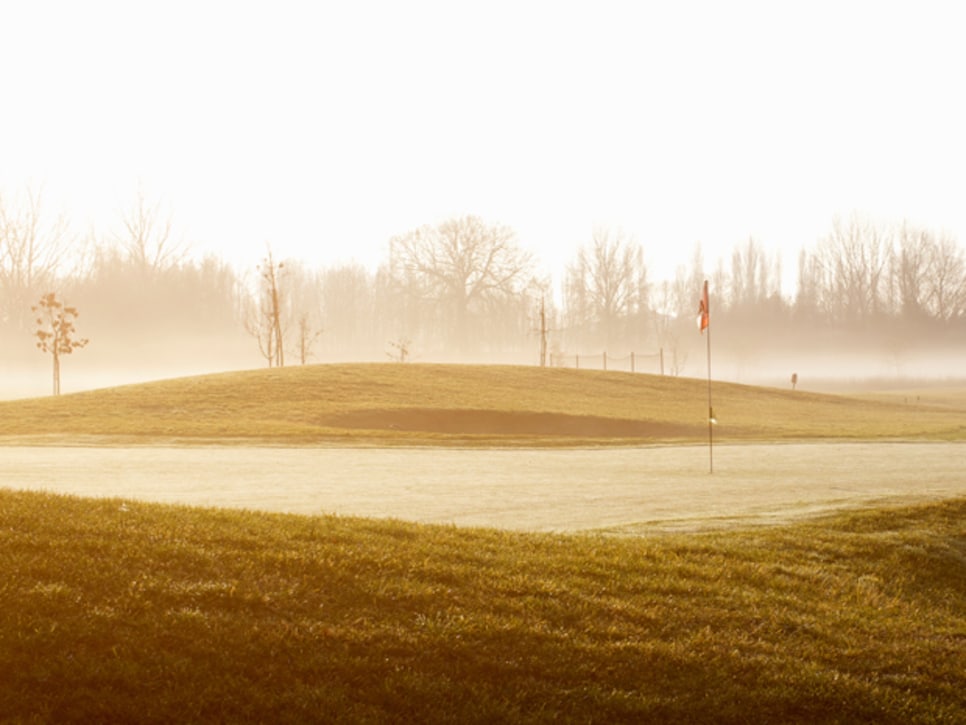 Having hung around this sport of ours for many years, what am I thankful for?
Early mornings when the dew is a blank canvas for feet, push-cart wheels and (one hopes) a ball rolling into the cup.
Quick nines before dark, the shadows long and the mood light.
Seeing a couple of kids having a good time putting for dimes on a practice green, realizing there was a day when that was you with a Kroydon putter, Club Special ball and haircut as short as the grass.
Being able to wonder where in the world all those years went.
Days when a secret lasts longer than one hole, and when a ball lasts all 18.
The Christmas of 1969 when Santa brought the Johnny Palmer starter set from the Sears catalog.
The Christmas of 1974 when Mom and Dad bought the full set of Wilson Staffs.
Still possessing the first driver you ever owned and enjoying looking at it despite the skied-shot marks you caused on the laminated wood.
Doglegs where the geometry of your mind and swing somehow match that of the hole you are playing.
Candid professionals who tell it like it is.
Friendly professionals who remember who you are.
Television technology that breaks down shots as never before.
The fact that what happens with contenders and pretenders on the back nine on a Sunday that matters largely remains a mystery.
Keen students of the golf mind such as Bob Rotella and Dick Coop who explain it the best they can.
Golfers like Henrik Stenson who endure hard times and come out better than ever.
All the volunteers, minus the very few pushy marshals who think it's all about them, who make pro golf possible.
That it was a year during which a 16-year-old, Lydia Ko, and a 68-year-old, Hale Irwin, each shot 64 in competition.
That a 43-year-old, Phil Mickelson shot the best 66 of his life to tame a fiery, venerable links and finally win the British Open on his 20th attempt.
Se Ri Pak's trailblazing.
Getting to talk with someone, Lake Merced pro emeritus Woody Wright, who took lessons from Ernest Jones in 1959, the year I was born.
Seeing an old boss and friend, Al Barkow, having a wonderful time trying to figure out this maddening game at age 81.
And his doing an excellent job of it two days later by shooting a 74.
That Al's Golf's Golden Grind and Gettin' to the Dance Floor, which bring the old days to vivid life, are on my shelf.
For the chance to have gotten to interview Byron Nelson, Gene Sarazen and Sam Snead and having them describe the way it was.
For interviewing Tiger Woods in 1991, and wondering the way it might be.
Getting to watch Woods throughout two decades of golf excellence -- seeing the best at their best is a sporting jewel that shouldn't be taken for granted.
For 18 holes with Snead in 1996 and happily giving him 20 bucks for the memory over a rum and Coke (or two).
The smell of a new leather glove, fresh out of the package.
The sound of a greenside bunker shot hit just right.
The sight of the driving range at Knollwood Fairways, where a large bucket for $1.25 was all you needed to be happy.
Being able to watch one precocious PGA Tour rookie from Texas in 1973 (Ben Crenshaw) and another one in 2013 (Jordan Spieth).
That Crenshaw and Bill Coore so skillfully executed the restoration of Pinehurst No. 2 Course, where the men and the women will try to solve it next June.
That the World Golf Hall of Fame is taking a timeout to try and get things right.
Keeping my souvenir program from pro-am day at the 1972 U.S. Professional Match Play Championship in Pinehurst, N.C. Autographs on the cover (in ballpoint, of course): Tommy Aaron, Homero Blancas, Frank Beard, Glen Campbell, Dale Douglass, Woody Durham, Dave Eichelberger, Lou Graham, Charlie Harville, Dave Hill, Bobby Nichols, Arnold Palmer, Eddie Pearce, Mason Rudolph, Doug Sanders, Tom Shaw, Dan Sikes, Jim Thacker and one name I can't make out.
Holding a gutta percha ball someone made -- and someone hit -- in Great Britain during the 19th century, 70 years or so before I was born.
Having owned a shag bag and known the pleasure of hitting wedges and short irons in an empty field of Centipedegrass, where the ball sat up as if on a tee.
Hearing golf's wise men and women honestly describe their lifetimes of golf.
The gracious and smart people in golf; Judy Rankin comes to mind.
That, when the dust has settled, we really do remember the good shots more than the bad drops.
Having finally had the pleasure of seeing courses where the greens are sand and the expectations not so grand. Repeat: Golf doesn't have to be fancy to be fun.
A Thanksgiving Day that isn't too cold to play.