News
Sandy Tatum Remembers Bill Campbell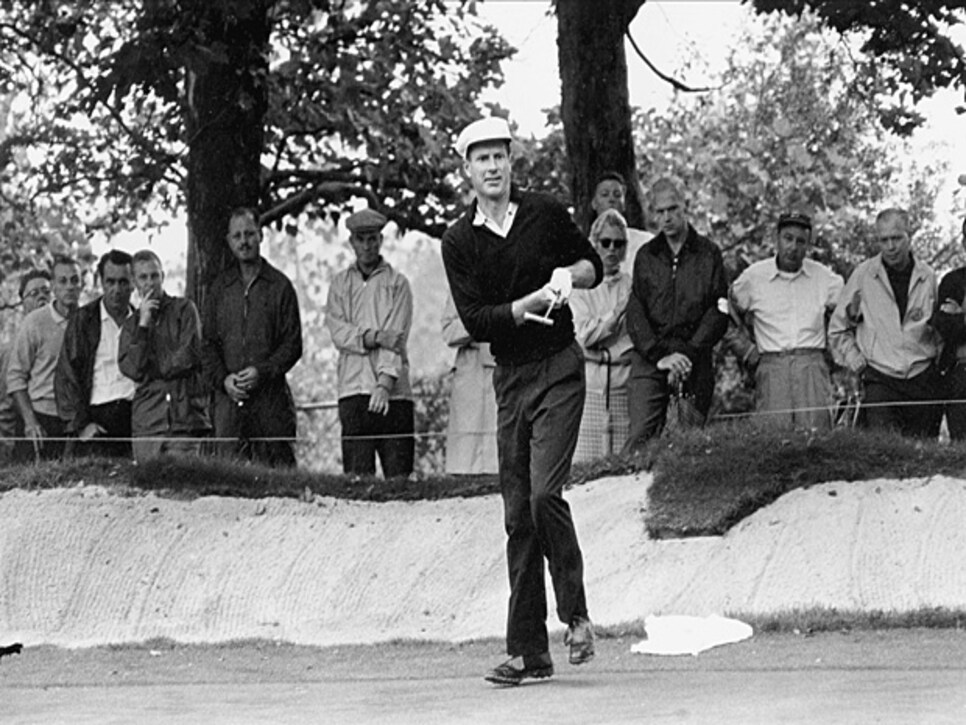 Campbell playing in the final of the 1964 U.S. Amateur.
Editor's note: Sandy Tatum is a former standout amateur golfer and a past president of the USGA.
In a life loaded with fortuitous developments among the most fortuitous is the friendship I was privileged to have with Bill Campbell. The bonding agent in that friendship was our respective love affairs with the game.
That bonding lead to sharing a wonderful lot of golf experiences with Bill. Obviously his ability to play the game was very impressive. Add to that his personality and pervasive enthusiasm and the experience is memorable to say the least.
Bill Campbell was a quintessential golfer. His record as a player qualifies as unique. Elements of that evaluation are:
-- Won the U.S. Amateur 1964
-- Runner up in the British Amateur 1954
-- Walker Cup: Over a period of 24 years played on eight Walker Cup teams. Was captain in 1955 and had a singles record of 7 wins, 0 losses, tie.
-- Winner U.S. Senior Amateur 1979, 1980
-- 2nd in the 1980 Senior Open
-- Won 15 consecutive West Virginia Amateur Championships
-- Played in 37 U.S. Amateur Championships, including 33 consecutively from 1941-1977
-- In the period 1949-1975 played in 15 U.S. Opens
-- In the period 1950-1976 played in 18 Masters
As he was achieving that record he was living a life enhanced with other accomplishments. To cite a few among many illustrative examples:
-- He and his wife Joan raised six children
-- He developed a successful insurance business
-- President of the Advisory Board of Marshall University
-- Past President of the Huntington Area Chamber of Commerce
-- Past Chairman, twice, of the West Virginia
-- Citizens' Legislative Compensation Commission
-- President of the Huntington YMCA
-- Past President of the Central Ohio Valley Industrial Council
-- Member of the West Virginia Legislature, 1948-1951
-- 3-1/2 years Army active duty in WWII, rank from Private to Captain in combat with 100th Infantry Division, received Bronze Star for Valor, Army Commendation, and three Battle Stars.
-- Not only did he serve as president of the United States Golf Association, he was captain of the Royal and Ancient Golf Club of St. Andrews.
Embellishing a life so extraordinarily lived was a thoroughly engaging personality enhanced by a pervading sense of humor. His Scot heritage added a frugality factor which was flavored by Billy Joe Patton's claim that Bill Campbell was the only player in the history of the Masters who on the first tee of his first round washed his ball.
Bill had a close friendship with Sam Snead, notwithstanding how different were their lifestyles. It is especially noteworthy that in the early Masters years there was a driving contest in which Sam had hit the ball 325 yards and no one was close except Bill. He hit his drive 328 yards.
Note that those distances were achieved with persimmon woods and balls that were not developed from laboratory research designed to try to defeat the laws of gravity.
As I reflect on how much Bill Campbell's life contributed so much to so many, including me, in so many ways, I can put my evaluation of Bill into effective perspective by noting my view that in the whole history of golf there have been just two ultimate quintessential golfers. The other was Bobby Jones.