The Loop
Bill Belichick still has nightmares of Tom Brady nearly falling off a cliff at the Pebble Beach Pro-Am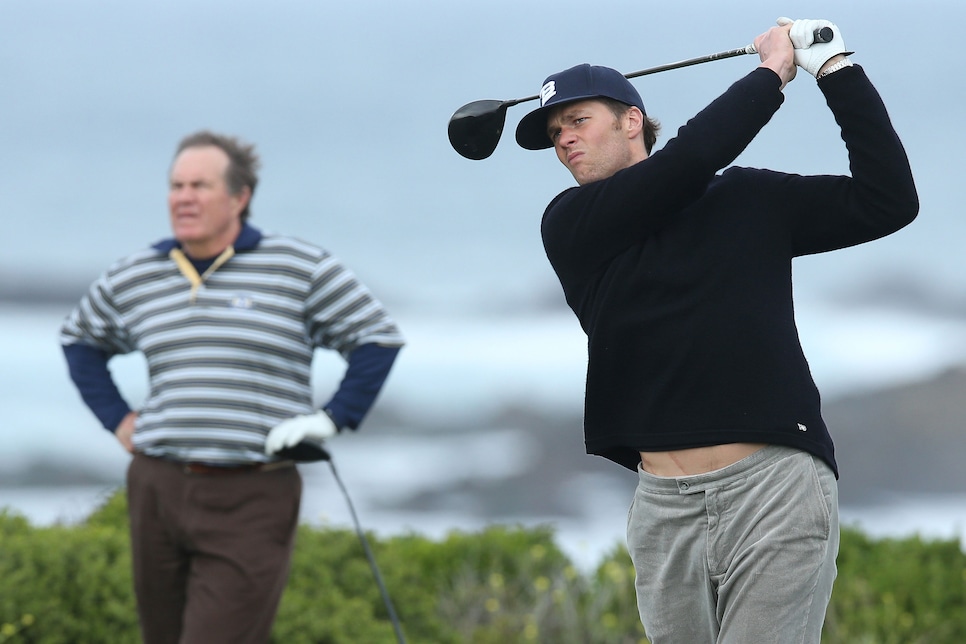 New England Patriots quarterback Tom Brady has gathered an endless number of accolades in his nearly 20-year pro career, including five-time Super Bowl champion, four-time Super Bowl MVP and three-time NFL MVP.
But one of his most memorable moments, according to coach Bill Belichick, came on the golf course when the two were paired together during the 2014 AT&T Pebble Beach Pro-Am. The Patriots coach was a guest on the podcast of NFL Network's Ian Rapaport and told an incredible story that sums up the competitiveness of his future Hall-of-Fame quarterback—who is also listed with an 8 handicap on Golf Digest's most recent pro-athlete rankings.
"We were on the sixth hole [at Pebble Beach], which is a long par 5 and it goes up a big hill and the ocean is on the right, and the fairway kind of falls off to the right. Most of us golfers are little slicers anyways, so lot of balls end up over there—in or by the ocean," Belichick said. "So there we are, playing in a pro-am tournament, where, as an amateur if you hit a bad shot you don't really worry about it, you play the pro's ball anyways, that's what you have him for. There's not a ton of pressure on the amateurs because you have a good player with you who probably is going to make a par on almost every hole and birdie a few.
"So Tom hit one, his second shot, over [to the right], and I see a starting quarterback, a Super Bowl MVP, a league MVP literally hanging over the side of the cliff probably 200-300 feet above the ocean trying to hit a golf ball that's a pretty meaningless shot because the pro already is going to do better than he would on the hole.
"But that's Tom, he's very, very competitive, very focused. Plays kind of fearlessly, whether it's on—in this case on the golf course—or on the football field. But I was just thinking to myself, 'This is a crazy sight that I'm looking at here.'
"So he hit the ball and then his caddie kind of walked over there and gave him a hand and helped him back up this cliff that he was a few feet down on, or below. So I certainly breathed a little bit easier when he came up for air on that one. But yeah, when I think of Tom, I think of situations like that. It doesn't really matter, but to him it matters and he only knows one way to do it and that's the way he's going to do it."
Never change, Tom, never change.