Golf Digest Schools
Big round coming up? Our experts help you get ready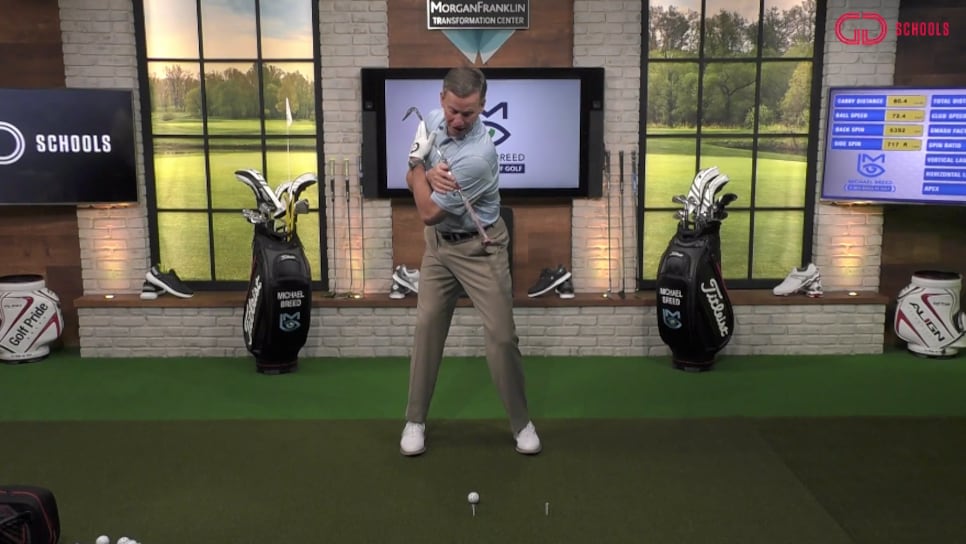 Whether you've got a tournament tomorrow or just a casual round where you want to hold your own, top teacher Michael Breed and sports-medicine expert Dr. Ara Suppiah have you covered. These two are all about the prep, but even with only a day to go, you can still set yourself up for success.
One key is staying calm when you feel nervous—and you will feel nervous. Dr. Suppiah suggests a technique called box breathing. Picture a box in the air in front of you—you're going to trace the outline of that box with your finger during this drill. To start, breathe in for a count of 5 as you trace one side of the box. Hold that breath for another count of 5 as you trace the second side. Breathe out for 5 for the third side, and then hold that exhale for 5 as you complete the box. Repeat a few times, and you'll feel relaxed.
When it comes to swing technique, there's not much you can change the day before a big round, but there are a few things you should focus on, according to Michael Breed. His first tip is to focus on the weight distribution in your feet. "When you get nervous, you lean out on your toes," Breed says. You want your weight balanced in the middle of each foot, so hit some balls focusing on that balance.
The second key Breed says to be aware of is your trail shoulder. Paying attention to turning your trail shoulder behind you in the backswing will help you make a full rotation and will improve your contact and consistency. Check out Breed's video on how to make a bigger turn for more distance—and a confidence boost.
Breed's final piece of advice is to visualize good shots. Imagine yourself hitting the ball well, and you'll give yourself a better chance for a positive outcome. Dr. Suppiah's last word? Stay hydrated and get a good night's sleep. Much better than practicing—or stressing—into the wee hours.
When you have more time to prep, check out "3 Weeks to Peak" from Breed and Suppiah. You'll learn their keys to peak performance and get your game fully prepared in just three weeks. Join Golf Digest Schools and watch their full video program—45 minutes of swing instruction and strategy tips—and get on the fast track to mid-season form!
"3 Weeks to Peak" is one of more than 100 video programs in Golf Digest Schools. Take your game to the next level with instruction from the top teachers and players. And with the new Golf Digest Schools app, you can bring it all with you anywhere you go. Check out Golf Digest Schools, a revolutionary experience in golf instruction.