Equipment
Bettinardi Armageddon putter takes military theme to extremes by using scrap metal from Humvee doors
The new, limited-edition run of Bettinardi Armageddon putters reflects founder and chief designer Robert J. Bettinardi's long affection for the military in some of his custom designs and special runs, but he has taken this one farther than any design in his history.
And he has a member of the military to thank not merely for the inspiration but for the actual raw materials.
As the story goes, the new Bettinardi Armageddon came about when Army Specialist Ryan Finch and his father, Brian, were talking about the Humvee that Ryan used on patrol with the 2nd Brigade Combat Team in Iraq during his service in 2008-'09. His father cut armor parts of the doors on the vehicles while at the Magna Machine Shop in Cincinnati. Brian had asked the owner of the shop if he could have some of the scrap cuts for a special project one day. Turns out that special project would be Bettinardi's special project.
"My dad took great pride cutting doors for the trucks I may be in one day," Finch said. "While I'm not sure if he made my actual truck armor, there is a good chance he did. It was nice to think he probably made my armor. When I got back we started playing golf to just hang out and it's been a big help with my PTSD. Putting is my favorite part of golf, because the rest of my game is kind of rough.
"I love beautiful putters. We thought of what we could do with the material and we thought of putters. We each wanted one, but we also wanted others to be able to enjoy them, too. I knew [Robert Bettinardi] was a military supporter, so I reached out to him."
Bettinardi was more than a little intrigued.
"Man, I jumped at this one," Bettinardi said of the idea. Part of Bettinardi's other business at his Tinley Park, Ill. facility has been involved in CNC-milling parts for smart bombs for the military. "You know we love the military and we love America, and this was a great opportunity to honor our soldiers.
"This whole concept is near and dear to my heart."
But this was more than a mere commemorative item. When Bettinardi got a sample of the Humvee door scrap metal, he found a military grade of Kaiser aluminum that Bettinardi said is better than what he has used on some of his past putters.
"It's a little more challenging to work with," Bettinardi said, "and they weren't allowed to tell us what it actually was, but the first piece we milled and got shafted, it really feels better, very soft, really perfect."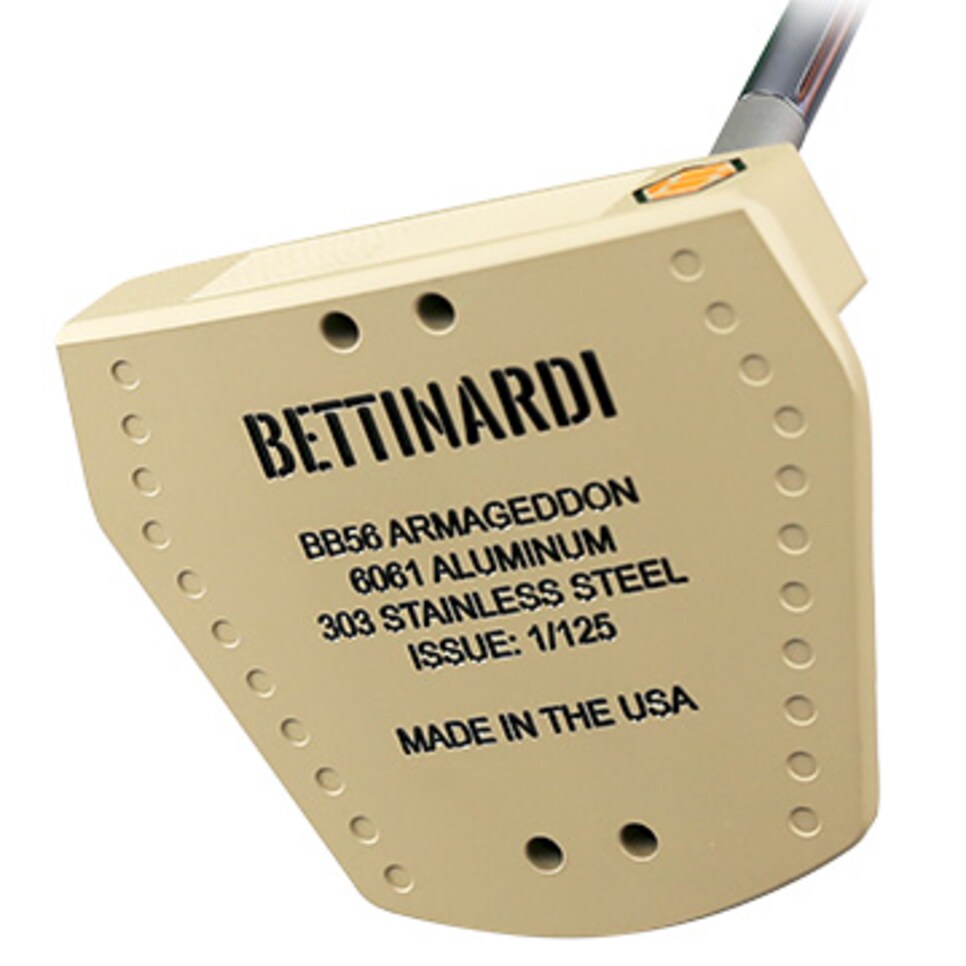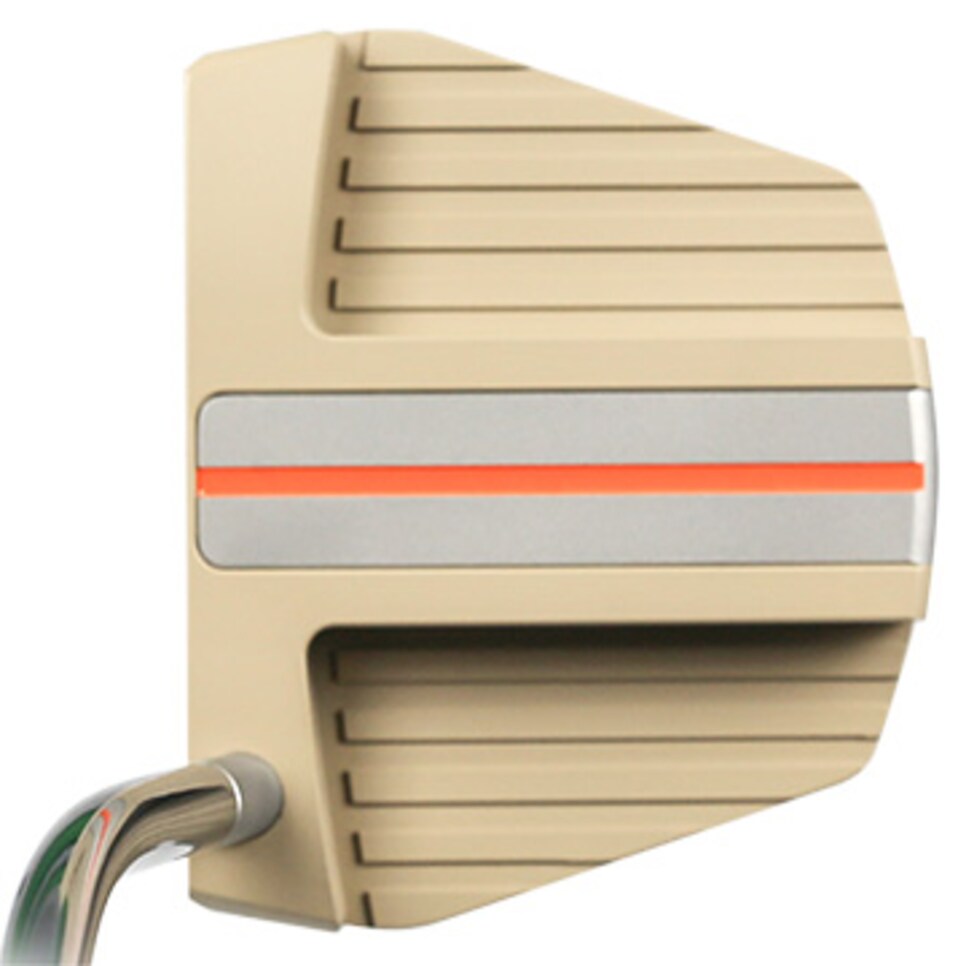 The Bettinardi Armageddon putter is modeled after the BB56 mallet in the current BB Series. Only 125 are being offered in this limited-edition, which features a sand finish made to match up with that of the military Humvees. The putters are hand-painted an orange-and-brown Army-paint scheme and include a specially crafted orange Lamkin grip.
"We've been very happy to be part of this project," Finch said. "We hope others will enjoy them as well. I haven't seen the finished design yet, but knowing the Bettinardi brand they'll knock it out of the park."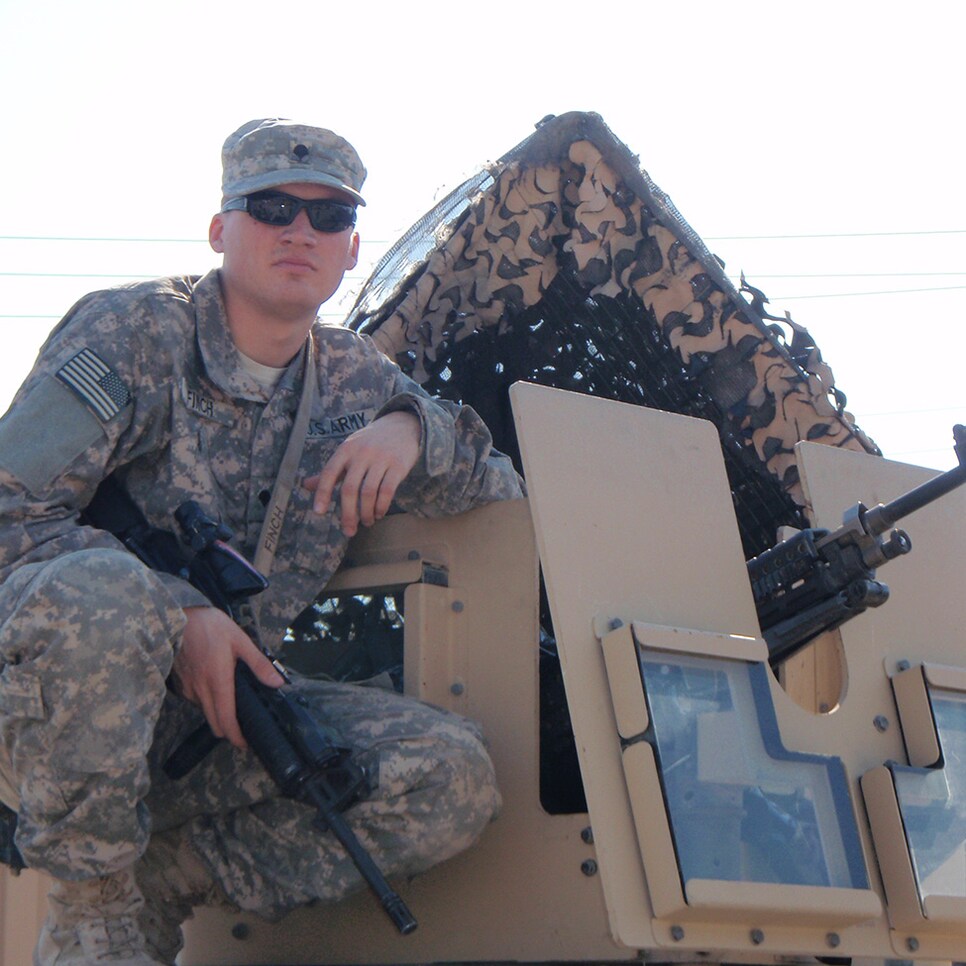 Finch will see the finished putters in a few weeks, as Bettinardi has invited father and son to the Chicago area to Bettinardi's factory and putter fitting center Studio B to receive putters No. 1 and No. 2 in the series.
The remaining putters will be sold through Bettinardi.com and exclusive Bettinardi dealers ($500).