News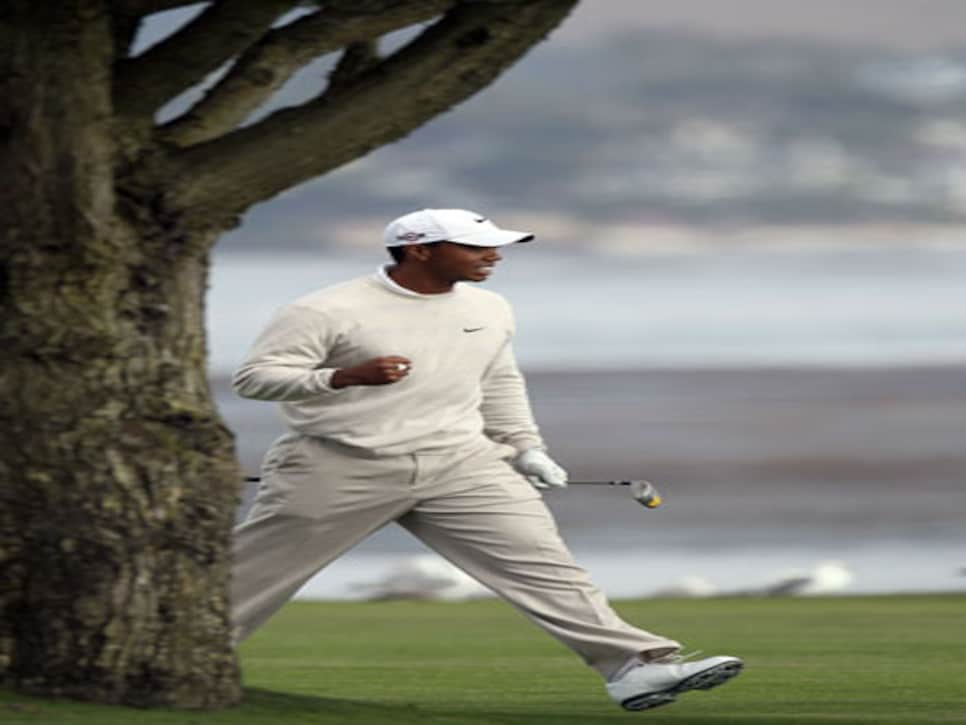 Woods shot a 31 on the back nine Saturday.
PEBBLE BEACH -- Walking down the steps of the scoring trailer behind the 18th green, his five-under-par 66 official and, more significantly, his return as golf's premier entertainer confirmed, Tiger Woods pushed up the bill of his cap, wiped his brow with a forearm and puffed both cheeks in an enthusiastic if exhausted exhale. "Not bad for me, huh?" he said.
We've seen too many Tiger Woods highlights at Pebble Beach during his 14 years as a professional to think the 66 he shot Saturday afternoon will be remembered as significant unless he finds a way to win his 15th major here Sunday. The holed wedge shot on the 15th hole in the 1999 AT&T that ignited his come-from-behind victory over Matt Gogel has been shown countless times. And, of course, the 15-shot romp for his first U.S. Open triumph in 2000 is constantly on rewind as perhaps the greatest major win ever.
Nevertheless, the thousands of Woods' fans at Pebble Beach who witnessed any part of his third round Saturday aren't likely to forget it for a long time. It was an afternoon when the Tiger roars returned after an extended absence, the gallery growing with every birdie on the back nine. Most in attendance will have a story to tell, even if it's little more than the time they yelled, "We love you, Tiger," and received a friendly wave in return. That has been the norm all week, according to Joe Corless, the PGA Tour security chief who has walked every hole with Woods this week.
"Nothing but love," he said. "They've been great to him."
A few might have seen little more than the back-to-back bogeys Woods made on the second and third holes that dropped him nine shots out of the lead and, seemingly, out of the tournament. Not long after that, there were far more people streaming through the exits than following Woods for the rest of his round. But those who stayed probably saw one of the eight birdies that got him back into this tournament, none more dramatic than the one on 18 in which he cut his 3-wood approach from 260 yards around the cypress trees in front of him and on to the green. Moments before the shot, Woods appeared to have no chance at getting home in two. Moments after it, he was receiving the most heartfelt standing ovation since returning to golf two months ago.
"It's been awhile," Woods said. "I hadn't played good enough for anyone to cheer for anything, so it was nice to put it together on the back nine. Everyone was so excited and fired up that it was just a great atmosphere."
Few will have a more memorable reflection than 12-year-old Jackson Smith from Tyler, Tex., who reached for -- and received -- a high-five from Woods between the 16th green and 17th tee.
"I've been waiting for him all day," said Jackson, who's attending his first U.S. Open this week. "I've gotten high-fives from a lot of guys today, but Tiger is my favorite player!"
Without question, Jackson reached for some love at an opportune moment. Woods had just curled in a 10-foot birdie putt on 16 and slung his most emotional fist pump of the week before marching toward his young fan. When he coaxed in another one on the par-3 17th, this one from above the hole with about six feet of break, Woods pointed to the grandstand with his right index finger and slapped five with caddie Steve Williams so hard that Williams shook his hand afterward.
"In this tournament more than any other, all you need is nine holes to get yourself back into it," said Woods. "I got myself back in the Championship with those nine holes. At Torrey Pines, the back nine on Saturday as well."
Justin Leonard, who birdied his first two holes Saturday to briefly get on the leader board, was more than a little surprised by Woods' accomplishment. "Sixty-six out there today is an incredible score," said Leonard, whose two-over 73 wasn't bad. "Phil's 66 yesterday was pretty good, but Tiger's today might be a little better."
"How did he do that?" asked Shaun Micheel, after shooting a 75 that didn't feel awful. "I don't know how you shoot 66 on that golf course."
Casey Boyns has been caddieing and playing at Pebble Beach for 30 years, and estimates he has walked the course at least 7,000 times. "Today was pretty much as hard as I've ever seen it," said Boyns. "I mean, it could have blown a lot harder, we could have had much worse weather, but as far as the difficulty of the course itself ... very, very tough."
For the first time all week, Woods on Saturday looked like Tiger. The strut. The stare. The confidence. It all looked very familiar. As did the results.
"He's back," Woods' agent, Mark Steinberg, surmised as his man reached the 18th green. "And look who else is back," Steinberg added, pointing to the grandstands. "Them."