News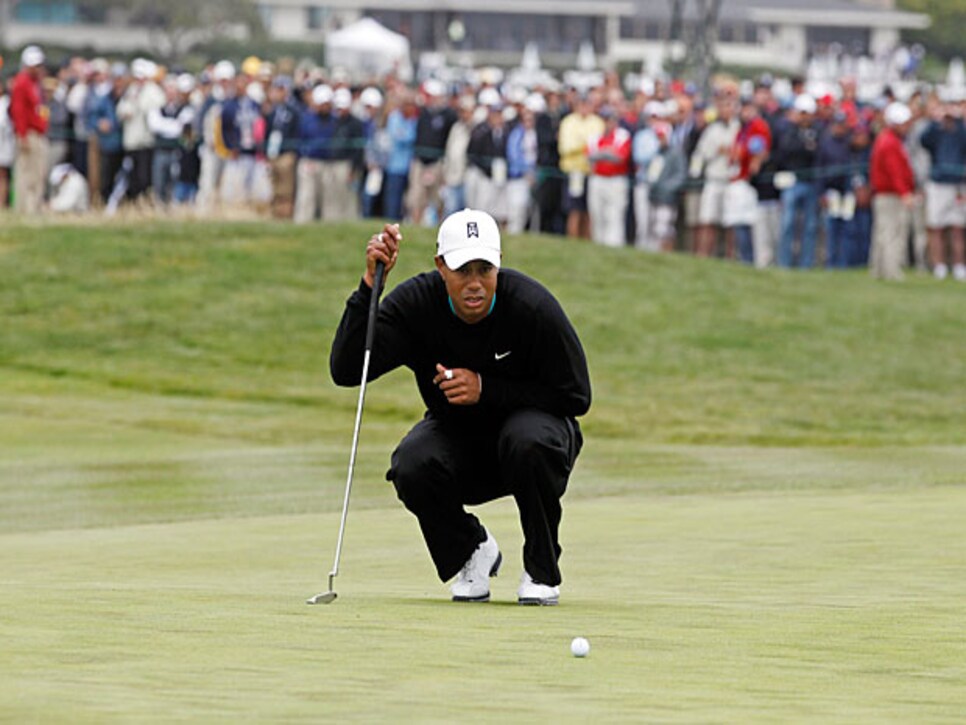 Tiger Woods was one of many players frustrated by the condition of the greens on Thursday.
PEBBLE BEACH -- As Ernie Els rolled in his sixth consecutive four-footer during a Thursday evening practice session on Pebble's pristine practice green, he shook his head disgustedly and said to caddie Ricci Roberts, "If just one green out there was like this one . . . This green is like Augusta."
With an 8:06 a.m. tee time Friday, Els got his wish.
Following a 33-putt 73 that had him suggesting Pebble Beach's greens might be the worst he has ever seen in a U.S. Open, Els made fives birdies, needed only 25 putts in a three-under-par 68 that left him two shots behind leader Graeme McDowell.
"Totally different greens out there this morning," Els said. "More like the practice green. You can actually roll the damn thing on 'em when they're smooth like that. But I'll tell you right now, they were already getting a little crispy as we were finishing. The boys are gonna have some fun out there this afternoon."
On Thursday, Els conceded that his putting mechanics weren't perfect, that his posture and stance felt a little off and that he wasn't hitting putts solid. Despite that, he gave equal blame for his putting woes to greens that were "too firm" and "too bumpy." Most of all, he was perplexed how the USGA could feel satisfied with such poor putting surfaces in a U.S. Open. "You've been coming to these for a long time," Els said to an observer. "Have you seen greens worse than these?"
Els' assessment was only slighter more tempered than Tiger Woods' critique Thursday, when he called the greens "awful." Woods felt a lot different after his second-round 72 left him seven shots back and guaranteed he'll play this weekend. "Totally different golf course today," said Woods. "Much softer."
Els and Woods weren't alone in bemoaning the perils of Pebble's greens on sunny, wind-swept afternoons -- especially when they're as firm as the USGA has them this week. "Oh, they're hard. Really hard," Sergio Garcia said Thursday, while describing how easy it was to "look silly" trying to hole a three- or four-foot putt and how difficult it was to hold a 100-yard shot on the par-3 seventh. Even David Duval chuckled at the difficulty posed by the concrete-like surfaces. "You want me to say it's like Sunday in 1992?" Duval asked. "It's pretty challenging, I'll say that."
The question is whether this is typical frustration from U.S. Open competitors, or if Els might be right that Pebble's greens for anyone playing late in the day are destined to be remembered as the worst in an Open in a very long time.
"We couldn't be more pleased, really," said Tom O'Toole, the USGA's chairman of the championship committee. "It's a balancing act to try to keep these greens nourished from a water management standpoint, and then test the greatest players in the world with firmness. The greens here at Pebble Beach are Poa annua. And when you have 156 players playing over two days, you're going to get bumpy greens."
Of course, there have been plenty of success stories on the greens. Leader McDowell took 26 putts Thursday and 27 Friday. And Phil Mickelson, who opened with a five-over 75 on Thursday, had six one-putts in his first eight holes Friday to get right back in the tournament.
Not to be discounted is that all of the leaders will be subjected to the same late-afternoon conditions on Saturday. And with the forecast calling for partly sunny skies and 15 mph winds, players might have more reason to gripe about the greens before this thing is over.
"We hear these kinds of complaints from players every year," says Mike Davis, the USGA's director of rules and competitions.
It wouldn't be a U.S. Open without them.