Courses
Best New Public: Under $75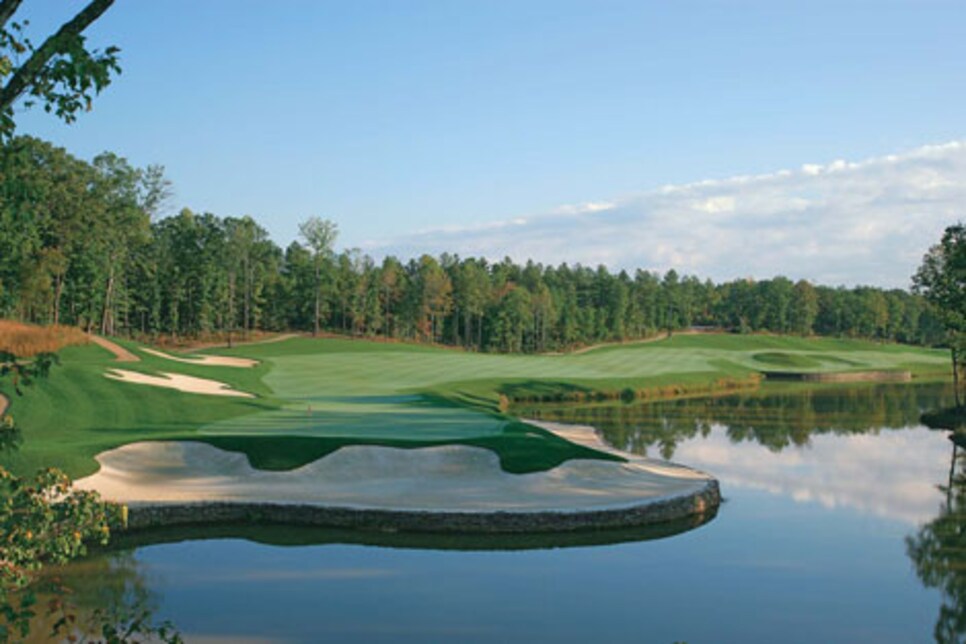 Spring Creek Golf Club: Classic risk-reward finish at this Virginia beauty.
Half a dozen years ago, private developers in Virginia proposed a multicourse Sam Snead Golf Trail stretching from Norfolk to Blacksburg and points north. Course designer Ed Carton was hired to be Snead's ghost architect. Soon after the first course broke ground in 2002, Snead died, and soon thereafter, so did the financing for a Snead Golf Trail. But that course, the Snead-inspired, Carton-designed Poplar Grove in Amherst, eventually opened and placed eighth among the Best New Upscale Public courses in 2005.
Carton had scouted other spots for potential Snead courses and found a dandy east of Charlottesville. After the Trail fizzled, another developer stepped in, retained Carton, and let him fashion 18 holes that eventually will be surrounded by housing.
The result is Spring Creek Golf Club, our Best New Public Course Under $75, a sprawling, almost overpowering-to-the-senses layout. If it looks to a layman like a Tom Fazio design, that's understandable. Carton learned the business working for Fazio on some 30 construction projects. Carton is proud that at Spring Creek he achieved a Fazio touch without a typical Fazio budget.
Spring Creek has the look and feel of a course worth twice the admission price. Nearly every hole is isolated in a dense forest of hardwood trees, with the only parallel holes being the third and fourth. But forget the trees. Spring Creek welcomes golfers with open arms. The bent-grass fairways are massively wide, the bent-grass greens invitingly deep. To keep pace with that scale, the bunkers are understandably gigantic, some fairway ones nearly 100 yards long, some greenside ones dwarfing the putting surfaces.
For a first-timer, the components tend to blur after a while. But a pair of holes stand out. After 10 holes of hardwoods, the dogleg-right, uphill, par-4 11th provides a visual change of pace. It's notched through a corner of a pine plantation, with nothing but solid, uninterrupted pines. It's like playing along at Medinah and suddenly stumbling upon Pinehurst. But step onto the 12th, and the scenery reverts to oak dominance.
The 561-yard 18th is a rousing, go-for-broke par 5 with a large lake along the left and a peninsula green encircled by a buffer bunker and water. A combination of fairway contours and a hillside on the right reward a fade off the tee and a draw into the green. Ed Carton learned his craft well. This is arguably the year's most exciting closing hole.
BEST NEW PUBLIC: UNDER $75 1. SPRING CREEK G.C. • Gord Le, Va. • Yards 7,172 • Par 72 • Fee: $70 • Designer: Ed Carton • 540-832-0744 • springcreekgolfclub.com 2. JUG MTN. RANCH G. CSE. • McCall, Idaho • Yards 7,287 • Par 72 • Fee $60: Don Knott • 208-634-5072 • jugmountainranch.com 3. MONARCH DUNES G.C. • Nipomo, Calif. • Yards 6,810 • Par 71 • Fee $73 • Damian Pascuzzo and Steve Pate • 805-343-9459 • monarchdunesgolf.com __4. THE MANOR RESORT G.C.__• Farmville, Va. • Yards 7,214 • Par 72 • Fee: $49 • Rick Robbins • 434-392-2244 • themanorresort.com __5. THE DOGWOODS AT HUGH WHITE STATE PARK__• Grenada, Miss. • Yards 7,015 • Par 72 • Fee: $39 • Gary Roger Baird • 662-226-4123 • dogwoodsgolf.com 6. BLUE RIDGE SHADOWS G.C. • Front Royal, Va. • Yards 7,302 • Par 72 • Fee: $72 • Tom Clark • 540-631-9661 • blueridgeshadows.com __7. BLACK BEAR G.C.__• Delhi, La. • Yards 7,276 • Par 72 • Fee: $49 • Roy Bechtol and Randy Russell • 318-878-2162 • blackbear-golf.com 8. WHITE HORSE G.C. • Kingston, Wash. • Yards 7,093 • Par 72 • Fee: $63 • Cynthia Dye McGarey • 360-297-4468 • whitehorsegolf.com 9. CANYON RIVER G.C. • East Missoula, Mont. • Yards 6,966 • Par 72 • Fee: $48 • Lee Schmidt and Brian Curley • 406-721-0222 • canyonrivergolfcommunity.com 10. SAND CREEK STATION • Newton, Kan. • Yards 7,359 • Par 72 • Fee: $49 • Jeff Brauer • 316-284-6161 • sandcreekgolfclub.com