Courses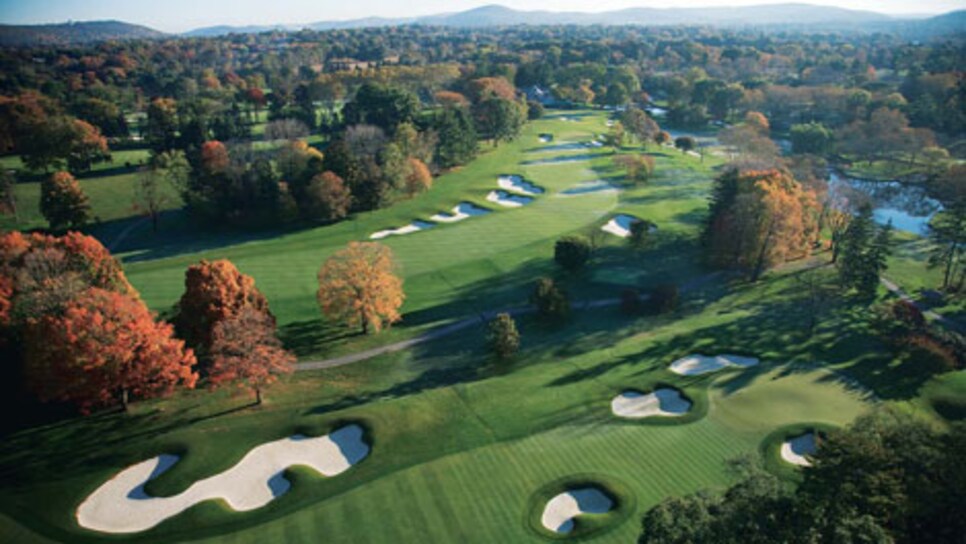 One clear trend in our Best Remodel competition, now in its fourth season, is that our panel of judges prefers sensible-if-modest renovations to extreme makeovers. Thus our Best Remodel of 2008, the Old Course at Saucon Valley in Pennsylvania, follows in the tradition of its predecessors, Brookside in Canton, Ohio, Stanwich in Connecticut and The Greenbrier's Old White Course in West Virginia. All were solid layouts before, merely enhanced and improved.
With Saucon Valley, the aim of Fazio and his chief lieutenant, Tom Marzolf, was to sympathetically update a 1922 Herbert Strong design that had been rearranged by Perry Maxwell in the late 1930s. Improvements included considerable tree removal, the deepening of 78 bunkers, removal of 11 others and installation of 11 new ones, new back tees on half the course and extensive surgery to four holes.
Among the most transformed is the third hole, where bunkers fronting the green were filled to allow the extension of the putting surface, bringing it closer to Saucon Creek in front. Short approach shots on this par 4 can now roll back into the drink.
An even bigger change occurred on the 435-yard 12th, which will play as the 18th hole for the Women's Open July 9-12. The original Strong hole was a par 3. When Maxwell remodeled the course, he left the green but turned it into a sharp, dogleg-left par 4. The fairway has been shifted to the right by about 25 yards to relocate the landing area to the area of the old par-3 tees, so golfers will face the same approach into the green that Strong had intended. Four bunkers on the inside of the dogleg now guard that ideal angle of approach. Meanwhile, the hole's name, Dog Leg, has been changed to "Biarritz" to reflect a pronounced dip that bisects the front portion of the green.
As for the normal 18th, a short, heavily bunkered par 4, it will play as the 15th for the Women's Open because there's very little room between the green and clubhouse for grandstands and skyboxes.
Even Tom Fazio, the game's latest "Open doctor," doesn't have enough clout to get a clubhouse relocated.
BEST REMODEL 1. SAUCON VALLEY C.C. (OLD) • Bethlehem, Pa. • Yards: 7,126 • Par: 71 • Fee: $60,000 • Designers: Tom Fazio With Tom Marzolf • sauconvalleycc.org 2. SLEEPY HOLLOW C.C. • Scarborough, N.Y. • Yards: 6,845 • Par: 70 • Fee: $100,000 • Designer: Gil Hanse And George Bahto • sleepyhollowcc.org __3. HAIG POINT C. (CALIBOGUE)__• Daufuskie Island, S.C. • Yards: 7,380 • Par: 72 • Fee: $65,000 • Designer: Rees Jones • haigpoint.com 4. OMAHA C.C. • Yards: 6,746 • Par 71 • Fee: $27,500 • Designer: Keith Foster • omahacc.org 5. MONTESORO G. AND SOCIAL C. • Borrego Springs, Calif. • Yards: 7,307 • Par: 72 • Fee: $85,000 • Designer: Tom Fazio • montesoro.com 6. SEDGEFIELD C.C. • Greensboro, N.C. • Yards: 7,130 • Par 71 • Fee: $12,000 • Designer: Kris Spence • sedgefieldcc.org 7. HAWK'S NEST G.C. • Vero Beach, Fla. • Yards: 7,027 • Par: 72 • Fee: $75,000 • Designer: Jim Fazio • hawksnestgolf.com 8. CARDINAL G. & C.C. • Greensboro, N.C. • Yards: 7,002 • Par: 70 • Fee: $12,500 • Designer: Pete Dye And Tim Liddy • 530-528-4600 • cardinalcc.com 9. SAILFISH POINT G.C. • Stuart, Fla. • Yards: 7,088 • Par: 72 • Fee: $115,500 • Designer: Jack Nicklaus • sailfishpoint.com 10. MAYACOO LAKES C.C. • West Palm Beach • Yards: 6,906 • Par: 71 • Fee: $12,000 • Designer: Kipp Schulties • mayacoolakescc.com