Courses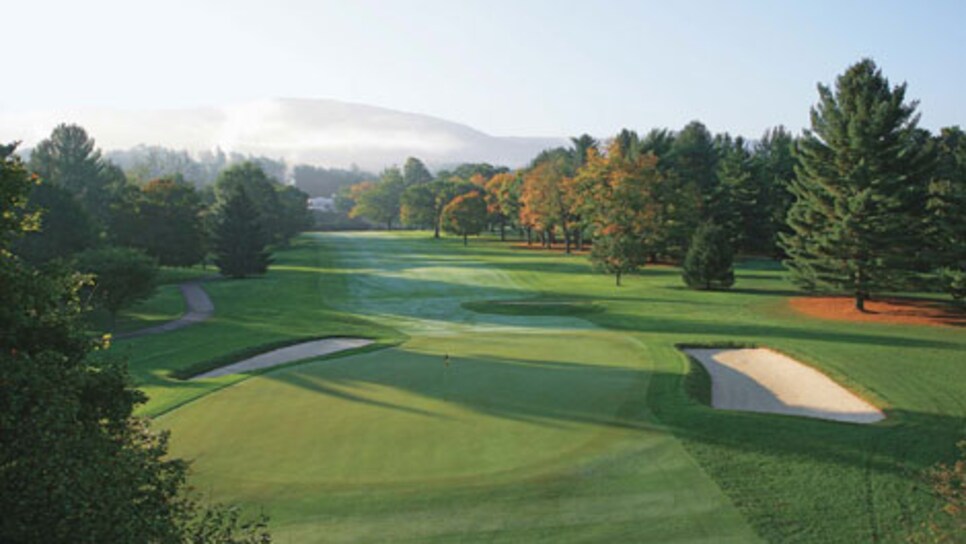 No. 1/ The Greenbrier (Old White): West Virginia retreat restored geometric features.
Somewhere, Sam Snead is smiling -- if not about Spring Creek, the course that could have been a linchpin in a golf trail bearing his name, then certainly about his favorite pigeonhole, The Greenbrier in White Sulphur Springs, W.Va., whose refurbished and re-imagined The Old White Course is 2007's Best New Public Remodel.
It's no longer the tiny-green, shallow-bunkered Old White where Sam picked pockets through his twilight years; it's the massive-green, bold-bunkered Old White that Sam first came upon as a young golfer in the 1930s. It's back to being the Old White that architects C.B. Macdonald and Seth Raynor envisioned in 1914, an ode to British and Scottish styles. Sadly, that Old White emerged from World War II neglect with much of its Old Country character filled in or mowed away, and it stayed that way until a reclamation effort began in 2003.
The reclamation was led by Richmond, Va., architect Lester George, who scrutinized a blow-up 1930s aerial of the course with the magnifying intensity of a desk-bound spook searching a satellite photo for traces of a terrorist training camp. He found the par-3 third once had a 65-yard-long Biarritz green, and so he re-created it, a long front plateau and a small back one, separated by a six-foot trench. The fifth and eighth greens were once guarded by conical mounds, so he reintroduced those novel "dragon's teeth." A creek that slashed diagonally across the 12th, one of just two par 5s on the course, had been inexplicably piped and buried. By uncovering the creek, George recovered the hole's primary strategy.
Not everything George did was brute reproduction. He added a few original touches, like the huge dip in the left half of the second green and the sinister, serpentine fairway bunker hugging the narrow-pedestal 14th fairway. His center-of-the-11th-fairway "Principal's Nose" bunker varies considerably from the original at Scotland's St. Andrews. There, it's a prominent knob with twin pot bunkers at the base. The Old White's version is a prone nose, the nostrils more flared, the long bridge of the nose leading to the green. By re-establishing the lines and angles of the original design, its perpendicular bunkering of geometric shapes, its angular slopes in rectangular greens, and by selectively clearing out walls of trees to open up Allegheny splendors, George has transformed the Old White into a captivating and entertaining resort course. Oh, that Sam Snead could still be there. We imagine he'd be bagging more than a few pigeons by holing pitches and putts off that crazy horseshoe ridge on the 18th green.
BEST NEW PUBLIC REMODEL 1. THE GREENBRIER (THE OLD WHITE CSE.) • White Sulphur Springs, W.Va. • Yards 6,826 • Par 70 • Fee: $225 • Redesigner Lester George • 800-453-4858 • greenbrier.com 2. THE DONALD ROSS COURSE AT FRENCH LICK • French Lick, Ind. • Yards 7,030 • Par 70 • Fee: $110 • Lee Schmidt and Brian Curley • 812-936-9300 • frenchlick.com __3. THE BROADMOOR G.C. (MOUNTAIN CSE.) __• Colorado Springs • Yards 7,637 • Par 72 • Fee: $190 • Jack Nicklaus II • 719-577-5784 • broadmoor.com __4. SIERRA DEL RIO G. CSE.__• Elephant Butte, N.M. • Yards 7,331 • Par 72 • Fee: $65 • Dick Phelps • 575-744-4653 • sierradelrio.com 5. INDUSTRY HILLS G.C. AT PACIFIC PALMS RESORT (EISENHOWER CSE.) • City of Industry, Calif. • Yards 7,211 • Par 72 • Fee: $135 • Casey O'Callaghan • 626-854-2350 • pacificpalmsresort.com