Courses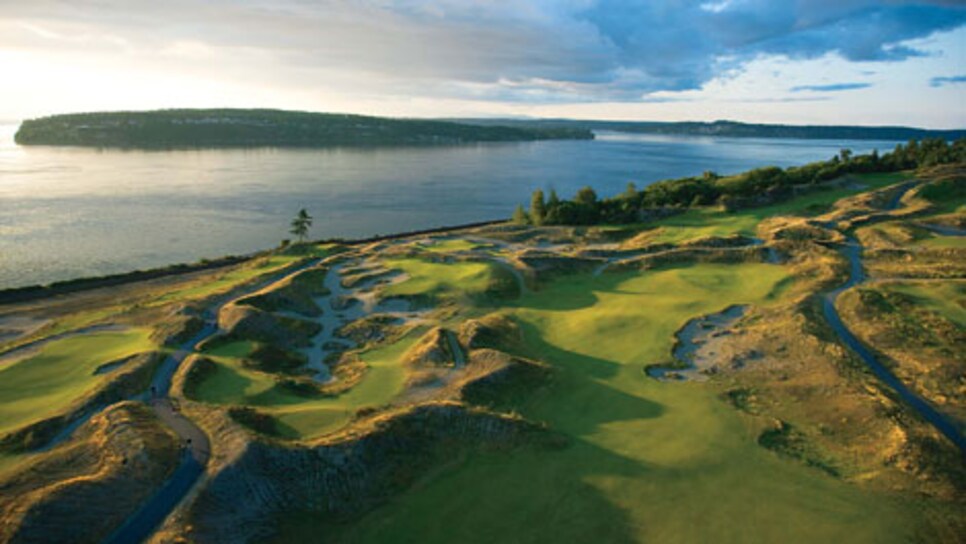 Stepping onto the clubhouse patio at Chambers Bay is akin to strolling to the edge of the Grand Canyon. Below lies a chasm of bewildering beauty, a spectacle that overwhelms the senses.
Unlike Sand Hills or Bandon Dunes or Whistling Straits, whose rugged links-land beauty and character unfold gradually as golfers turn a corner or crest a hill, Chambers Bay explodes at first glimpse from this perch. Nearly every hole is visible -- every craggy dune, sprawling wasteland, tumultuous fairway and tremulous green. Golfers descend by van, not burro, to the first tee, but heart and adrenaline rates are likely elevated nonetheless, for Chambers Bay is an encounter that breeds apprehension and exhilaration.
A municipal operation worthy of national championships, the course is a celebration of American innovation, a land-reclamation project that promotes the positive environmental aspects of golf, a man-made links that thoroughly disguises its artificiality through the artifice of its design.
Few golfers would guess the ragged, jagged, rumbling, tumbling topography is only 20 percent natural. Fewer still would guess that its antecedents sprung from Pebble Beach, where two decades ago Jones pumped sand and life onto a barren hunk of rock and created, with the help of co-designers Tom Watson and Sandy Tatum, The Links at Spanish Bay, Golf Digest's Best New Resort Course of 1988.
Chambers Bay was wrought from another eyesore of a mined-out quarry, on the coastline of Puget Sound, and this time Jones teamed with his design partner, Charlton, and talented young associate Jason Blasi, to reassemble 1.5 million cubic yards of material, much of it spoils of stockpiled sand, into a collection of holes as captivatingly complex and playfully quirky as will ever be seen in a U.S. Open.
Holes rise, fall, widen and narrow like figures in a funhouse mirror. The first and 18th, headed in opposite directions, share a massive common fairway interrupted only by a couple of bunker-laden dunes. The downhill, par-4 fifth has two separate greens 150 yards apart, the longer green open in front, the shorter heavily guarded. The 530-yard, par-4 14th drops down and to the left over a deep chasm dubbed The Pit of Despair.
The turf throughout, including the greens, is Old Country fescue -- "hardwood floors," Jones calls the surfaces -- as opposed to the plush carpets we Americans normally play. The grass supports dry, firm, fast conditions, but because fescue doesn't traffic well, Chambers Bay is a walking-only layout, its complexion unscarred by tire tracks or cartpaths.
Fescue greens can't be shaved to nubbins, so the architects exaggerated green contours to counteract the expected docile pace of about nine feet on a Stimpmeter. Each putting surface presents a distinct issue. The third green slopes from front right to back left, so shots to this par 3 should be bounced aboard. The fourth green has lower, middle and upper bowls, so the approach must hit the correct sideboard to funnel to the proper level. The 16th green is the most outrageous, shaped like a right hand with index finger extended. No question it was a presumptive symbol for that universal chant, "We're No. 1!" -- but it turned out to be prophetic.
And there's an Open Sunday flagstick location aching to be placed on that fingertip.
BEST NEW PUBLIC 1. CHAMBERS BAY • University Place, Wash. • Yards: 7,585 • Par: 72 • Fee: $175 •Designers: Robert Trent Jones Jr., Bruce Charlton and Jason Blasi • 253-460-4653 • More Details on This Course • chambersbaygolf.com 2. PGA G.C. COYOTE SPRINGS (CHASE) • Coyote Springs, Nev. • Yards: 7,471 • Par: 72 • Fee: $175 • Designer: Jack Nicklaus • 877-742-8455 • coyotesprings.com 3. COUGAR CANYON G. LINKS • Trinidad, Colo. • Yards: 7,669 • Par: 72 • Fee: $69 • Designer: Chris Cochran Of Nicklaus Design • 719-422-7015 • • cougarcanyonliving.com __4. FOUR MILE RANCH G.C.__• Canon City, Colo. • Yards: 7,053 • Par 72 • Fee: $59 • Designer: Jim Engh • 719-275-5400 • fourmileranch.com 5. HERITAGE PLANTATION G. & C.C. • Laurel Hill, Fla. • Yards: 7,328 • Par: 72 • Fee: $75 • Designer: Bill Bergin • 850-652-2555 • heritageplantationfla.com 6. EMERALD FALLS G.C. • Broken Arrow, Okla. • Yards: 7,148 • Par 72 • Fee: $60 • Designer: Jerry Slack • 918-806-2792 • emeraldfalls.com 7. SEVILLANO LINKS • Corning, Calif. • Yards: 7,823 • Par: 72 • Fee: $69 • Designer: Mike Stark With John Daly • 530-528-4600 • sevillanolinks.com 8. COTTONWOOD HILLS G.C. • Hutchinson, Kan. • Yards: 7,260 • Par: 72 • Fee: $59 • Designer: Nick Faldo And Guy Hockley • 620-802-9150 • cottonwoodhills.net 9. BUTTERFIELD TRAIL G.C. • El Paso • Yards: 7,307 • Par: 72 • Fee: $80 • Designer: Tom Fazio • 915-772-1038 • butterfieldtrailgolf.com 10. HERITAGE HILL G.C. • Shepherdsville, Ky. • Yards: 7,112 • Par: 72 • Fee: $59 • Designer: Doug Beach • 502-531-0606 • hhgolfclub.com