Courses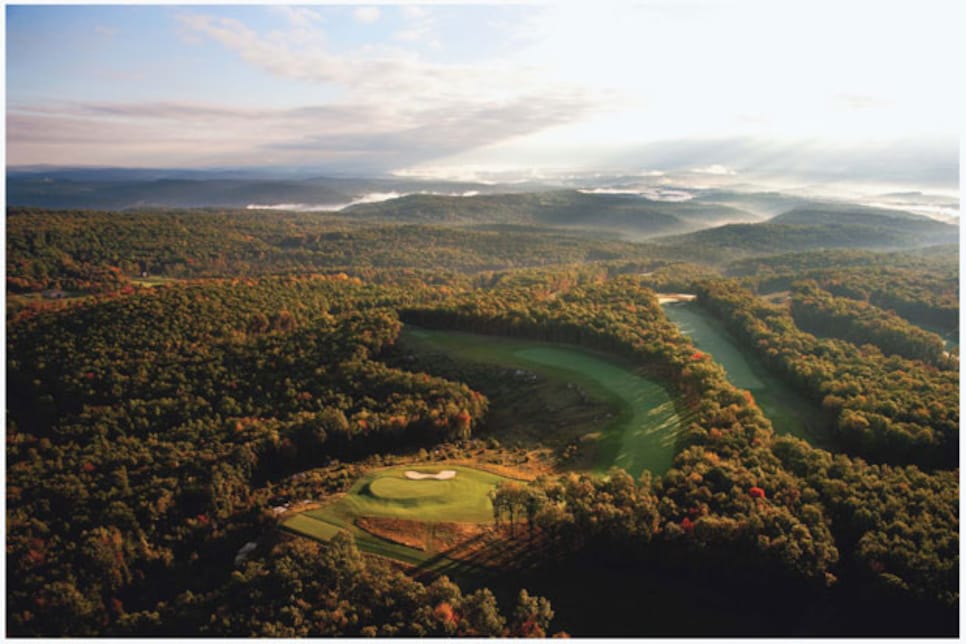 Best New Private: Pikewood National in West Virginia won in part because of this dogleg par 5 around the rim of a deep gulch, the sort of audacity one would expect from amateur architects. View more photos of this course >
Privately owned Greer Industries in West Virginia started as a steel company in 1917, expanded into mining, radio stations and newspapers and now owns a golf course, the invitation-only Pikewood National Golf Club
, designed and built by company officers John Raese (pronounced racy) and Bob Gwynne in their spare time.
Raese, whose maternal grandparents founded Greer, followed his father, Dyke Raese, into the business. John, now 59, ran unsuccessfully for the U.S. Senate in 1984, losing to Jay Rockefeller before becoming Greer's president and CEO.
Gwynne, 58, earned a law degree from West Virginia University, joined Greer in 1980 and is its executive vice president.
Back in 1998, Raese and Gwynne started talking about a big parcel of forest in southeast Morgantown that Greer had just acquired. (The land will eventually be mined for high-quality limestone 600 feet beneath its surface, but it will take 100 years to reach the rock from present mine shafts.) Raese thought they ought to build a golf course on the land, and both agreed they wouldn't want a modern design with lots of mounds and fingery bunkers.
Gwynne suggested they design and build it themselves. After all, Greer had plenty of engineers and construction equipment.
They walked the property that winter and staked out dozens of routings, letting the flow of the land dictate the holes. They didn't want to move any earth, except for tees and greens. A clubhouse location was selected next to a road called Kingwood Pike; the name Pikewood soon emerged.
At an outing at Laurel Valley the next spring, Raese mentioned the project to veteran pros Johnny Pott and Dow Finsterwald, who offered encouragement, visited the site and validated their plan. During construction, both pros would periodically stop by and offer critiques and suggestions. Finsterwald would become the club's pro emeritus, Pott its chief promoter, and each has a hole dedicated in his honor.
Construction moved slowly. A timber company would clear centerlines of a proposed fairway, then remove trees 10 yards left and right of that, then cut down another 10 yards each way, and so on until Raese and Gwynne were satisfied with the hole's configuration. After three years, they had carved out just nine holes.
"We took our time," Gwynne says. "This wasn't our core business."
They opened what became the back nine in 2004, then took two years off to allow Raese to make another run for the Senate. He lost again, to West Virginia's other incumbent, Robert Byrd.
So it was back to the site to tackle a front nine, more problematic because the land fell off a plateau into valleys 100 feet or more. Exploring the base of one chasm, they heard the sound of running water and discovered a 40-yard-wide, 15-foot-high wall of sandstone with a natural waterfall pouring off it. They installed a green beneath the wall, dammed a creek into a pond in front of it and declared it their par-3 fifth hole.
Pikewood is pure golf for purists. There's not a home visible from anywhere on the course. The same is true of the clubhouse, and even the club's overnight cottages are tucked in trees well south of the 18th hole. There are only two sets of tees, the championship at 7,588 yards, par 72, rated at 79.3 with a Slope Rating of 155, and the regular tees, a hefty 6,725 yards, par 72, rated at 75.6 with a Slope of 151.
There are no carts or cartpaths. Walking is mandatory. Gwynne was disappointed to learn Golf Digest no longer gives bonus points for walking. Turns out, Pikewood National didn't need them.
BEST NEW PRIVATE 1. Pikewood National G.C. • Morgantown, W.Va. • Yards: 7,588 • Par: 72 • Initiation fee: $30,000 • Designers: John R. Raese, J. Robert Gwynne with Johnny Pott and Dow Finsterwald • pikewoodnational.com __2. Rock Creek Cattle Company__• Deer Lodge, Mont. • Yards: 7,466 • Par: 71 • Fee: $100,000 • Tom Doak • rockcreekcattlecompany.com 3. Martis Camp • Truckee, Calif. • Yards: 7,751 • Par: 72 • Fee: $105,000 • Tom Fazio • martiscamp.com __4. Cornerstone C.__• Montrose, Colo. • Yards: 7,945 • Par: 72 • Fee: $95,000 • Greg Norman • cornerstonecolorado.com 5. Trump National G.C. Bedminster (N.J.) (New) • Yards: 7,511 • Par: 72 • Fee: $150,000 • Tommy Fazio • trumpnational.com 6. The Idaho C. • Sandpoint, Idaho • Yards: 7,089 Par: 71 Fee: $30,000 • Jack Nicklaus • theidahoclub.com 7. The G.C. at Rainmakers • Alto, N.M. • Yards: 7,101 • Par: 72 • Fee: $75,000 • Robert Trent Jones Jr. with Mark Voss • rainmakersusa.com 8. The Cliffs at Keowee Springs • Six Mile, S.C. • Yards: 7,100 • Par: 72 • Fee: $175,000 (includes membership at eight Cliffs courses) • Tom Fazio • cliffscommunities.com __9. Innsbrook G. & Boat C. __ • Merry Hill, N.C. • Yards: 7,254 • Par: 72 • Fee: $25,000 Arnold Palmer and Erik Larsen • innsbrookgolfandboat.com 10. The C. at 12 Oaks • Holly Springs, N.C. • Yards: 7,132 • Par: 72 • Fee: $7,500 • Michael Nicklaus with John Cope • visit12oaks.com