Courses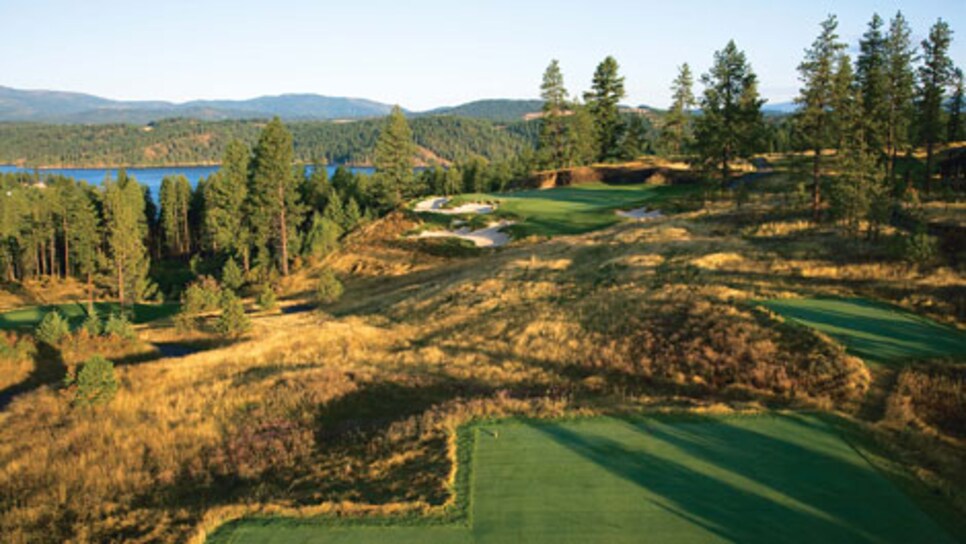 The rustic, 181-yard 17th at Gozzer Ranch was gouged from a rocky hillside forest.
Now that Gozzer Ranch has been named Best New Private Course of 2008, one suspects Andrew Magee might be asking for a bonus. You remember Magee, the four-time PGA Tour winner-turned-Golf Channel pundit, the fast-swinging free spirit who once hit a drive that reached a green, bounced off a putter and rolled into the hole to become the longest hole-in-one (332 yards) in tour history, the hard-luck journeyman whose career was interrupted by Achilles-tendon surgery and kidney cancer. Magee, born in France and the son of a Texas oilman, is now employed by Discovery Land Co., owner of Gozzer Ranch, and spent last summer extolling Gozzer's virtues during 100-plus rounds with a variety of visitors: potential members, Golf Digest panelists and this writer.
I doubt the personable Magee had much influence on panelists' opinions. That's because with a club in his hand, Magee turns into manic trailblazer, boldly going where few architects and golfers would ever dream.
During our round, he became Babe Ruth, calling his shots and demanding high fives. He cut across one dogleg-right by threading a high draw through a teeny gap in a primordial forest, hit Position A on another fairway by playing a quail-high banana ball beneath low-hanging limbs, and on one par 3, balanced a ball atop a wooden tee marker, nipped it clean to within kick-in birdie range, then turned with a big grin and announced he had borrowed my 5-iron for the shot. All that plus nonstop chatter of a Gary McCord on a permanent sugar high, but less rehearsed.
Here's what might cost him a bonus: Despite his entertainment value, Magee's high jinks were overshadowed by the golf course. Gozzer Ranch is a course of astonishing beauty and amazing subtlety. Sitting high on a forested peninsula on the east side of Lake Coeur d'Alene, its waterfront vistas, sprawling valleys and distant mountain back-drops are splendid.
Utilizing a rustic motif of wispy roughs, shaggy bunkers and black-basalt outcroppings, Gozzer Ranch is as fine a Tom Fazio design as any in recent memory. It's the little details that fully elevate it: the false-front edge on the first green, the backboard behind the sixth green, the contouring on the dual-fairway, drivable par-4 12th that can kick even this short hitter's tee ball to the base of the putting surface.
Some credit must go to Fazio's West Coast senior design associate, Dennis Wise, and design associate Scott Hoffman, a relative newcomer to the Fazio organization. They made Gozzer into a Fazio design whose bunkers are more than mere set decoration. Some bunkers define targets off the tee, like the offset ones flanking the fairway on the 495-yard, par-4 18th. Others, like the bunkers stretching diagonally across the fairway on the 605-yard eighth, certainly give pause to average players.
My favorite was the bunker in the center of the landing area on the fairway of the 501-yard, par-5 16th, a sharp dogleg-right that demands a strategic decision for every golfer not named Andrew Magee. Magee, you see, focused on a pine cone dangling from a tree in the far-right rough, a line that would put him in front of the green. Of course, he nailed it.
BEST NEW PRIVATE 1. GOZZER RANCH G. AND LAKE C. • Harrison, Idaho. • Yards: 7,143 • Par: 72 • Initiation Fee: $100,000 • Designer: Tom Fazio • gozzerranchclub.com 2. THE C. AT SPANISH PEAKS • Big Sky, Mont. • Yards: 7,200 • Par: 72 • Fee: $125,000 • Designer: Tom Weiskopf • 877-742-8455 • spanish-peaks.com __3. PAINTED VALLEY CSE.__• Park City, Utah • Yards: 8,136 • Par: 72 • Fee: $150,000 • Designer: Jack Nicklaus • promontoryclub.com 4. THE RITZ-CARLTON G.C. CREIGHTON FARMS • Aldie, Va. • Yards: 7,410 • Par 72 • Fee: $100,000 • Designer: Jack Nicklaus • creightonfarms.com 5. JULIETTE FALLS G. & SPA C. • Dunnellon, Fla. • Yards: 7,236 • Par: 72 • Fee: $50,000 • Designer: John Sanford • juliettefalls.com 6. TPC SAN FRANCISCO BAY AT STONEBRAE • Hayward, Calif. • Yards: 7,140 • Par 72 • Fee: $60,000 • Designer: David Mclay Kidd • stonebrae.com 7. SUGARLOAF MOUNTAIN G. & TOWN C. • Minneola, Fla. • Yards: 7,076 • Par: 72 • Fee: $10,000 • Designer: Bill Coore & Ben Crenshaw • hamptongolfclubs.com 8. ADAM'S MOUNTAIN C.C. • Eagle, Colo. • Yards: 7,300 • Par: 72 • Fee: $150,000 • Designer: Tom Weiskopf • adamsribranch.com 9. THE CREEK C. AT REYNOLDS PLANTATION • Greensboro, Ga. • Yards: 7,079 • Par: 72 • Fee: $95,000 • Designer: Jim Enghn • reynoldsplantation.com 10. THE G.C. AT RAVENNA • Littleton, Colo. • Yards: 7,263 • Par: 71 • Fee: $75,000 • Designer: Jay Morrish And Rick Buckton • ravennagolf.com