Instruction
Best Young Teachers In America 2016-'17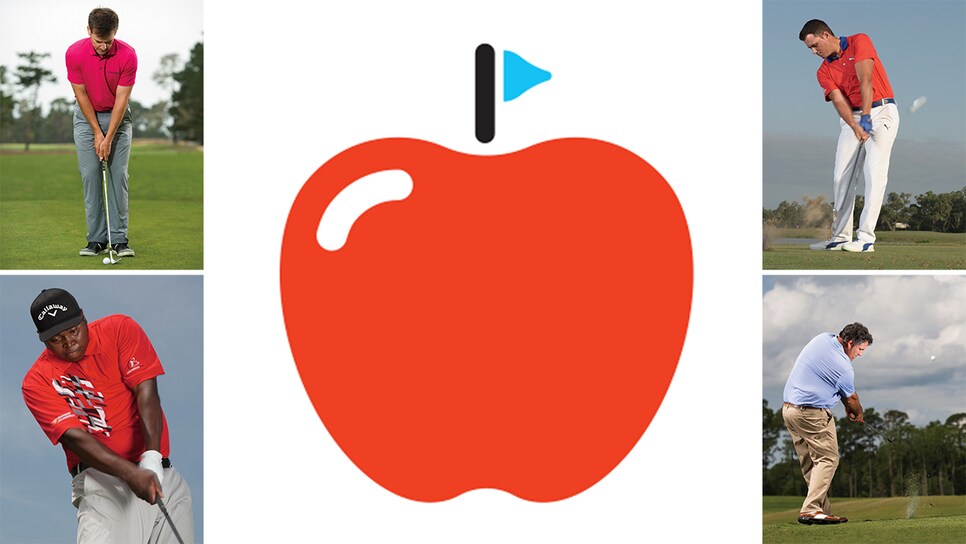 It used to be that promising young instructors would look to learn their craft under the wing of a guru. Think Mr. Miyagi. If those hopefuls made it through the formative years—picking the range, raking practice bunkers, setting up drill stations—they'd eventually glean enough expertise from the master to command a lesson tee. For sure, some teachers still take that route, but with the digitization of teaching materials and advances like launch monitors and motion-capture systems, the path to instruction proficiency can be taken at light speed. Here we recognize 100 instructors under the age of 40 who form a special group: Golf Digest's Best Young Teachers in America.
To assemble candidates for this honor, we tapped every knowledgeable source we could find, from tour players to PGA sections nationwide to teachers on our state and national rankings. Then we surveyed the nominees, picked their brains and listened to their mentors and students. We looked at their accomplishments, their desire to learn, their day-to-day teaching successes—and yes, their YouTube videos. We studied their personal stories. Eventually we arrived at our list, with 71 new teachers from New York to Miami to Pebble Beach to Honolulu.
The Golf Digest Best Young Teachers franchise began in 2010, but this time we've expanded the list and categorized the teachers into six regions: Northeast, Mid-Atlantic, Southeast, Midwest, Southwest and West. We hope this makes it easier for you to connect with a great young pro. For starters, we offer here a sampling of tips from the honorees.
As Gary Player wrote in Golf Digest in 2011: "The best traits of young people—their optimism, curiosity, alertness and energy—are contagious and will definitely make you feel younger." And, if we might add, will definitely improve your golf game.
JASON BARRY / 28
Mercer Oaks G. Cse., West Windsor, N.J.
$110/hr.
ERIK BARZESKI / 38
Golf Evolution, Erie, Pa.
$70/45 mins.
JOHN BIERKAN / 38
Aronimink G.C., Newtown Square, Pa.
$160/hr.
JASON BIRNBAUM / 36
Manhattan Woods G.C., West Nyack, N.Y.
$250/hr.
JESSICA CARAFIELLO / 33
Innis Arden G.C., Old Greenwich, Conn.
$140/hr.
SCOTT CHISHOLM / 31
Baltusrol G.C., Springfield, N.J.
$150/hr.
JOE COMPITELLO / 31
Plainfield C.C., Edison, N.J.
$170/hr.
JUSTIN FOSTER / 31
Bull's Bridge G.C., South Kent, Conn.
$100/hr.
MARIO GUERRA / 32
Quaker Ridge G.C., Scarsdale, N.Y.
$140/hr.
MICHAEL JACOBS / 38
Rock Hill C.C., Manorville, N.Y.
$1,500/half day
ADAM KOLLOFF / 33
Liberty National G.C., Jersey City, N.J.
$225/hr.
ANDERS MATTSON / 36
Saratoga National G.C., Saratoga Springs, N.Y.
$150/hr.
MATT MCLEAN / 32
Fishers Island (N.Y.) Club
$135/hr.
MEGAN PADUA / 31
Megan Padua Golf/The Maidstone Club, East Hampton, N.Y.
$150/hr.
BRIAN ROGISH / 31
Crystal Springs Resort, Hamburg, N.J.
$175/hr.
BILL SCHMEDES III / 31
Fiddler's Elbow C.C., Bedminster, N.J.
$175/hr.
JASON SEDAN / 31
Lake Winnipesaukee G.C., New Durham, N.H.
$165/hr.
STEPHEN SIERACKI / 30
Indian Spring C.C., Marlton, N.J.
$150/hr.
ALANA SWAIN / 28
Atlantic G.C., Bridgehampton, N.Y.
$220/hr.
MICHAEL SWEENEY / 29
The Bridge, Bridgehampton, N.Y.
$185/hr.
MICHAEL WHEELER / 30
Troon Golf Academy Lake of Isles, North Stonington, Conn.
$130/hr.
LEIGHANN ALBAUGH / 36
Magnolia Green G.C., Moseley, Va.
$100/hr.
EARL COOPER / 27
Wilmington (Del.) C.C.
$85/hr.
MICHAEL DICKSON / 36
Congressional C.C., Bethesda, Md.
$150/hr.
ERIKA LARKIN / 35
The Club at Creighton Farms, Aldie, Va.
$175/hr.
BEN PELLICANI / 32
Family Golf Center, Antioch, Tenn.
$90/hr.
TRILLIUM ROSE / 38
Woodmont C.C., Rockville, Md.
$175/hr.
TYRUS YORK / 33
High Performance Golf Academy, Nicholasville, Ky.
$100/hr.
DAVID ARMITAGE / 34
Jim McLean Golf School, Miami
$235/hr.
ANDREW DAWES / 39
Saddlebrook Golf Academy, Wesley Chapel, Fla.
$200/hr.
MATT DENZER / 37
Leadbetter Golf Academy at PGA National, Palm Beach Gardens, Fla.
$200/hr.
TRAVIS FULTON / 39
Golf Channel Academy with Travis Fulton at World Golf Village, St. Augustine, Fla.
$200/hr.
IAIN HIGHFIELD / 34
Bishops Gate Golf Academy, Howey-in-the-Hills, Fla.
$175/hr.
MATT KILLEN / 31
The Concession G.C., Bradenton, Fla.
$350/hr.
MEREDITH KIRK / 38
Dustin Johnson Golf School, Murrells Inlet, S.C.
$100/hr.
MARC LAPOINTE / 38
Marc Lapointe Golf at Fort Mill (S.C.) G.C.
$110/hr.
DONNY LEE / 39
Southern Dunes G. & C.C., Haines City, Fla.
$200/hr.
DAN LOCKHART / 36
Raptor Bay G.C., Bonita Springs, Fla.
$135/hr.
MACKENZIE MACK / 28
Rogers Park G. Cse., Tampa
$50/hr.
BRETT MEYER / 31
The Leadbetter Golf Academy, ChampionsGate, Fla.
$195/hr.
JARUT PADUNG / 27
PGA Tour Academy at World Golf Village, St. Augustine, Fla.
$150/hr.
JORGE PARADA / 32
Jorge Parada Golf, Jacksonville
$200/hr.
JUSTIN SHEEHAN / 31
Old Memorial G.C., Tampa
$150/hr.
BRANDON STOOKSBURY / 36
Idle Hour C.C., Macon, Ga.
$125/hr.
JOHN TILLERY / 34
Cuscowilla G.C., Eatonton, Ga.
$200/hr.
RENEE TRUDEAU / 33
Biltmore Hotel, Coral Gables, Fla.
$125/hr.
LUCAS WALD / 38
Arkansas Golf Center, Conway, Ark.
$100/hr.
SHAUN WEBB / 38
David Toms 265 Academy, Shreveport, La.
$200/hr.
ABBY WELCH / 37
Kiawah Island (S.C.) Golf Resort
$160/hr.
TIM YELVERTON / 37
Old Waverly G.C., West Point, Miss.
$125/hr.
GRAYSON ZACKER / 30
Jim McLean Golf School, Miami
$250/hr.
JARED ZAK / 39
Sea Island Golf Performance Center St. Simons Island, Ga.
$225/hr.
KIEL ALDERINK / 33
Todd Sones Impact Golf Academy Vernon Hills, Ill.
$120/hr.
GREG BARESEL / 31 Cantigny G.C., Wheaton, Ill.
$135/hr.
LUKE BENOIT / 35
Interlachen C.C., Edina, Minn.
$150/hr.
BRENNDAN COOPER / 38
Staley Farms G.C., Kansas City, Mo.
$100/hr.
BILLY FITZGERALD / 37
Beverly C.C., Chicago
$140/hr.
DANIEL GRAY / 35
Skokie C.C., Glencoe, Ill.
$125/hr.
JASON GUSS / 39
Hawk Hollow Golf Properties, Bath, Mich.
$125/hr.
JAMES KINNEY / 38
GolfTEC Omaha
$150/hr.
CHAD MIDDAUGH / 32
Muirfield Village G.C., Dublin, Ohio
$100/hr.
KYLE MORRIS / 31 The Golf Room, Dublin, Ohio
$125/hr.
BRAD PLUTH / 39
Golf Achievement at Bluff Creek G. Cse., Chaska, Minn.
$125/hr.
BRENT SNYDER / 36
Troy Burne G.C., Hudson, Wis.
$90/hr.
DOUG SPENCER / 35
Spencer Golf Academy, Cincinnati
$110/hr.
DREW STECKEL / 30
Drew Steckel Academy, Burr Ridge, Ill.
$200/hr.
JAKE THURM / 37
Ruffled Feathers G.C., Lemont, Ill.
$130/hr.
TJ YEATON / 28
The Hawthorns G. & C.C., Fishers, Ind.
$100/45 mins.
CARLOS BROWN / 36
Carlos Brown Golf Academy at Waterview G.C., Rowlett, Texas
$130/hr.
JONATHAN BUCHANAN / 31
Dallas C.C.
$125/hr.
MIKE BURY / 35
Las Colinas C.C., Dallas
$175/hr.
CHRIS COMO / 39
Gleneagles C.C., Plano, Texas
$1,500/half day
TROY DENTON / 33
Maridoe G.C., Carrollton, Texas
$150/hr.
TYLER FERRELL / 35
Mike McGetrick Golf Academy, Humble, Texas
$150/hr.
KEVIN JOHNSON / 36
Hank Haney Golf Academy West Ridge, McKinney, Texas
$125/hr.
EUJONE KIM / 34
Axis Golf Academy & Fitting Center, The Woodlands, Texas
$125/hr.
JUSTIN KLEMBALLA / 29
Paradise Valley (Ariz.) C.C.
$105/hr.
COREY LUNDBERG / 33
Altus Performance at Trinity Forest, Dallas
$175/hr.
MAGGIE NOEL / 28
Swanson School of Golf, Houston
$80/hr.
ANDREW PATNOU / 28
TPC Scottsdale
$150/hr.
BRIAN SCHORSTEN / 37
Colonial C.C., Fort Worth
$125/hr.
KAYLIN SKOVRON / 29
Jeff Isler Golf, Southlake, Texas
$170/hr.
DOUG STRAWBRIDGE / 37
GolfTEC Upper Kirby, Houston
$250/hr.
BOYD SUMMERHAYS / 37
McDowell Mountain G.C., Scottsdale
$900/3 hrs.
JOEY WUERTEMBERGER / 37
Jim McLean Golf Center, Fort Worth
$225/hr.
A.J. AVOLI / 35
Omni La Costa Golf Performance Institute, Carlsbad, Calif.
$200/hr.
DEVAN BONEBRAKE / 31
Southern California Golf Academy, Carlsbad, Calif.
$150/hr.
NICK CLEARWATER / 38
GolfTEC Enterprises, Centennial, Colo.
$150/hr.
ALISON CURDT / 34
Alison Curdt Golf at Wood Ranch G.C., Simi Valley, Calif.
$125/hr.
ALEX FISHER / 39
The Glacier Club, Durango, Colo.
$110/hr.
NICK HELWIG / 38
Butch Harmon School of Golf, Henderson, Nev.
$150/hr.
JON HORNER / 31
CordeValle G.C., San Martin, Calif.
$175/hr.
NICK KUMPIS / 38
Santa Ana (Calif.) C.C.
$125/hr.
KYLE KUNIOKA / 31
Honolulu C.C.
$100/hr.
CHRIS MAYSON / 35
Maderas Golf Academy, Poway, Calif.
$200/hr.
PATRICK NUBER / 34
GolfTEC Enterprises, Centennial, Colo.
$150/hr.
AARON OLSON / 35
Poppy Hills G. Cse., Pebble Beach
$200/hr.
TRAVIS OLSON / 30
Rock Creek Cattle Company, Deer Lodge, Mont.
$140/hr.
WILL ROBINS / 38
Will Robins Golf at Empire Ranch G. Cse., Folsom, Calif.
$150/hr.
KEVIN SHIMOMURA / 32
Ko Olina Academy, Kapolei, Hawaii
$120/hr.
MATT WILSON / 31
La Rinconada C.C., Los Gatos, Calif.
$140/hr.