Play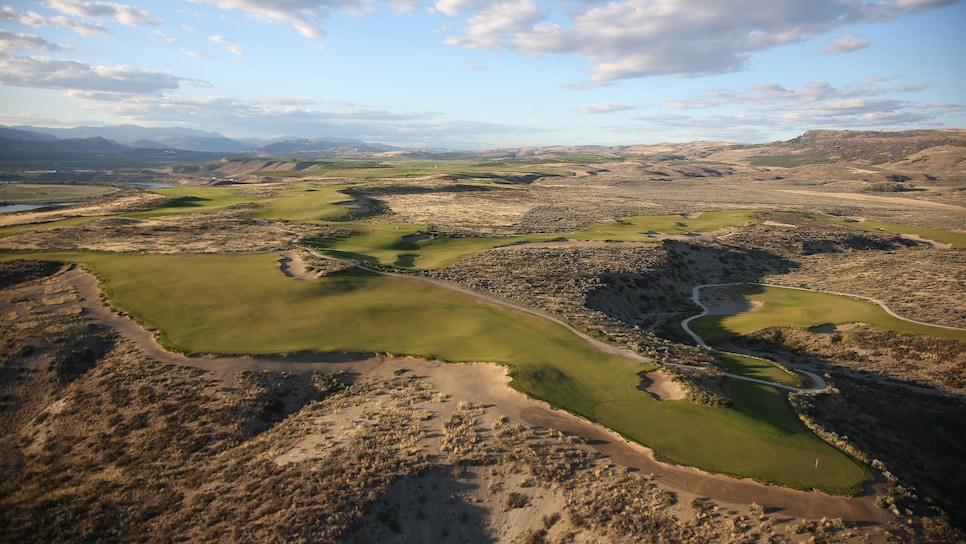 It would be foolish to label Gamble Sands, the new daily-fee course outside tiny Brewster, Wash., as a total original, because nothing in golf architecture ever is. But the layout, best described as a high-desert links, is different enough that it's our editors' pick as the Best New Course to open in America in 2014.
In a year that saw a slight upturn in new and newly remodeled courses, the built-from-scratch Gamble Sands stands out because it represents a shift in attitude and a hope for the future of the game that is refreshing and encouraging.
Part of its unique appeal is the vast scale of the place—nearly 120 acres of tightly mowed turf on a 1,000-acre parcel atop a treeless plateau overlooking the Columbia River Valley in central Washington. Part of it is the sheer playability of the course, with firm, fast fescue fairways that allow popcorn drives to roll out prodigious distances and massive-yet-docile fescue putting surfaces so flawless as to make 10-footers seem like gimmes.
But mostly what makes Gamble Sands distinctive is its celebration of fun. It has moments of hit and giggle, of running to the crest of a hill to see where you went, of watching a ball trundle sideways down a slope, nearly always without concern that disaster awaits. This isn't Golf for Dummies, it's Golf for Ordinary Golfers, for those who play expecting pleasure, not penance.
Most of this is because of course architect David McLay Kidd, although the contribution of quality turf conditions provided by superintendent Chip Caswell should not go unmentioned. Kidd, a transplanted Scot residing in Bend, Ore., was once a Boy Genius of golf design, just a 20-something when he started fashioning the original links of Bandon Dunes Resort on the Oregon coast nearly 20 years ago. Its immediate success led to acclaim, fame and plenty of work.
With his Scottish burr and tartan kilt, Kidd assumed the role of a modern-day Alister MacKenzie, a sometimes outrageous artist and artiste. It spilled over into his work. But a few years back, Kidd, now 47, dropped alcohol and weight and took up triathlons and soul-searching, the latter mostly about his craft.
"I'd gotten romanced by notions of defending par and resistance to scoring," he says. "So I built courses that were difficult. I admit it." His products were high-visibility brutes: TPC Stonebrae near San Francisco; the Castle Course at St. Andrews and Machrihanish Dunes, both in Scotland; and his present home course in Bend, Tetherow, dubbed Death Row by locals.
"Those courses took some of the joy and enjoyment out of the game," he says. "I wanted to put the idea of fun back into the game."
He first thought he had his opportunity in 2009 at Huntsman Springs, a private club in Idaho, but its residential component forced design compromises, and the bluegrass turf used for fairways and rough is not conducive to links-like play.
His real chance came when the Gebbers family, owners of the century-old Gebbers Farms, gave him the job of creating a stand-alone golf course atop a sandy mesa above their orchards. (The first time he saw the site, Kidd walked it with Bill Coore, whose firm was also considered for the job.) What Kidd found was the best property he'd seen since Bandon: pure sand, a temperate climate, ample water and incredible long-range vistas over the Columbia River 300 feet below and of the North Cascade Mountains beyond. The property had one major canyon running through it and lots of fingery gulches, perfect for a sprawling, free-form 18.
He now admits to being a little intimidated at first. "There were no excuses," he says. "I couldn't blame it on the real estate or lack of water. If it turned out crap, it would be all my fault."
It turned out just the opposite. Gamble Sands has the widest fairways in the business. They're 60 to 80 yards wide, in some places nearly 100 yards, and with everything (except the greens) cut at fairway height, there's no conventional rough. Off the fairways is desert (bands of which Kidd had cleaned of vegetation so errant shots can be found and played) as well as long, serpentine, native-sand bunkers. There are only two short forced carries over desert washes but plenty of strategic bunkers within fairways and around greens that can be avoided using an aerial attack or a ground game. Kidd designed favorable angles of approach on every hole, so although some players are content to hit the fairway, talented golfers can zero in on preferred spots.
With his design, Kidd has capitalized on a silver lining of the recent recession. The absence of housing means far more width available for golf holes. It's not a new phenomenon. Previous remote designs feature it, going all the way back to former Best New winners like Sand Hills in Nebraska and Sagebrush in British Columbia. This year, both the new Red Course at Dismal River (a neighbor of Sand Hills) and the new Sutton Bay in South Dakota embrace broad corridors. But those are all private clubs. Among public venues, perhaps only those at Bandon Dunes and Streamsong in Florida truly reflect a wide-is-bliss philosophy, but Gamble Sands is far softer around the greens.
Using the popular measuring stick of championship potential, Gamble Sands, despite being 7,169 yards from the tips, might go lacking in some minds. Kidd doesn't mind. His concern was how it would play from the regular tees of 6,207 yards, so he fashioned "friendly contours" that would divert shots away from bunkers and toward landing areas and greens. "Wherever I could influence rub of the green," he says, "I did so in favor of the golfer."
Also unconventional is the routing. Gamble Sands has three drivable par 4s and four par 3s. That's potentially seven one-shot holes on a par 72. Kidd wants good players to relish opportunities to score on his layout, and he wants high-handicappers to shoot their best round ever.
Another refreshing aspect is that Kidd spent just $2 million constructing and grassing the course, far below the national average these days. It certainly helped that he had pure sand to work with, so he could forgo subsurface drainage. He also created a novel, less-expensive grid-irrigation system that waters the greens in the same fashion as fairways. It's all the same fescue, he reasoned; why complicate things with special irrigation heads encircling each green? A byproduct of that decision is that every green complex is just as wide as its fairway, the tightly mowed green surrounds providing high-handicappers with plenty of elbow room for off-line shots and bailouts.
That low construction budget has led to some grumbling about Gamble's green fees. Since its opening on Aug. 1, the rack rate has been $130 walking, $150 riding for weekdays and weekends, with twilight rates after 2 p.m. of $85 walking, $105 riding. General manager Dave Christenson says lower weekday rates and discounted resident rates will be introduced in the 2015 season. Although operated by a national management firm, OB Sports, Gamble Sands has a mom-and-pop feel to it. Again, that's by design. Kidd convinced the owners to pattern the clubhouse after a small pub in Bend. Carts are allowed to roam anywhere except on the greens (there are no cartpaths), and walking is encouraged.
Gamble Sands takes some effort to reach, but then again, so does Bandon Dunes. (Gamble is about a 3½-hour drive from Seattle and 2½ hours from Spokane.) Gamble's management has concerns that, should the course become too popular, pace of play could suffer, given all those one-shot holes, and the fescue turf might not hold up to traffic. Those are problems Kidd would love to have to deal with.
There are potential blockbusters waiting for 2015 debuts, particularly Trump Links Ferry Point in New York City's Bronx, Minot Country Club in North Dakota, Cabot Cliffs along the west coast of Nova Scotia and Tiger Woods' first design in Mexico. But it's too soon to tell whether they, or any new course next year, will be as delightfully user-friendly as Gamble Sands. They need to be, if golf is really going to be fun again.