Courses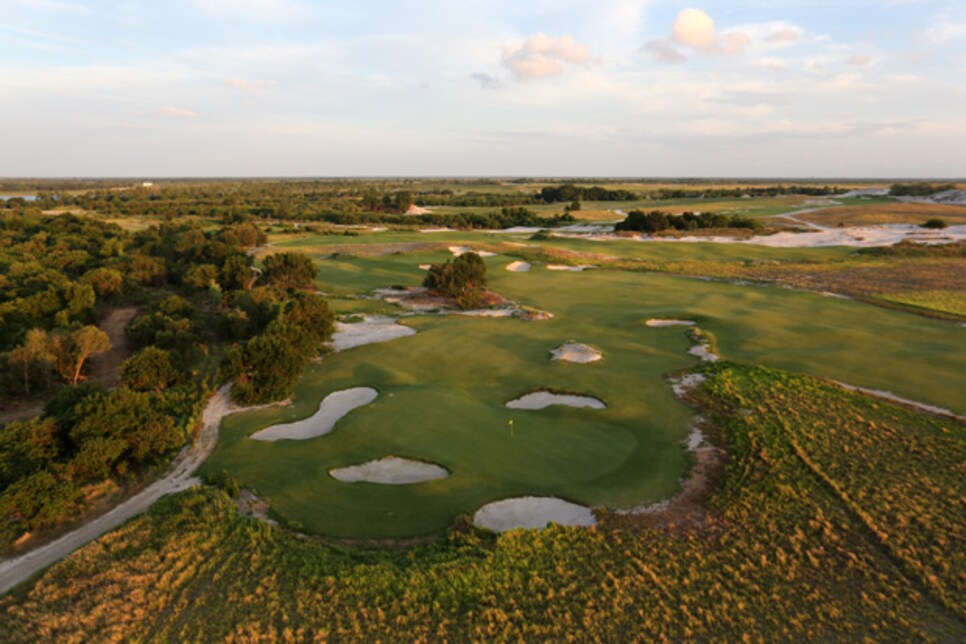 Though Streamsong Resort is a visual treat, most are hailing it as 'The new Bandon Dunes' mainly because of the way it plays (pictured; the Blue Course at Florida's Streamsong Resort).
Old golf-course architects never fade away; they just lose their draw.
Veterans like Pete Dye, Jack Nicklaus, Tom Fazio and the Jones brothers—Rees and Robert Trent Jr.—are still relevant and busy. But though they once had their pick of the choicest projects, in recent years they've been trampled by the Four Horsemen of the New Millennium: Tom Doak, Gil Hanse and the team of Bill Coore & Ben Crenshaw.
(the must-play destination of the year), the Red Course at Dismal River in Nebraska (vastly different from the club's older Nicklaus-designed White Course) and the totally rebuilt No. 1 Course at Medinah Country Club
Hanse is the hottest name in the design business after winning the bid to do the course for the 2016 Olympic Games in Brazil, as well as being hired by Donald Trump to remodel the legendary Blue Monster at Doral
for the 2018 U.S. Open, are busy in Nova Scotia and will soon start construction of Trinity Forest in Dallas, whose developer hopes to host a major.
How did this New Wave upset the Establishment architects? Mainly because of a fundamental shift in how American golfers play the game. For decades, golf in America was an aerial game. Turf conditions were green, lush and uniform, a concession mostly to housing developers who financed most course projects. Those conditions demanded long carries and afforded little roll. Subsequently, club manufacturers developed equipment meant to get the ball in the air and keep it there for as long as possible. Instructors taught methodology aimed at the same goal.
Then along came the upstarts, led by Doak, who embraced the Scottish/Irish (and early American) standard of drier turf and bounce-and-roll golf. The ideal, Doak has pointed out, would be to have fairway approaches into greens be firmer than the putting surfaces, but across America, just the opposite had been the norm for decades. The Doak formula was not immediately accepted in America; in many climates, firm and fast seemed impossible to achieve.
on the Oregon coast, starting with 18 designed by David McLay Kidd, a transplanted Scot who deserves mention as part of the New Wave. His links was followed by Doak's Pacific Dunes,
Slowly, the ground game was embraced by American golfers who visited Bandon and took those expectations back home. Fun returned to the game, because it's much easier for most golfers to work the ball after it hits the ground than work it through the air.
SEVERE GREENS? 'THAT'S WHAT MAKES THEM COOL'
that's apparent in this year's most exciting new courses. Though Streamsong Resort is a visual treat—a former phosphate strip mine with sand dunes piled 75 feet, the last thing one would expect to find in Florida—most are hailing it as "the new Bandon Dunes" mainly because of the way it plays. Superintendent Rusty Mercer has managed to use established and state-of-the-art strains of Bermuda for the fairways and greens that play as firm as the fescue at Bandon. (It's part magic and part constant top-dressing.) Golfers can putt from 50 yards if they so desire. Knobs, slopes, humps and hollows influence every shot and most putts.
I was a bit critical of Doak's Blue Course after facing putts on five straight greens that broke 90 degrees or more. Doak's response? "The best courses in the world have severe greens. That's what makes them cool." He's got me there. Streamsong Blue is cool. So is Streamsong Red, with slightly less-exaggerated greens.
What Doak (and Coore & Crenshaw) had to shape from the giant sandbox surrounding spoil mounds at Streamsong, Mother Nature provided at __Dismal River Club__in the sandhills of Nebraska. Doak simply followed the flow of the land and located greens with breathtaking backdrops. All but four of the putting surfaces took less than an hour apiece to transform from raw land to seedbed. Fairways seem like they were dropped from a thousand feet, splatting across the landscape. There are no formal tee boxes, just broad, free-form pads with a couple of yardage posts. One gets the feeling that you could play the course backward to equal delight.
Yet Doak's biggest accomplishment in 2013 was likely Medinah No. 1. It was a full remodeling job, not a restoration. The alteration of No. 1 was dictated by a flood-control project, so Doak had to deal with environmental and governmental interests that would seemingly cramp his style. It was also a rush job; construction began the day after the 2012 Ryder Cup and was completed in August 2013. By removing trees and changing directions of fairways, the transformation is total. Greens are the antithesis of those at Streamsong, small, canted (several front to back) and subtly contoured. What remains to be seen is if the bentgrass fairways will be kept thirsty and bouncy.
bringing the game back down to earth is still a grass-roots campaign. At the pinnacle of the American golf pyramid—the PGA Tour—lush still prevails. That's why Jack Nicklaus' designs are still a major factor in tournament golf. His Muirfield Village attracted the 2013 Presidents Cup, his Valhalla is the site of the 2014 PGA, his__ Centenary Course at Gleneagles__ in Scotland will host the 2014 Ryder Cup, and the Jack Nicklaus Golf Club Korea will be the 2015 Presidents Cup site.
which the pros will see for the WGC-Cadillac Championship in March, will likely play more like a Nicklaus design than, say, Hanse's Castle Stuart, host of the Scottish Open in recent years. Design partner Jim Wagner, who handled most of the Doral redesign while Hanse was embedded much of the year in Rio, discovered native sand on site, so he dug new lakes and moved 250,000 cubic yards to elevate and drain every feature on the course. The new Blue Monster has hills and ridges (including some for spectators) and far fewer trees. The finish gets an extra dose of blue, with water in play on three of the last four holes. The redesign is such a startling improvement that Trump has hired Hanse and Wagner to redo Doral's Red and Gold courses.
Despite the influence of the PGA Tour, it feels like a preference for ground-game golf in America is inexorable. For one thing, drier turf is a logical result of water shortages around the nation, shortages that are expected to continue for the remainder of our lives. Also, most of the new and newly remodeled courses this past year are striving to provide firm-and-fast conditions.
in Tucson, a $30 million course created by the newest 1-percenters, Native Americans. Sewailo is Shadow Creek reincarnated, another casino-fueled fantasyland created from flat desert. Yes, the design by former Trent Jones Jr. associate Ty Butler and PGA Tour veteran Notah Begay is lavish on turfgrass, drip-irrigated plants and waterscapes, but the Pascua Yaqui Tribe owns water rights they'll lose if they don't use them to the fullest. The course, hotel, casino, spa and outdoor amphitheater were built primarily to employ tribal members. Fifteen minutes from the Tucson airport, with green fees maxed at $140, Sewailo could become the Streamsong of the Southwest.
In the fall of 2014 we'll see the opening of Trump Golf Links at Ferry Point, a decades-long project (delayed by landfill requirements) that might play like an old-country links beneath New York's Whitestone Bridge. It's a collaborative design of Nicklaus and Florida architect John Sanford, who previously handled Quarry Hills, the long-term design built atop the spoils of Boston's Big Dig.
But most eyes will be on Cabot Cliffs, the new Coore & Crenshaw design on bluffs above the Atlantic in Nova Scotia, a companion to Cabot Links that opened to acclaim in 2012. Because Cabot Cliffs is liable to become the Pebble Beach of Canada, I'm already considering Coore & Crenshaw as my Golf Architects of the Year for 2014.