News
Bernhard Langer wins Regions Tradition, ties Jack Nicklaus for most all-time senior major titles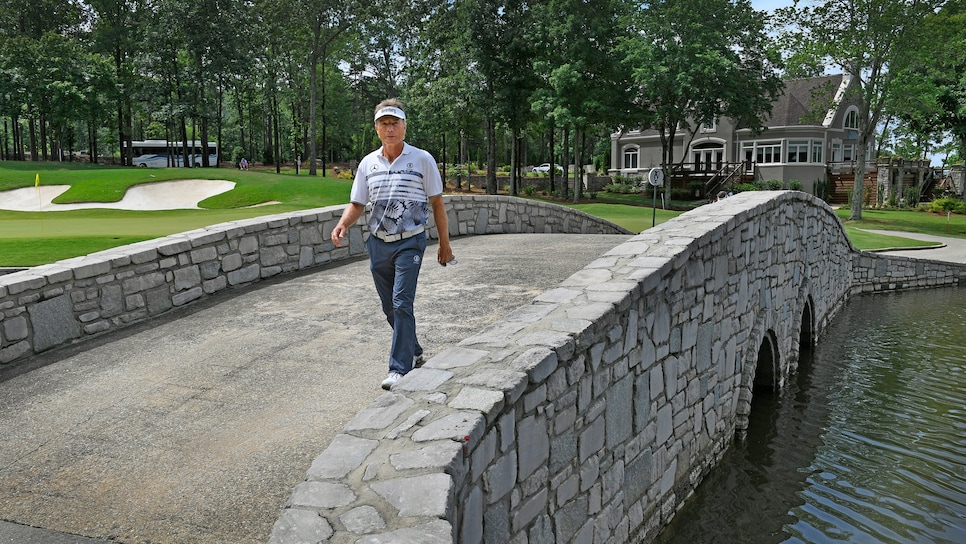 When Bernhard Langer starts to do Bernhard Langer things, it doesn't really matter how his PGA Tour Champions rivals as playing. Sure, Fred Funk's sloppy play on the 12th hole at the Greystone Golf & Country Club in Birmingham, Ala., made life a lot easier for the 59-year-old German. But with Langer making nine birdies and just one bogey en route to a Sunday 64, it meant the inevitable at the Regions Tradition: another impressive victory.
More significantly than grabbing his 31 career senior title, Langer claimed his eighth senior major, tying Jack Nicklaus for the most in PGA Tour Champions history as he also defended his Tradition title from 2016.
"It's a great honor," Langer said. "Not many people can say they match Jack Nicklaus in anything. To have won as many majors on this tour as he has is outstanding obviously and a thrill for me."
There was, however, something unique with Langer's latest triumph, a five-stroke romp over Scott McCarron and Scott Parel after shooting a 20-under 268. In his previous seven senior major wins, Langer either held the outright lead or a share of lead entering the final round all seven times. While coming from behind to win 12 of his career titles, this was the first time he had done it in a major.
Funk, who carried a one-stroke lead on Parel and a two-stroke edge on Langer into the final round Sunday, was still atop the leader board at 16 under when he stepped on the tee at the par-4 12th. The 60-year-old then did something so uncharacteristic it's hard to remember the last time it even happened. The uncannily accurate driver pulled his tee shot O.B. He then also pulled his approach shot to the green and walked off with a triple-bogey 7. When Langer birdied the hole, the four-time senior player of the year suddenly had a four-stroke swing.
"It doesn't make sense. I don't know how I could hit a drive that bad," said Funk, leader in driving accuracy on the PGA Tour Champions. "It baffles me. I was totally relaxed and everything. Just one of those things."
With Funk unable to regroup (he'd finish with an even-par 72 to come up six strokes short in a tie for third), Parel had a chance to threaten. But the medalist at PGA Tour Champions Q school in 2016 was in a challenging position. It was just his fourth senior major start, having gained entry into the event only after Fred Couples withdrew prior to the start of the event. And he was playing in the final group in PGA Tour Champions event for the first time. It was a little too much to ask as Parel, 52, closed with a 70 to finish T-2 and earn the biggest check of his professional career ($184,000).
McCarron, a three-time winner looking for his first senior major, was two strokes back at the start of the day but struggled on the front nine, making three bogeys to turn in one over. His four birdies on the back nine left him with a 69 to finished T-2, but were too little, too late to catch Langer.
Amazingly, after a 69-69 start, Langer was T-10, six strokes off Funk's lead entering the weekend. But his weekend 66-64 broke the Regions Traditions record for lowest 36-hole weekend score while winning the $384,000 first-place check.
Indeed, in the two years since the event has moved to Greystone, Langer has broken 70 in every round. He had 67.86 average in his seven rounds before the Sunday 64. Suffice it to say, Langer looks like a favorite to win this event in 2018 as well.
That said, Langer's next chance to pass Nicklaus and earn a ninth senior major happens this week as the KitchenAid Senior PGA Championship at Trump National Golf Club in Sterling, Va. It is the only senior major of the five played that Langer has never won, giving him a chance to also become the first player to win all five current majors
"It is the one that has eluded me, for whatever reason," Langer said. "I'll give it my best shot."