ZALATORIS HEALTH
No, a Sunday 64 doesn't mean Will Zalatoris is completely healthy, saying he'll remain cautious until April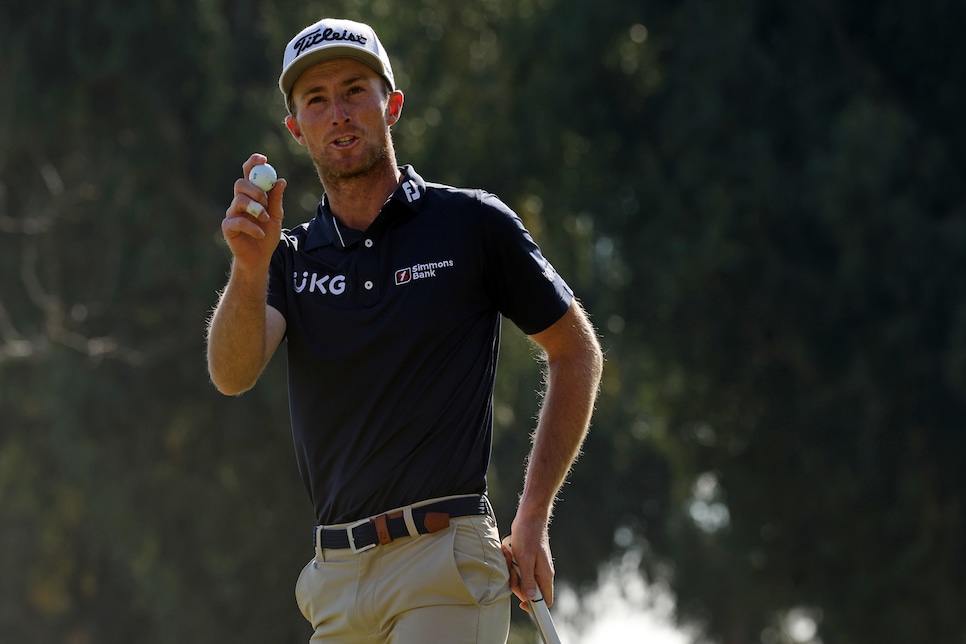 Many golf fans would see Will Zalatoris shooting the best round of the day (64) at Riviera Country Club to backdoor an impressive fourth-place finish at the Genesis Invitational and think, he's back.
Apparently, he's not quite back though. Almost, but not quite.
"It was fun," Zalatoris said Sunday at Riviera. "[But] it was kind of Step 2 of 10 in the recovery process, so we're getting close."
The 26-year-old is still on the road to recovery having spent 100 days sidelined with a back injury last year. The Dallas-based star withdrew during the third round of the BMW Championship with a back injury on Aug. 20, then took a hiatus that saw him miss the Tour Championship, Presidents Cup and the tour's fall events to rehabilitate two herniated discs.
But on Sunday in Los Angeles, Zalatoris showed flashes of the form that saw him post second-place finishes at both the PGA Championship and the U.S. Open last year, as well as a share of sixth at the Masters. Zalatoris went out in 30 on Riviera's front nine courtesy of five birdies, before adding three more (and a bogey) on the back nine to post his first top-10 on the PGA Tour in his comeback, which spans four events.
"Anytime I shoot 64 on a Sunday, obviously it's nice to see," he said. "It really was nice to see some good putts go in today. Overall, drove it amazing this week, which is really the big thing to see coming back from injury. Overall, nice to make eight birdies on Sunday. Anytime I do that, no matter what, obviously I'm very happy."
As exciting as finishing fourth at the tournament is, Zalatoris said it did not signify his return to full health. Last year's FedEx St. Jude Championship winner said his doctor had advised him that his back would not be completely healthy until around the Masters in April.
"I think that's something that when I talked to my doctor, he just said, look, you're on the right path, you're going to feel really good, but you're not going to be 100 percent really until April," Zalatoris said. "I obviously can pump out 184 ball speed with the driver anytime I want, but it's doing it repetitively and doing it consistent. So just really just being overcautious."
And he will need to be cautious, delicately juggling the need to recover before the Masters with playing another three designated PGA Tour events in the lead up to Augusta – the Arnold Palmer Invitational, the Players Championship and the WGC-Match Play. Zalatoris skipped Phoenix, which was a designated event, meaning he has to play all the remaining $20 million elevated tournaments if he wants to be eligible for the PGA Tour's Player Impact Program (PIP).
"The big thing is really just being 100 percent by April," he said. "That's part of the reason why I didn't play Phoenix, I was just feeling a little achy here and there and just I don't want to end this year like how I did last year."
We all know what Zalatoris is capable of at Augusta National when he's firing on all cylinders. He's finished second and tied sixth in two starts at the Masters. Pacing himself between now and then, he knows, won't be easy.
"For someone who's 26 and who's gone 120 percent pretty much their entire life, it's very hard, but that three-and-a-half-months off, I really had to learn patience," Zalatoris said. "Today was a big step in the right direction and we just need to keep doing what we're doing. I'm really pacing myself going into April and then from there on I should be ready to go and play as much as I want."