The Loop
Ben Simmons lost all his swagger, and it only took three games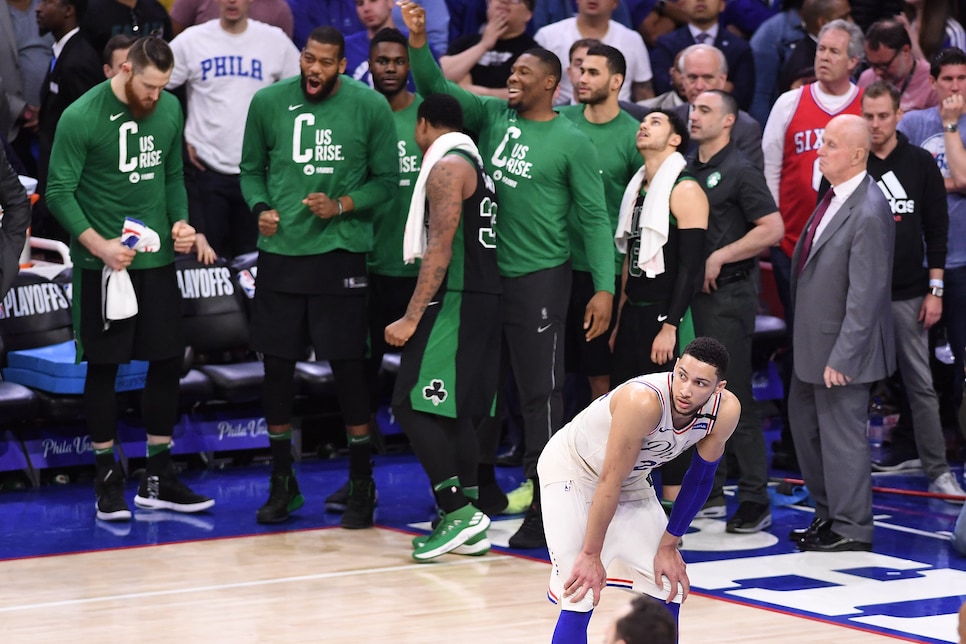 Literally one week ago, Ben Simmons was one of the most celebrated players in the NBA. The Sixers guard couldn't shoot, but the gleeful narrative was that it didn't matter—his passing, penetrating, and post-up games were all so strong that he was the odd NBA guard who didn't need a jump shot. I believed it. The numbers backed it up—he averaged 16 points, eight boards, and eight assists in his rookie campaign. LeBron called him "Young King." Julius Erving called him "once-in-a-lifetime." The Washington Post wrote about how his rookie season was actually better than Lebron's. Then, in the first round of the playoffs, he completely dominated the Heat, nearly averaging a triple-double (18.2/10.6/9.0) and 2.4 steals while shooting 50 percent in a five-game series. To quote CBS: "Rookies are not supposed to do this. There is supposed to be at least some kind of learning curve. Simmons is special."
Again, that was one week ago.
Then Brad Stevens and the Boston Celtics got ahold of him, and suddenly he's hot garbage. It's one of the most sudden, sad turnarounds in recent NBA history, and his poor play has absolutely killed his team. He put up decent numbers in Game 1, but his +/- was -21. In game two, he took literally four shots and scored literally one point (I feel the "literally"s are necessary there). In game three he played slightly better, but he didn't make it to the line even once, and he may have cost his team the game with a blown read resulting in a late turnover and this critical missed dunk:
Then, in one of the dumbest plays you'll see this postseason, he grabbed an offensive board in overtime with his team up one and just 20 seconds on the clock...and immediately missed a shot to give the Celtics the ball. Even a novice player knows that the right call is to get the ball in the hands of a good free-throw shooter (cough Redick cough), run as much clock as possible, and make them foul you.
Now, shockingly, the red-hot Sixers are down 3-0 to a team missing several key components, including its best player in Kyrie Irving. I wrote last week about how Brad Steven is out to ruin the NBA, and I think this is more evidence in my favor, but I also have to give him tons of credit for a strategy that has taken the air out of what was one of the best players, and best teams, in the league. Guarding Simmons isn't as simple as backing off him, because the Sixers are adept at running hand-offs that require a second defender to switch. What Stevens has done is more complicated, throwing a variety of defenders at him (from Smart to Morris to Ojeleye to Horford), going all-out to stop transition baskets, and switching like crazy. It's a full team effort, and they've needed every bit of it to hold off the Sixers. In the process, Stevens has destroyed Simmons' confidence and rendered him a total mess under pressure.
Worse for Simmons, possibly, is that Stevens has provided a blueprint for how to guard him in the future. Granted, it's not going to be easy—the Celtics have put together a team of great, versatile defenders, and it's not like every team in the NBA can replicate that at the drop of a hat. But as The Ringer and others are already noting, the idea that Simmons can become one of the greats without a jump shot is now in serious doubt. The narrative has flipped, and the "young king" has been temporarily dethroned.
The Most Brutal Diss Video of the Week: This One
From Simmons' Game 2 performance:
I'm actually, unironically furious that the Sixers, my adopted bandwagon team, have vomited up their postseason hopes in front of the team I hate the most, but even I think that's a hilarious burn.
The Best Baseball Conspiracy of the Decade: The Astros are Doctoring the Ball
The Houston Astros are an extremely good baseball team, as shown by the fact that they won the World Series, but there's something pretty crazy happening with their pitching staff: They've allowed 100 runs on the season, which is not just the lowest in the American League, but the lowest among all teams in the National League. As a reminder, the NL does not use designated hitters, and for an AL team to outperform them, even at this point in the season, is kind of nuts.
But it goes beyond that—they seem to have the magic touch in taking struggling pitchers and immediately resurrecting (or in some cases, inventing) their excellence. We saw it with Verlander last year, which gave them the arm they needed to win the World Series, and we're seeing it this year with pitchers like Charlie Morton and Gerrit Cole, who have drastically increased their spin rates. As resident insane person and Indians pitcher and spin obsessive and made baseball scientist Trevor Bauer noted on Twitter, the quickest way to increase spin rate is with a little bit of pine tar:
Bauer was responding to this tweet from Kyle Boddy, who runs a baseball training center in Washington:
As the Times noted, Bauer managed to piss a lot of the Astros off—he's quite good at it—and there's absolutely no evidence of anything untoward beyond the freaky good numbers. (Note: The 'Stros also have the best ERA in the AL by a full run, and also lead in strikeouts and batting average against.) The Astros themselves have credited analytics and a guru pitching coach.
But as for me? As a Yankee fan, I'm all in on it, and I don't care if Tom Verducci mostly debunked it (except for Gerrit Cole, who is definitely cheating). I want the Astros banned from the league, and I want last year's World Series replayed. Yanks-Dodgers! Make it happen!
And yes, we get to keep Giancarlo Stanton.
"The King Stay the King" moment of the week: Bron-Bron
Guess who has more playoff buzzer beaters than Kobe and Jordan combined?